University of Miami Athletics
Nada Dimovska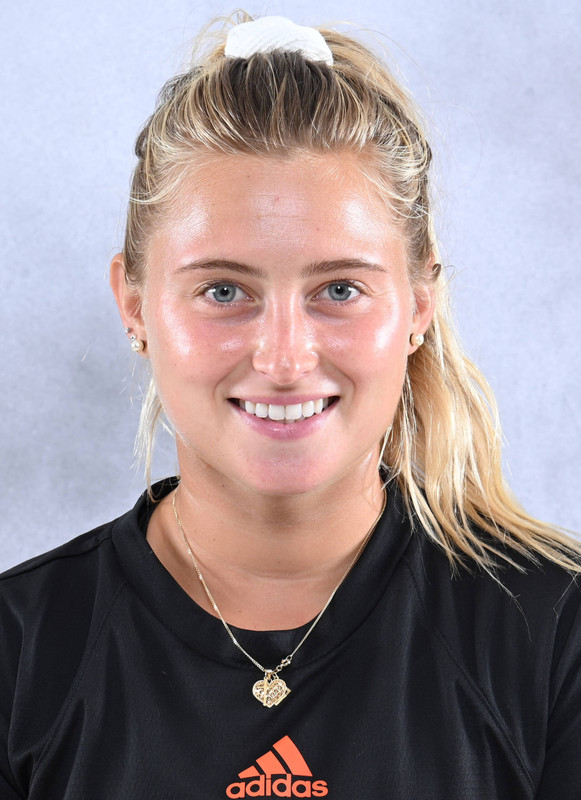 As a Third-Year Sophomore (2021-22): Finished 4-7 in singles and did not compete in doubles … Split her two spring matches, both during the Miami Spring Invite … Logged a 2-6, 6-4, 6-2 victory against Vanderbilt's MaryAnn Rompf … Went 3-6 during fall competition … Posted a 1-2 mark at the June Stewart Invitational, defeating Kentucky's Lidia Gonzalez, 7-5, 6-4 … Finished 1-1 in ITA Southeast Regional Championships qualifying, earning a 4-6, 6-2, 1-0 (10-4) win over Stetson's Cheri Darley … Recorded a 6-1, 6-1 decision against Barry's Ajda Bukovec in the Miami Fall Invite.
As a Second-Year Freshman (2020-21): No fall season due to COVID-19 pandemic … Finished 0-2 in singles play, with both outings at the No. 6 position … Tallied a win in her lone doubles appearance, teaming up with Daevenia Achong to defeat Katie Andreini/Erika Cheng of Virginia Tech, 7-5.
As a Freshman (2019-20): Spring season cut short due to COVID-19 pandemic and did not count towards eligibility … Compiled overall marks of 7-11 in singles and 7-6 in doubles … Finished third on the team in doubles winning percentage (.538) … Went 4-4 in spring singles action, including 4-1 in dual matches, all against ACC foes … Played exclusively at the No. 6 position … Recorded her first spring singles win with a 6-0, 7-6 (7-5) victory over Monika Dedaj in the victory at No. 17 Georgia Tech … Topped Erika Cheng of No. 35 Virginia Tech, 6-3, 6-2 … Earned a 6-7 (2-7), 7-4, 1-0 (10-7) triumph over Anika Yarlagadda of top-ranked North Carolina … Finished 2-4 in spring doubles competition, including 2-3 in dual matches and 1-2 in ACC play … Completed matches with three partners at all three positions, but mainly took the No. 3 spot … Alongside Selma Cadar, earned her first spring doubles victory by defeating Tennessee State's Aarushi Kakkar/Claudia Sole, 6-2, atop the lineup … Teamed with Maya Tahan for her first ACC doubles triumph, a 6-4 result against No. 35 Virginia Tech's Erika Cheng/Nina Sorkin … Registered a 3-7 ledger in fall singles action … Finished 2-1 at the Miami Fall Invite, including topping Georgia State's Mara Pop, 6-1, 6-0, in her first collegiate match … Split her two matches at the ITA Southeast Regional Championships, notching a 1-6, 6-4, 6-4 decision over UCF's Nandini Sharma … Tallied a 5-2 mark in fall doubles play, competing with two partners … Went 2-1 with Lucia Marzal at the ITA Hall of Fame Classic, including defeating VCU's Gabriela Davidescu/Luminita Tutunaru, 8-5, for her first doubles victory … Partnered with Yuna Ito for a 1-1 showing at the ITA Southeast Regional Championships, downing Florida's McCartney Kessler/Marlee Zein, 8-5 … Finished 2-0, alongside Ito, at the Texas Invitational.
Prior to College: Peaked at No. 229 in the ITF Juniors singles rankings in January 2016 … Ranked as high as the fifth-best prospect in her class on TennisRecruiting.net … Ascended as high as No. 45 in the USTA U18 rankings in 2017 … Tallied a 45-32 record in ITF Juniors singles action, as well as a 16-21 mark in doubles … Won a Grade 5 singles tournament in 2017 … Reached the title match of a Grade 4 singles tournament in 2015 … In limited WTA tournament experience, logged six singles triumphs and made the main draw of a $10K event in Evansville, Ind., in July 2014.
Personal: Full name is Nada Dimovska … Name is pronounced NAH-Duh Dih-MAHV-Skuh … Born March 8, 2000 … Parents are Angelce Dimovski and Daniela Dimovska … Father owns an importing business and mother works for the company … Has an older brother, Martin … Intends to major in business or exercise physiology … Favorite athlete is Rafael Nadal because of the example he sets on how to be an athlete and a champion … Best sports memory is winning the 2010 Little Mo Nationals singles title in Austin, Texas … Chose Miami because of the tennis team and the quality academic options … Committed to Miami over Loyola Marymount, North Carolina, Tennessee, Texas A&M and Virginia … First American from outside Florida on Miami's roster since 2008-09.
 SINGLES
YEAR
TOTAL
FALL
SPRING
DUAL
ACC
*RNK
2019-20
7-11
3-7
4-4
4-1
4-1
0-1
2020-21
0-2
N/A
0-2
0-2
0-1
0-0
2021-22
4-7
3-6
1-1
0-0
0-0
0-0
CAREER
11-20
6-13
5-7
4-3
4-2
0-1
DOUBLES
YEAR
TOTAL
FALL
SPRING
DUAL
ACC
*RNK
2019-20
7-6
5-2
2-4
2-3
1-2
0-1
2020-21
1-0
N/A
1-0
1-0
1-0
0-0
2021-22
0-0
0-0
0-0
0-0
0-0
0-0
CAREER
8-6
5-2
3-4
3-3
2-2
0-1
*RNK = record vs. ranked opponents
No fall season in 2020-21 due to COVID-19 pandemic