University of Miami Athletics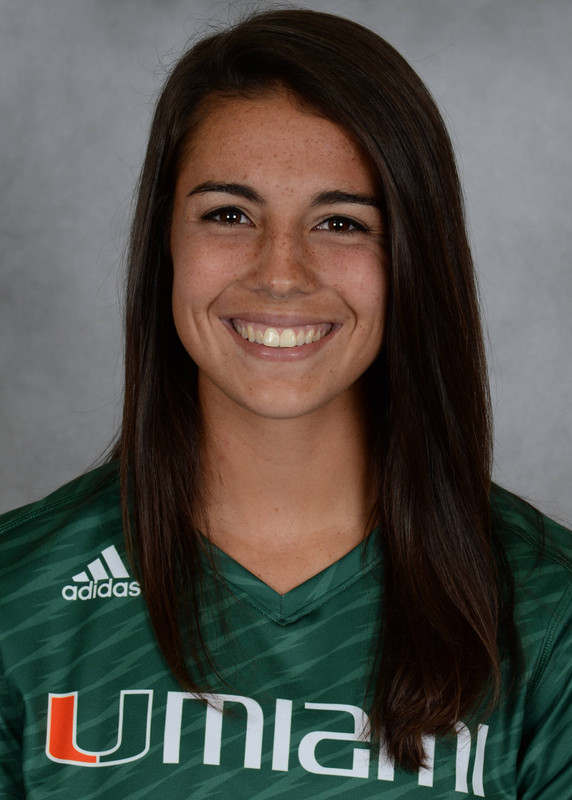 2017 (Sophomore): Played in five matches, starting each of the first four outings of the season … Played over 75 minutes four times, including going the distance on three occasions … Played all 90 minutes in the season opener against St. Francis (PA) (8/18) to help Miami log a shutout … On the field for the full 90 minutes in the shutout at FIU (8/20) … Played the entire 90 minutes at Miami (OH) (8/25) in the Hurricanes' third clean sheet in a row … Logged 79 minutes of action at Cincinnati (8/27) … Played in Miami's matchup versus fifth-ranked North Carolina (10/5).
2016 (Freshman): Played in 10 matches with eight starts, the latter third-most among Miami freshmen … Tallied a pair of assists to rank third on the team among freshmen … Started each of the first eight matches of her career, going the distance in six of them … Played 70-plus minutes eight times … Helped the Hurricanes set program records for fewest goals allowed (16) and lowest goals against average (0.82) … Made her college debut at North Florida (8/19) and was one of three players to go all 90 minutes, aiding the team to a shutout … Played all 90 minutes in the win at Stetson (8/21), logging her first-career point with an assist in the 79th minute … Went the distance versus Ohio State (8/26) in her first-career home match … Played the full 90 minutes in the shutout of Miami (OH) (9/2) … Went the whole 90 minutes and logged an assist on the match's lone goal versus Florida Atlantic (9/4), helping the Hurricanes notch their third straight shutout … Went the distance in the match versus FIU (9/11) … Saw the first ACC action of her career at No. 15 North Carolina (10/6).
High School: Four-year starter at Siegel High School … Team captain as both a senior and junior … Played in the 2015 Girls' High School All-American Game in Raleigh, N.C. … Selected as the Defensive Player of the Game at the 2015 Tennessee East-West All-Star Game … Four-time First Team All-District 7-AAA honoree, four-time The Daily News Journal All-Area Team choice and three-time first team all-state pick by both the THSSCA (coaches) and TSWA (sports writers) … As a senior, tallied six goals and 13 assists, while aiding her team to 11 shutouts, a 12-3-1 record, a second-place conference finish and a state playoff appearance … Following her senior season, named All-District 7-AAA Defensive MVP and The Tennessean First Team All-Midstate, as well as both a Tennessee State Star and Mid-East Region Team choice by Top Drawer Soccer  … Also, for the second straight year, was both The Daily News Journal MVP and a First Team All-State choice … Logged five goals and 10 assists as a junior, leading her team to a 12-5-4 record, a conference title and a state playoff berth … Earned All-District 7-AAA Midfielder of the Year honors after her junior campaign … Chosen as the All-District 7-AAA Freshman of the Year after helping her team reach the state finals … Member of the National Honor Society and the Beta Club, as well as an AP Scholar.
Club: Played for Tennessee Soccer Club 16 … Won seven Tennessee state championships … Won the US Youth Soccer U-18 national title in 2016 and was a U-14 national finalist in 2012 … Won the Region III championship in 2012, 2013, 2014 and 2016.
International: Participated in U.S. Soccer Training Center National Team Camps in 2015 and 2016 in Peachtree, Ga.
ODP: Member of the Tennessee State First Team from 2010 to 2014 … Part of the Region III pool in 2013 and 2014.
Personal: Full name is Madison Paige Louk … Last name is pronounced like "loud" with a "k" at the end … Born Jan. 14, 1998 … Parents are Chris and Jeannie Louk … Father, who played soccer at Davis & Elkins College (W.Va.) is a car company maintenance supervisor and mother, who was a cheerleader at Marshall University, works at a mortgage firm … Has an older brother, Ryan, a younger sister, Alexis, and a younger brother, Tanner … Intends to take a pre-med track academically … Career goal is to be a sports medicine physician … Favorite soccer player is Sergio Ramos because of his play as a defender, his humility and how he gives back to the community … Best sports memory is playing in the 2015 Girl's High School All-American Game … Enjoys volunteering at events, including the Special Olympics, and going to Nashville Predators games … Listens to the same music playlist in the same order before every match … Chose Miami because of quality of the ACC, the coaching staff, its location and its academics … Committed to Miami over Cincinnati, Miami (OH), Tennessee, Texas, USC and Washington State.