University of Miami Athletics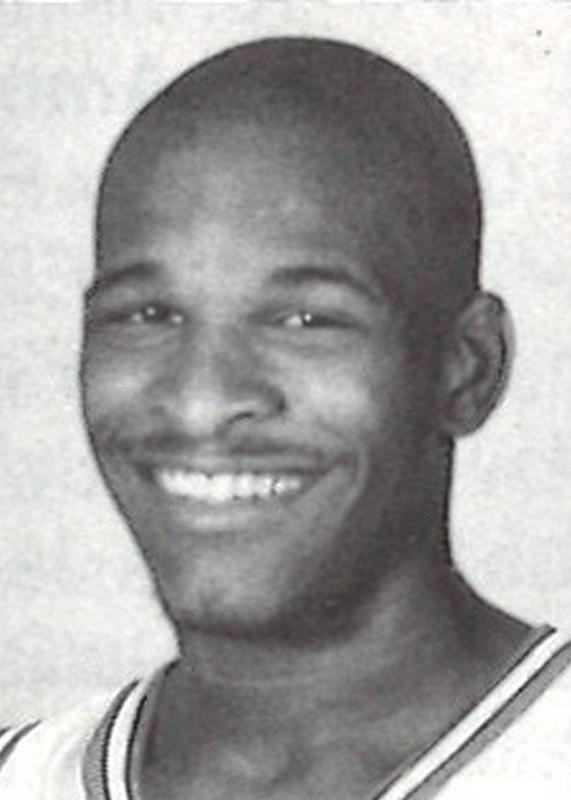 Fourth-year senior with excellent athletic ability and size … Should battle for playing time at both the power forward and center positions … Is extremely aggressive around the basket … Signed a letter of intent to attend Miami in the spring of 1992 … Is the only current Hurricane from the state of Illinois and the first player from Chicago to join the UM squad since the rebirth of the program in 1985
As a Junior (1994-95)
Participated in 26 of UM's 28 games and made a career-high seven starts … Averaged a career best 11.4 minutes per game … Finished third on the squad in dunks (nine), fifth in offensive rebounds (38) and tied for fifth in blocked shots (nine) … Recorded his first career double-double with 13 points (matching his career-high) and a team and career-high 10 rebounds in 22 minutes against Villanova on Jan. 25 … Was one of just four Hurricanes to register a double-double during the 1994-95 season … Started and grabbed nine rebounds in a career-best 32 minutes versus Florida A&M (Dec. 10) … Did not play at home against Robert Morris (Nov. 30) or on the road at Pitt (Feb. 18) … ISRAEL TOUR: Appeared in all six games and started the final two contest … Averaged 22.7 minutes per game … Was second on the squad in offensive rebounds (15), field goals made (27), field goals attempted (52) and field goal percentage (.519) … His 66 points (11.0 ppg) and three blocked shots ranked third on the tour while his 5.3 rebound average was fourth best … Tallied 22 points and a game-high nine rebounds vs. Hapoel Jerusalem (Aug. 13) … In his first start he totaled a game-high19 points and grabbed a team-high seven rebound in 29 minutes against Hapoel Holon (Aug 18.) … Closed out the tour with a 10-point, 7-rebound (team-high) performance in 27 minutes vs. Hapoel Jerusalem (Aug. 21).
As a Sophomore (1993-94)
Saw action in 16 games and made his first career start in a BIG EAST contest versus St. John's (Jan. 22) … Connected on 11 of 20 field goal attempts (.550) during the year … Had a season-high seven points (3-3 FGs) and on blocked shot in three minutes of action in Miami's victory over interstate rival Florida A&M (Dec. 4) … Tallied four points and two rebounds in a season-high even minutes vs. Florida Atlantic (Nov. 26) in the season-opener … Had four points (2-3 FGs) and one assist in six minutes against Providence (Feb. 26).
As a Freshman (1992-93)
Appeared in 19 games, including each of the final 15 where he averaged nine minutes per contest … Established career-highs in both points and rebounds when he tallied 13 points and nine rebounds against both Pittsburgh (Jan. 23) and Bethune-Cookman (Feb. 4) … Made the most of his 12 minutes vs. St. John's (Feb. 20) with seven points (2-2 FGs, 3-3 FTs), three rebounds and two blocked shots in UM's 82-77 victory … Finished the season strong with eight points and eight rebounds in 20 minutes vs. Georgetown (Mar. 11) in the opening round of the BIG EAST Tournament.
High School
Whitney Young High School in Chicago, Ill. … Averaged 18 points, 12 rebounds, three assists and five blocked shots during his senior season … Voted First-team All-Conference, the Most Valuable Player of the Harper Thanksgiving Tournament and the Kankakee Christmas Tournament as well as his team's MVP … Attended the same high school as former UM football All-American and current Dallas Cowboy Russell Maryland … Coached by George Stanton.
Personal
Majoring in theater and minoring in computer programming … Full name is Lorenzo Pearson, III … Born June 16, 1973 … Parents are Lorenzo, Jr. and Patricia Pearson … nicknames are "Ren" and "Zo" … Is an accomplished rap singer and is considering a career in music … Enjoys playing pool and rapping … Wears a size 18 shoe.
Lorenzo Pearson                        
Year
GP
GS
Min
Avg
FG
FGA
Pct.
3FG
3A
3Pct.
FT
FTA
Pct.
Off-Reb
Def-Reb
Total Reb
Avg.
Ast
Steal
Block
TO
Fouls
Pts.
Avg.
1992-93
19
0
178
9.4
21
54
0.389
0
0
0
16
25
0.64
16
30
46
2.4
1
4
8
13
16
58
3.1
1993-94
16
1
49
3.1
11
20
0.55
0
0
0
3
6
0.5
5
10
15
0.9
3
1
2
8
4
25
1.6
1994-95
26
7
296
11.4
38
93
0.409
0
0
0
16
37
0.432
38
40
78
3
4
8
9
28
27
92
3.5
1995-96
28
14
294
10.5
35
85
0.412
0
0
0
17
28
0.607
31
36
67
2.4
7
6
9
24
45
87
3.1
Career
89
22
817
9.2
105
252
0.417
0
0
0
52
96
0.542
90
116
206
2.3
15
19
28
73
92
262
2.9