University of Miami Athletics
25
Lexi Castellano-Mugica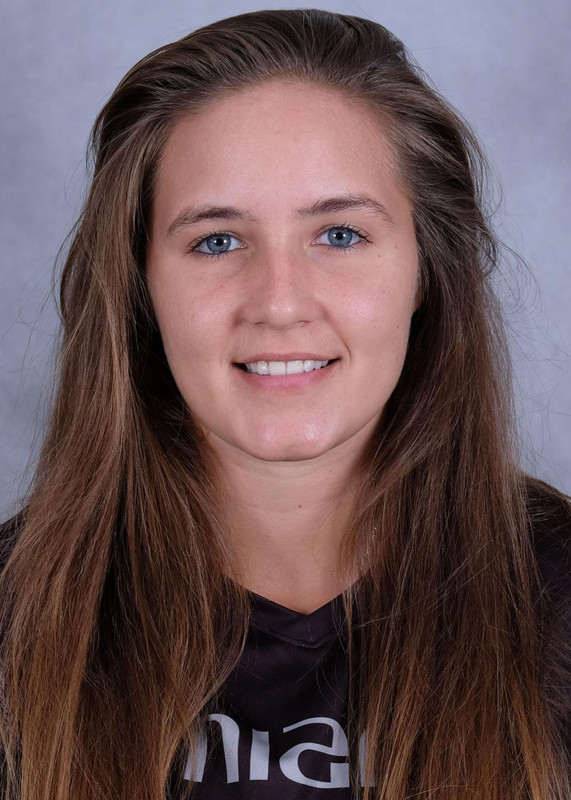 2019 (Senior): Redshirt Season (Injury)
2018 (Junior): Earned minutes in 16 matches and started eight overall … Notched 11 shots and five shots on goal … Played 1100 minutes on the backline … Logged 50-plus minutes in 13 matches, while going the distance in six … Went the distance in the season opener against Florida Atlantic (8/17) … Tallied the first goal of the match against FIU (8/19) … Registered two shots and a shot on goal against Vanderbilt (8/24) … Recorded two shots against Lipscomb (8/26), as the Hurricanes recorded a clean sheet … Aided Miami to a shutout victory over Syracuse (9/29) … Played the full 110 minutes against eighth-ranked Boston College (10/13), limiting the high-powered Eagles attack to just one goal … Assisted the Hurricanes in closing out the season with a shutout victory over Florida State (10/25).
2017 (Sophomore): Made the move to the back line prior to the season opener … One of nine Miami players to start all 16 matches … Posted one goal and two points … Tallied seven shot attempts, tied for fifth on the team, and two shots on goal … Among the four Hurricanes to play all 1,440 minutes throughout the year … Logged the first start and first goal of her career in the opener versus St. Francis (PA) (8/18), also helping the Hurricanes to a shutout while going the full 90 minutes for the first time … Aided Miami to a shutout at FIU (8/20) … Recorded one shot on goal at Miami (OH) (8/25), as the Hurricanes recorded a third straight clean sheet … Posted one shot attempt at Quinnipiac (9/3) … Helped Miami hold No. 11 Virginia (9/21) to one goal in a road match … Logged one shot attempt against Clemson (9/29) … Registered one shot attempt against fifth-ranked North Carolina (10/5) … Finished with one shot attempt at Syracuse (10/11) … Aided the Hurricanes to a shutout win versus Pittsburgh (10/19) … Posted a shot attempt against Notre Dame (10/22).
2016 (Freshman): Played in seven matches, earning a total of 155 minutes of playing time … Saw 20-plus minutes of action three times … Ranked sixth on the team with seven shots on goal … Missed multiple matches due to injury … Logged three shots, including two on goal, in a season-best 51 minutes during her Hurricane debut at North Florida (8/19) … Had a shot on goal in 23 minutes of action at Stetson (8/21) … Notched one shot on goal in the home opener against Ohio State (8/26) … Recorded five shots, including two on goal, in 36 minutes versus Jacksonville (8/28) … Attempted two shots, with one on goal, against Miami (OH) (9/2).
High School: On the soccer team all four years at St. Andrew's School … Team captain as both a junior and senior … Only played half a season as a senior due to injury … Tabbed by the Sun Sentinel as a player to watch in Palm Beach County before her junior season … Missed sophomore season due to injury … Teammate of former Hurricane goalkeeper Catalina Perez for one year … Two-time Grand Slam tennis champion Corina Morariu and former Duke soccer standout Laura Weinberg also attended St. Andrew's.
Club: Played for Team Boca from U-10 through U-18 … Also competed with Orlando City ECNL at the U-18 level.
International: Invited to play for the Venezuelan U-20 National Team in June of 2016 … Also invited to multiple U.S. Soccer Federation trainings.
ODP: Participated in Region III Camp in Alabama in 2012, 2014 and 2015 … Played with the Region III Team at a tournament in Boca Raton, Fla., in both 2014 and 2015 … Competed at a tournament in the Netherlands with the Region III Team in 2015 … Invited to play with the team in Argentina in 2016, but did not participate due to injury.
Personal: Full name is Alexis Seanna Castellano-Mugica … Last name is pronounced Cass-Tuh-LAH-No — Moo-He-Ka … Born March 4, 1998 … Parents are Pedro and Jaclyn Mugica … Father owns a technological company … Has two younger brothers, Lucas and Max, and a younger sister, Valentina … Majoring in exercise physiology and intends to take a pre-med track … Favorite athlete is Ali Krieger because of her hard work … Best sports memory is scoring a goal off a volley at an ODP tryout … Enjoys biking, reading, jogging, going to the beach and skateboarding …  Two of her great-grandparents, Edith and Maurice Castellano, also attended Miami … Chose Miami because of the coaching staff, campus and feeling when she visited … Committed to Miami over FGCU, Georgia State and USF.