University of Miami Athletics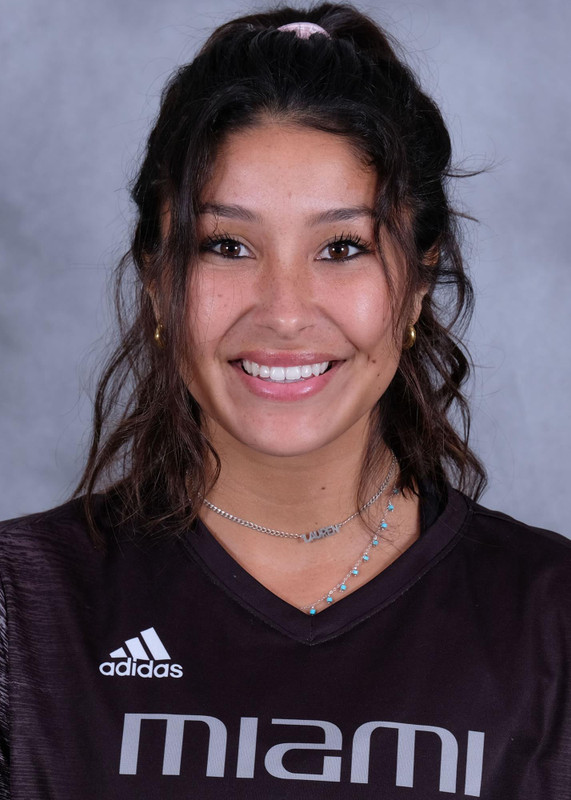 2018 (Junior): Garnered playing time in 16 matches and earned a pair of starts … Logged 626 minutes at midfield … Tallied seven shots on the year and directed two on target … Notched two shots in a victory over FIU (8/19) … Registered a shot on goal against Vanderbilt (8/24) … Recorded one shot on goal against Lipscomb (8/26), as the Hurricanes recorded a clean sheet … Earned her first start of the season against Stetson (9/9) … Earned the start in the ACC opener against Clemson (9/14) … Aided Miami to a shutout victory over Syracuse (9/29) … Assisted the Canes in blanking Florida State (10/25).
2017 (Sophomore): One of 10 Hurricanes to play in all 16 matches … Started 14 contests, including each of the first 13 … Notched two goals, one a match-winner, and four points … Tied for third on the team in goals and placed fifth in points … Recorded 13 shot attempts, including six on goal, ranking fourth among Hurricanes in both categories … Amassed 917 minutes of playing time … On the field for 60-plus minutes seven times, going the distance twice … Notched her first-career start in the season opener versus St. Francis (PA) (8/18), tallying one shot on goal … Recorded one shot attempt at Yale (9/1) … Playing the full 90 minutes for the first time, netted a goal at Quinnipiac (9/3) to go along with career highs in shot attempts (six) and shots on goal (four), the latter leading all players in the match … Went the distance at No. 11 Virginia (9/21) … Tallied one shot attempt in 87 minutes of action at Louisville (9/24) … Posted one shot attempt in 71 minutes of field time versus Boston College (10/8) … Against Pittsburgh (10/19), in a reserve role for the first time on the year, scored her first-career match-winning goal and notched two shot attempts.
2016 (Freshman): Played in 16 of 19 matches, including each of the final six … Tied for fourth on the team with two goals … Also logged one assist to finish with five points, third-most among Miami freshmen … Recorded 512 minutes of action … Earned over 40 minutes of playing time on six occasions, with 20-plus 13 times … Scored a goal on a header in the 76th minute in her Miami debut at North Florida (8/19) … Attempted four shots against Jacksonville (8/28), with three of them on goal, including scoring off a header … Recorded one shot on goal versus Florida Atlantic (9/4) … Posted a co-team-high three shot attempts, including one on goal, against FGCU (9/8) …Tallied one shot attempt in 51 minutes of action versus FIU (9/11) … Picked up her first-career assist on Miami's golden goal in the 102nd minute against No. 25 Virginia Tech (10/23) to help clinch an ACC Championship berth … Played a season-high 74 minutes in the ACC Championship quarterfinals at No. 14 Clemson (10/30).
High School: Four-year starter at Mater Dei High School … Named team MVP her final three seasons and was team captain as both a senior and junior … Four-time all-conference pick and three-time all-sectional honoree in her career, finishing with 39 goals and 35 assists … Ranked as a four-star prospect and the No. 135 player in the nation by Top Drawer Soccer … Peaked at No. 38 in Top Drawer Soccer's rankings in 2013 … Scored 14 goals and tallied seven assists as a senior, leading the team to an 18-6-4 record, including a 6-1-1 conference mark to win the Trinity League, and a berth in the CIF South Sectional quarterfinals … As a senior, was named an All-CIF Southern Sectional Division I First Team pick, an Orange County Register All-County First Team choice, an All-Trinity League First Team pick, the Trinity League Offensive MVP, all for the second consecutive year, and was also both an All-American Watch List member and California State Star pick by Top Drawer Soccer … Logged 15 goals and 18 assists as a junior, helping the team to a CIF Southern Section Division I title, a CIF regional final appearance and a Trinity League title … Registered five goals and five assists as a sophomore, earning All-CIF South Sectional Third Team and All-Trinity League First Team honors … Posted five goals and five assists as a freshman, garnering All-Trinity Second Team recognition … Notable Mater Dei alumni in athletics include Heisman Trophy winners John Huarte and Matt Leinart, Matt Barkley of the Arizona Cardinals, Stanley Johnson of the Detroit Pistons and Kaleena Mosqueda-Lewis of the Seattle Storm, among many others.
Club: Played for the SoCal Blues from U-11 through U-18, including the final five years in the ECNL … Won a trio of club titles, earning the title at the 2016 Blues Cup, 2015 United Cup and 2013 Harvest Cup … Also made the finals of five other tournaments, including the 2014 ECNL North American Cup and 2014 Cal South National Cup.
International: Member of the Guatemalan Senior Women's National Team … Helped Guatemala qualify for the U-20 FIFA World Cup in 2014 … Played for Guatemala in U-17 FIFA World Cup qualifying in 2013, tallying a goal and an assist against Trinidad and Tobago … Has three caps at the U-20 level and three caps at the U-17 level.
Personal: Full name is Lauren B Markwith … Middle name is for her great-grandmothers, Beatrice Markwith and Barbara Rimano … Nickname is Lolo … Born Oct. 9, 1997 … Parents are John and Claudia Markwith … Father owns and manages an insurance agency … Has an older sister, Angela … Majoring in broadcast journalism … Career goal is to be a sports broadcaster … Favorite athlete is Mia Hamm because of how she paved the way for female athletes and her ability as a player … Best sports memory is winning the sectional title as a junior … Enjoys playing beach volleyball, running and biking … Chose Miami because of the campus, the family feel of the soccer program and the coaching staff … Committed to Miami over Colorado, Hawaii, Loyola Marymount, Northwestern, NYU and Penn.