University of Miami Athletics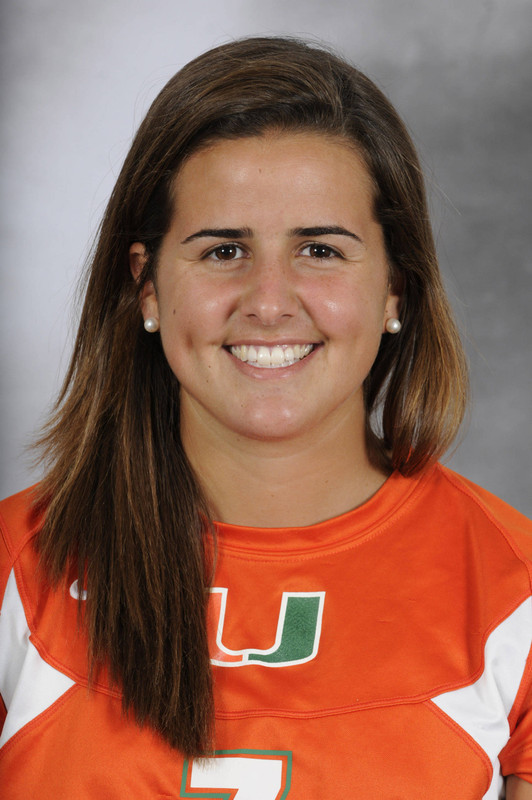 2012 (SENIOR): Playedin all 20 games, including career-best 15 starts … Provided versatility on  defensive backline … Registered lone point ofseason on assist in 3-2 overtime loss to No. 2 Duke (Sept. 16) … Started andplayed season-best 90 minutes in 2-0 road win at Clemson (Oct. 7).
2011 (JUNIOR): Served as one of the team's most important subs, competing in all 19 games…Started a career-best six matches…Tied for third on the team with four assists on the year…Did not record a goal but registered 13 shots…Notched assists in back-to-back games against Utah Valley (8/28) and Duquesne (9/4).
2010 (SOPHOMORE): Played in 18 matches on the year, starting two… Had first career start at Florida (8/20)… Recorded a career-high in minutes at Boston College (10/28) with 64.
2009 (FRESHMAN): Played in four matches… Recorded two shots against Ball State (8/28)… Played a season-high 10 minutes against Clemson (10/9).
Club: Played for Tim Bradbury and her mother Donna on the Rockville Centre Tornadoes from 2000-09… A member of the Region 1 Premier Champions from 2007-09… Eastern New York State Cup Finalists in 2007 and 2008 as well as the Region 1 North Champions in 2008.
Olympic Development Program: Competed under Brian McCaughey and Steven Wilhelm for Eastern New York ODP from 2005-08… Regional semifinalists in 2005 and 2006.
High School: A two-time letter winner at Kellenberg Memorial in 2007 and 2008… Was a member of the 2006 Catholic School of Long Island Champion team… Voted team captain in 2008, but only played five matches due to injury… Received Long Island All-League Award in 2007.
Personal: Chose UM due to its great academic and athletic reputation as well as the beautiful weather and school spirit… Selected Miami over other schools such as the College of Charleston, UNC-Wilmington, Monmouth, Stonybrook and St. John's… Intends to major in Communications/English.