University of Miami Athletics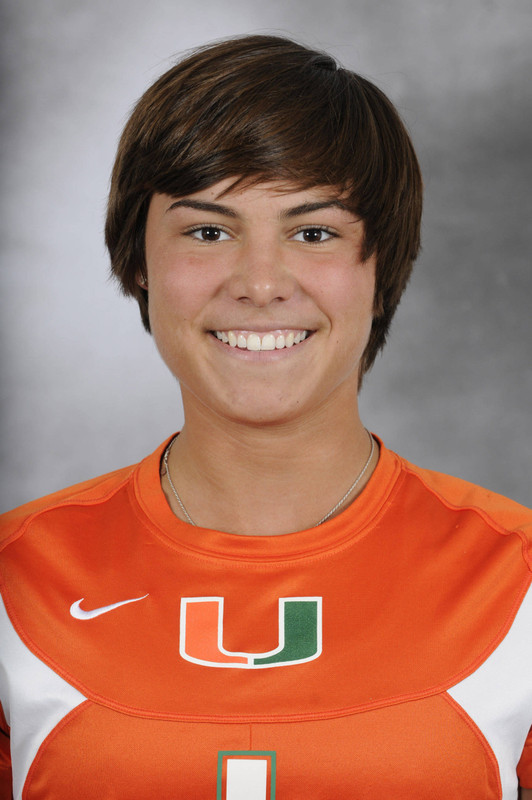 2012 (SENIOR): Namedto Lowe's Senior CLASS Award Watch List prior to season … Started all 17matches in which she competed … Tied for team lead in scoring with 3 goals … Rankedsecond on team with 7 points … Scored in season opener on road at Florida (Aug.17), eventual 4-1 romp … Tallied second goal in 3-0 win over Idaho (Sept. 7) … Scoredlone goal in 1-0 win at home against UTSA (Sept. 21) … Missed two games late inseason with lower extremity injury … Assisted on Ally Andreini's goal in team'sNCAA Championship opener on road at No. 18 UCF (Nov. 10).
2011 (JUNIOR): Named Second-Team All-ACC for her prolific offensive season, which included team-highs of 11 goals and seven assists…Also led the team in points (29) and shots (45)…Selected to the NCAA Division I All-Southeast Third Team…Named ACC Player of the Week on Oct. 18, a performance that included two assists in an upset of then-No. 4 Boston College and two goals in a win over then-No. 10 Maryland…Recorded four multi-goal games on the season…Scored a goal and assisted on the gamewinner in double sudden victory during the team's first-ever NCAA Tournament win at home over Alabama.
2010 (SOPHOMORE): Played in the first 10 games of the season with nine starts before being lost to in injury… Despite the injury, finished the year tied for second on the team in points with eight, second in goals with four and second in shots 34… She also scored her second career game-winning goal against North Dakota State (9/12).
2009 (FRESHMAN): Played in 17 matches on the year, starting seven… Named to the Top Drawer National Soccer Team of the Week (8/31)after netting a hat trick, including the game-winner, in the 5-1 win over Ball State (8/28)… Third on the team with six points… Recorded nine shot on the season.
CLUB: Played for the Flint Steelers from 1999-05 and under Doug Landefeld for the Michigan Hawks since 2006… Member of the state champions from 2006-07 and regional champs in 2007.
OLYMPIC DEVELOPMENT PROGRAM: Has competed with the Michigan ODP team since 2006 and the Region 2 team since 2007 under Tony DiTucci and Tammy Farnum… Winner of the Silver Boot at regional camp in 2007.
HIGH SCHOOL: Was a four-time letter winner in soccer and a three-time letter winner in power lifting… Led her team to the 2009 state finals… Member of the 2006-08 conference champions, 2006-08 district champions, 2006-07 regional champions and the 2007 state finalists… Was named all-conference 2006-08, all-district 2006-08 and all-region 2006-08, all-state 2006-08… Named to the Michigan Dream Team in 2008 and team's offensive MVP from 2006-08.
PERSONAL: Chose Miami because it offered her the academic program she was looking for and the opportunity the soccer program brought her… Chose UM over Ohio State, Iowa, Purdue, Michigan, Pittsburgh, Central Michigan and Western Michigan… Intends to become a Pre-Med major.