University of Miami Athletics
Josh Cohen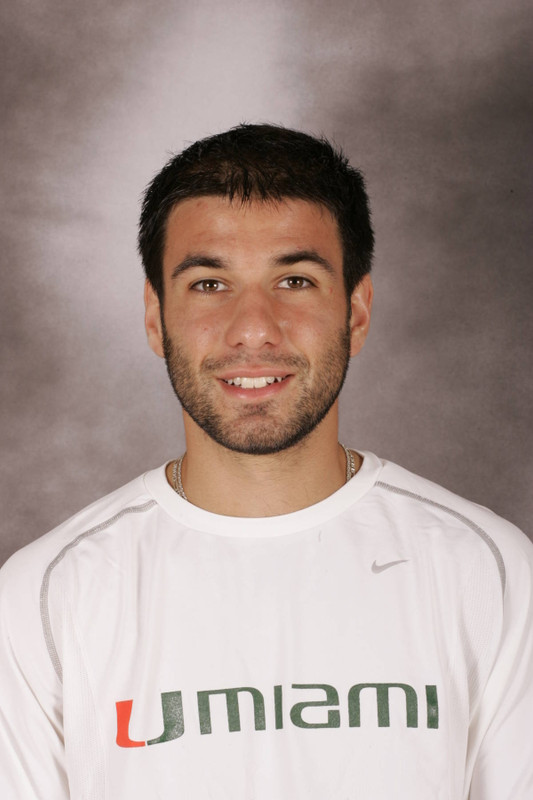 2004-05 (Sophomore):
The first player in UM history to earned All-ACC honors… Compiled a 13-5 record at the No. 1 spot and finished the season 23-12 overall to lead the team in wins… Ranked No. 45 in final ITA National Rankings… Led the team with an 8-4 ACC record… Finished season with a loss in the first round of the NCAA Tournament… Led Miami to a first round ACC Tournament victory over No. 52 Virginia Tech, defeating No. 67 Stephane Rod 6-1, 6-2… Upset No. 15 Doug Stewart of top-seeded Virginia 6-4, 6-3 to close regular season… Had two separate dual win streaks of six matches each… In the midst of the second streak, upset No. 3 Ludovic Walter, 7-6 (3), 6-4 of No. 5 Duke… Defeated No. 63 Raian Luchici of No. 53 North Carolina, 6-2, 3-6, 7-6 (5)… Teamed with Eric Hechtman for an 11-4 record, including a 7-4 record in No.1 doubles… In the fall, posted an 8-4 record… Reached the quarterfinals of the Crimson Tide Invitational, defeating Wake Forest's Andrew Hamar, 7-6 (5), 6-0 in the process… Reached the semifinals of the ITA Southeast Regional Championships, defeating Florida's Janne Holmia, 7-5, 6-0… Paired with Hechtman to win all three matches at the Gator Invitational.
2003-04 (Freshman):
Stepped into the Hurricanes' lineup as the No. 1 singles player as a freshman, posting an overall record of 13-4 in dual matches in the No. 1 slot… Finished season ranked No. 28 in the ITA Southeast Regional Rankings… His 13 wins were third on the team… All four losses came to players who where either ranked at the time or finished the season nationally ranked… BIG EAST Champion-ship All-Tournament Team selection… Opened freshman season winning all 11 of his first singles matches in dual play… Downed Gwinyai Chingoka, 6-0, 6-0 against No. 38 SMU and No. 69 Uli Kiendl (6-2, 3-6, 6-2) of No. 34 South Florida… Led No. 19 Hamid Mirzadeh of No. 4 Florida, 7-5, in the first set before the match was called due to rain… Defeated Matthew Scott of No. 43 Notre Dame, 6-2, 6-3 and No. 91 Antonio Sierra of Central Florida, 6-3, 6-3… Posted an overall record of 12-6 in doubles play during the spring… Finished the fall with an overall record of 8-5 in singles play, including a straight sets victory in his first collegiate match, overtaking NC State's Val Banada 6-1, 6-1 at the Miami Fall Classic… Downed No. 66 Karim Benmansour of South Florida, 6-4, 6-4 at the Gator Invitational… Won five straight before falling to No. 71 Adrians Zguns of Arkansas, 7-5, 2-6, 7-6 in the opening round of the qualifying bracket of the Icy Hot/ITA All-American Champion-ships… Teamed with Eric Hechtman for a 7-3 overall record in doubles play in the fall… The pair won five straight during the span of three tournaments before falling to No. 5 Bo Hodge and John Isner of Georgia, 9-7, at the ITA Southeast Championships… Won three straight matches with Hechtman at the Icy Hot/ITA All-American Championships.
Prep:
Among the top junior players nationally… Played in nine straight Junior Grand Slams… In 2003, ranked sixth nationally in boys' 18… Winner of the USTA National Men's Open Championship… Boys' 18 singles finalist in The Easter Bowl in Palm Springs, Calif…. In 2002, ranked first nationally in boys' 18 category… Ranked 19th in the world in singles and 43rd in the world in doubles… Singles winner at both the USTA International Hard Courts and USTA International Grass Courts in Philadelphia… In 2001, singles quarterfinalist at Australian Hardcourts… In 2000 and 2001, ranked first nationally in boys' 16 category… In 2000, was singles champion at Port Washington International… Reached singles round of 16 at U.S. Open Championships… A singles finalist at USTA Super National Hard Courts tournament.
Personal:
A sport administration major.
Cohen's Career Stats
SinglesYear	Dual	ACC	Overall2003-04	13-4	-	21-92004-05	15-7	6-4	23-122005-06	15-4	5-3	27-6Total	43-15	11-7	71-27
Doubles Year Dual ACC Overall 2003-04 12-6 – 19-9 2004-05 13-7 6-4 24-14 2005-06 11-4 4-3 17-5 Total 36-17 10-7 60-28