University of Miami Athletics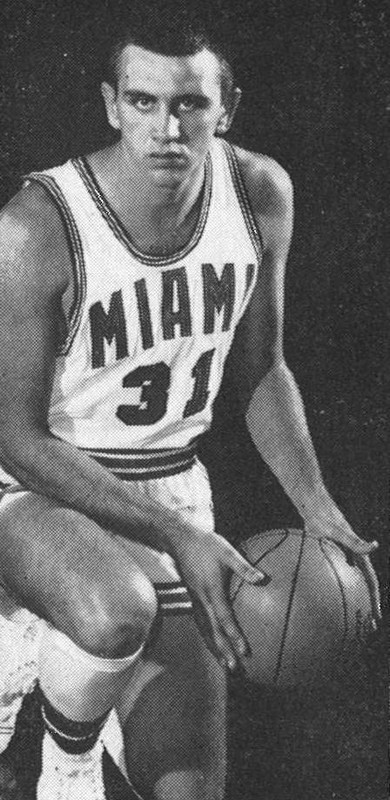 As a Junior (1963-64)
Dampier, long shot artist, was the streakiest point maker on the club during the campaign. He was over 40 points at once, over 30 five times and over 20 in a dozen occasions. He fell off to two points twice. John showed much greater steadiness in workouts on the fall and indications were that the tall guard was going to have great games and few or no nights when he is way off the mark. Some new wrinkles in the Miami style of play helped him for the next year.
Junior College (1961-1963)
Fleet, high scoring, ball hawking lad had a tremendous shot in the arm for Miami's basketball fortunes the next two years. He was one of the finest in the land in two years as a junior collegian. John showed remarkable skill in getting the ball down the floor, and then having that extra sense which made him able to know whether to handle the scoring chore himself or file the pass which would set up the scoring play. Rated as a top prospect.
| | | | | | | | | | | | | | | | | | | | | | | | | | |
| --- | --- | --- | --- | --- | --- | --- | --- | --- | --- | --- | --- | --- | --- | --- | --- | --- | --- | --- | --- | --- | --- | --- | --- | --- | --- |
| Year | GP | GS | Min | Avg | FG | FGA | Pct | 3FG | 3A | 3Pct | FT | FTA | Pct | Off | Def | Tot | Avg | PF | FO | A | TO | B | S | Pts | Avg |
| 1963-64 | 27 | – | – | – | 314 | 572 | .549 | – | – | – | 242 | 287 | .843 | – | – | 448 | 16.6 | 71 | 1 | – | – | – | – | 870 | 32.1 |
| 1964-65 | 6 | – | – | – | 39 | 82 | .476 | – | – | – | 14 | 20 | .700 | – | – | 19 | 3.2 | 13 | 0 | – | – | – | – | 32 | 15.3 |
| TOTAL | 33 | – | – | – | 353 | 654 | .513 | – | – | – | 256 | 307 | .772 | – | – | 467 | 9.9 | 84 | 1 | – | – | – | – | 902 | 23.7 |