University of Miami Athletics
J.C. Whitner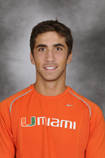 Fall 2008:
Fall: 6-3 singles, 4-1 doubles. Spring: 0-3 singles, 0-0 doubles. 
Put together a solid fall season with a 6-3 singles record and a 4-1 mark in doubles play with Hector Nieto… After dropping first two singles matches of fall season, bounced back to win six of next seven… Closed the season with four-straight wins en route to claiming the singles title at the Brotman Invitational… With Nieto, won first two doubles matches at the season-opening Wolverine Invitational… Won matches over duos from Michigan, Denver, Temple and Florida A&M.
2007-08 (Sophomore):
Named to the All-ACC Academic Men's Tennis Team… Won nine singles matches for the Hurricanes, including opening the fall season with a 6-3, 6-1 win over Notre Dame's No. 32 Sheeva Parbhu… Also knocked off No. 13 Florida's Erik Corace, 6-2, 6-3… Played at the No. 5 and 6 positions in dual match competition and appeared in six ACC matches for Miami… Played at the No. 3 doubles spot with Barnabas Carrega, Keith Crowley and Hector Nieto… Pairing with Nieto, posted an 8-7 win over Boston College's Thomas Nolan and Adam Davison in ACC play.
2006-07 (Freshman):
Won three-straight singles matches in ACC play, knocking off Zach Rath of No. 42 Georgia Tech and Trey Taylor of No. 45 Maryland in straight sets at the No. 5 position… Followed that up with a strong 6-2, 6-4 win over Boston College's Alex Rastorgouev at No. 4… Predominantly played at No. 5, but competed at No. 4 and No. 6 in several matches as well… Won four doubles matches in ACC play, pairing with Hector Nieto at No. 3 to handily defeat No. 42 Georgia Tech's duo of Jordan DeLass and George Gvelesiani, 8-1, and No. 45 Maryland's Nicolas Frayssinoix and Nickolai Nielsen, 8-4… Along with Nieto, won three of their last four doubles matches of the season versus ranked teams, including going 2-0 in the ACC Tournament at No. 3, defeating No. 45 Georgia Tech's Scott Blackmon and Zach Roth, 8-4, and No. 2 Virginia's Lee Singer and Ted Angelinos, 8-6… Compiled a 4-2 record in doubles action with Barnabas Carrega, including an 8-4 win over Boston College's Thomas Nolan and Geoff Mueller at No. 3.
Prior to Miami:
Earned a USTA National ranking of 100… Advanced to the quarterfinals of the 2005 USTA Level 3 West Coast National Championships.
Personal:
Son of Lon and Christine Whitner… Father, Lon, played collegiate basketball at the University of Washington… Has one brother, Patrick… A marketing major… Lists former NFL great Jerry Rice as one of his favorite athletes… Off the court, enjoys basketball, soccer, table tennis and water sports.