University of Miami Athletics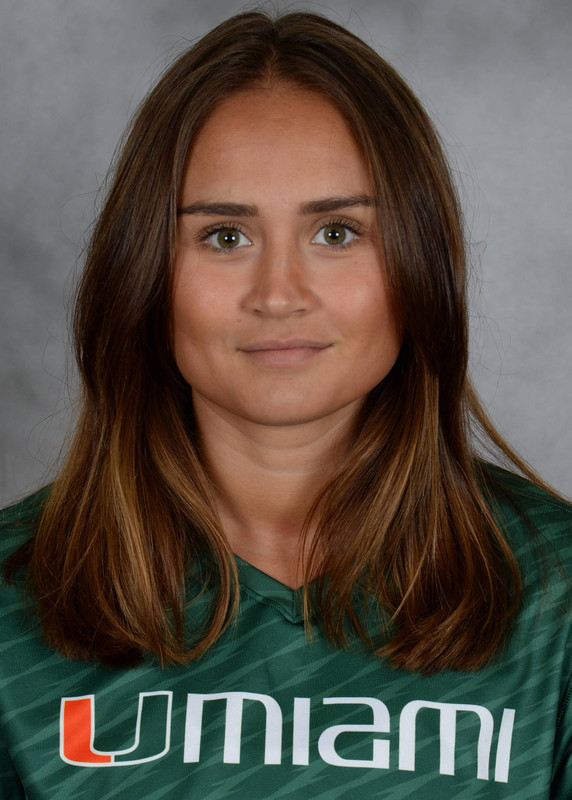 2017 (Junior): Played in one match … Tallied 17 minutes of action in Miami's match at Louisville (9/24).
2016 (Sophomore): Played in one match … Helped the Hurricanes earn a shutout victory against Jacksonville (8/28).
2015 (Freshman): Played in six matches … Recorded 112 minutes of playing time … Played over 25 minutes in half her appearances, logging a season-high 31 minutes at Florida Atlantic (9/4) … One of two true freshmen to see action in the season opener against Texas (8/23), playing 26 minutes.
High School: Graduated from Solna Gymnasium … Did not play high school soccer … Ranked as a three-star recruit by Top Drawer Soccer.
Club: Played for Bollstanas SK in 2014-15 in Elittean, the second highest league in Sweden … Member of AIK DAM from 2010-14 and played in Sweden's top league, Damallsvenskan, in 2012 and then won Elittean in 2013 … Played for AIK DAM Junior from 2010-12 … Won the Junior District Championship in 2010, 2011 and 2012 … Earned the title at the 2012 U-19 Gothia Cup … In 2011, won silver at the U-17 Swedish National Futsal Championship and bronze at both the U-17 Swedish National Soccer Championship and U17 Norway Cup … In 2010, won the title at U-17 Swedish National Futsal Championship, U-16 Swedish National Soccer Championship and U16 St. Erik Cup Championship … Named the most talented youth player in the AIK DAM club in 2010 … Played on loan for DIF DAM in Elittean in the fall of 2013 … Selected for the Stockholm Soccer Association District Team every year from 2009-12 … Played for F-19 Tipselit in 2011.
International: First selected for the U-15 Swedish National Team in November 2010 … Also played for the U-16 and U-17 teams between 2010 and 2013 … Played in eight international matches from 2011-12 in Denmark, Finland and Sweden … Member of the Swedish U-16 National Team at the Nordic Cup in Finland in July 2011 … Part of the Swedish national pool districts team from 2010-14.
Personal: Full name is Hanna Magdalena Droh … Last name rhymes with "throw" … Born July 29, 1995 … Parents are Bert and Lena Droh … Father is an IT manager and mother works as a Nordic recruiting leader for a major accounting firm … Has an older brother, Jonathan, and a younger brother, Erik … Intends to major in marketing … Favorite athlete is soccer star Zlatan Ibrahimovic because of the caliber of player he is and his attitude, as well as that he is from Sweden …  Best sports memory is winning the U19 Gothia Cup with AIK DAM in 2012 … Always ties her left cleat and puts on her left shin guard before doing her right ones … Chose Miami because of the academics, the soccer program and the weather … Committed to Miami over Coastal Carolina, University of Chicago, UMass and USC.