University of Miami Athletics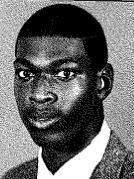 At Miami: Fourth- year senior who provides the Canes with a very physical inside force… plays either the power forward or center positions… a player with an excellent knowledge of the game… runs the floor very well, is aggressive on the defensive end of the court and has a good shooting touch out to 15 feet… signed a national letter of intent to come to Miami in the spring of 1989… is the only current Hurricane from the state of Texas.
As a Junior (1991-92): Started all 32 games, 18 at center and 14 at the "4" position… was third on the UM team in rebounds with 4.2 rpg… lead the UM in shooting percentage with a mark of 53.4% (62 of 116)… shot at least 50% from the field in 23 of 30 games (did not attempt a field goal in two games)… recorded the most fouls on the UM team for the second straight year, but curbed his aggressiveness and fouled out of just two contests… had two strong showings at the San Juan Shootout—vs. Eastern Kentucky, recorded 11 points, six rebounds, three assists and two blocks in 22 minutes; vs. Tennessee, had 14 points and a career-high 12 rebounds along with two steals… recorded another double-double with 12 points and 10 rebounds vs. Marshall… recorded 10 points and five rebounds vs. St. John's… was the first Cane to take advantage of the BIG EAST six foul rule when he fouled out of the Seton Hall (1/7) contest with 0:45 remaining… hit five-of-six field goal attempts for 10 points vs. Georgetown (2/15)… led UM with seven boards vs. Villanova (2/18)… tallied 10 points and eight rebounds while dishing out two assists vs. FIU… was six of eight from the field in Miami's two BIG EAST Tournament games… posted two career-highs with four assists and 37 minutes of PT vs. Georgetown  (3/13).
As a Sophomore (1990-91): Appeared in all 28 contests for an average of 15 minutes per game in relief of Joe Wylie and Justin Caldwell… led all Hurricanes in field goal percentage with a mark of 49.5% (45-91)… aggressiveness on the defensive and resulted in Ward fouling out of eight games… had his finest career outing vs. Lehigh when he came off the bench early to replace an injured Joe Wylie… vs. Lehigh, Ward led the Canes with a personal-best 23 points on eight-of-10 field goals and seven-of-eight free throws, along with six rebounds, one assist, one steal and one blocked shot in 25 minutes of PT.
As a Freshman (1989-90): Appeared in 23 contests while receiving the starting nod in three games (Florida State-1, DePaul-1, and Central Connecticut)… averaged nine minutes of playing time per game in relieving Joe Wylie at the center position… top scoring outings were back-to-back eight point efforts vs. DePaul-1, when he added four rebounds before fouling out after 16 minutes, and Mercer when he hit on four-of-four from the field… best rebounding effort was a five-board performance vs. Central Connecticut in 24 minutes of action… young aggressiveness showed up on the box score with 51 personals and 212 minutes
High School: Aldine… did not compete during his final year of high school as he was ruled to have used four seasons of eligibility following an initial year of course work for a reading disability… participated in all practice sessions and competed in post-season all-star competition… first recruited by Miami at the prestigious BCI Tournament in Houston where he was voted "MVP" of his team and was selected as a member of the Houston Gold squad which traveled to tournaments in Lubbock, TX and Los Angeles, CA… coached in high school by Rich Delgado.
Personal: Hobbies include movies and reading… full name is Hammie Ward, III… is married to the former Claudia P. Bishop of Houston, TX… Hammie and Claudia became proud parents of Adam Christopher Ward on April 23, 1992… majoring in business… born 6/3/70.
| | | | | | | | | | | | | | | | | | | | | | | | | | |
| --- | --- | --- | --- | --- | --- | --- | --- | --- | --- | --- | --- | --- | --- | --- | --- | --- | --- | --- | --- | --- | --- | --- | --- | --- | --- |
| Year | GP | GS | Min | Avg | FG | FGA | Pct | 3FG | 3A | 3Pct | FT | FTA | Pct | Off | Def | Tot | Avg | PF | FO | A | TO | B | S | Pts | Avg |
| 89-90 | 23 | 3 | 212 | 9 | 19 | 48 | .396 | 0 | 0 | .000 | 13 | 24 | .542 | 14 | 19 | 33 | 1.4 | 51 | 4 | 5 | 23 | 9 | 5 | 51 | 2.2 |
| 90-91 | 28 | 0 | 411 | 15 | 45 | 91 | .495 | 0 | 0 | .000 | 34 | 50 | .680 | 16 | 25 | 41 | 1.5 | 90 | 8 | 13 | 38 | 12 | 16 | 124 | 4.4 |
| 91-92 | 32 | 32 | 725 | 22.7 | 62 | 116 | .534 | 0 | 1 | .000 | 61 | 92 | .663 | 45 | 89 | 134 | 4.2 | 115 | 2 | 21 | 63 | 12 | 11 | 360 | 4.3 |
| TOTAL | 83 | 35 | 1348 | 16.2 | 126 | 255 | .494 | 0 | 1 | .000 | 108 | 165 | .655 | 75 | 133 | 208 | 2.5 | 256 | 14 | 39 | 124 | 33 | 32 | 360 | 4.3 |