University of Miami Athletics
Gabriel Flores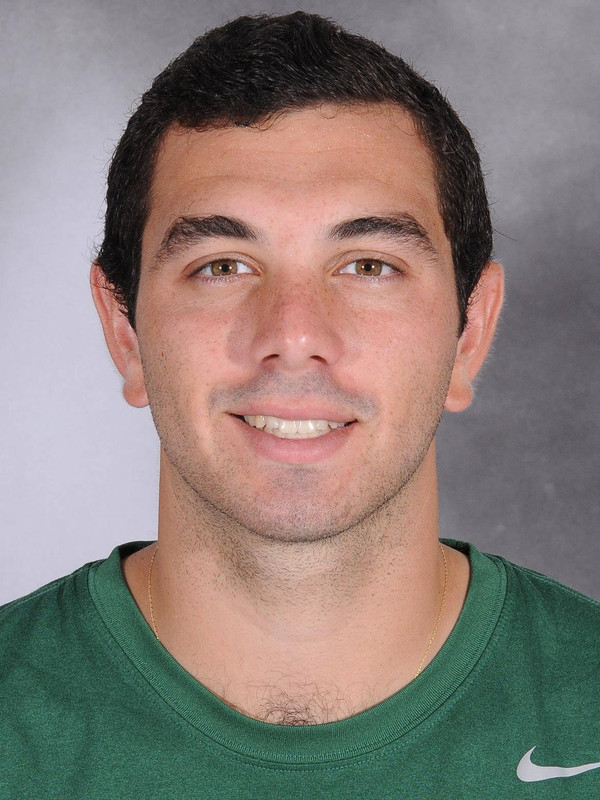 Photo Gallery
Rallying With Gabriel Flores 2014   |   Q & Ace interview with Gabriel Flores
All-ACC Men's Tennis Academic Team – 2014
ACC Honor Roll – 2012-13, 2013-14
Career (2010-14)
Posted 63-61 singles and 33-47 doubles marks in four years … One of 34 Hurricanes in the 50-win club at Miami … Won career-best 20 singles matches as a freshman, with 14 losses … Was 11-19 as a sophomore, 16-14 as a junior and 16-14 as a senior … In doubles, was 13-15 senior season, after 8-13 mark junior year, 11-15 as a sophomore and 1-4 in rookie campaign. 
As a Senior (2013-14)
Gabriel Flores 2013-14 match by match  

Fall: 2-5 singles, 2-3 doubles. Spring: 14-9 singles, 11-12 doubles. 
Completed season with overall 14-9 singles record and a 5-6 ACC mark … Partnered with Diego Soto to finish the season with a doubles record of 11-11, and a 2-7 ACC mark … Defeated a pair of Top 100 players back-to-back with wins over No. 48 Adam Lee (Wake Forest) and No. 98 Robbie Mudge (NC State) … Also downed No. 121 Cristian Gonzalez Mendez (Florida State) in the final regular season match … Won six consecutive singles matches midseason … Only Cane to end season on a two-match winning streak … Primarily played out of position No. 2 (10-4) but competed out of position No. 1 nine times (4-5) … With Soto, defeated No. 27 Sean Weber/Nick Horton (NC State) … Opened the season with four consecutive doubles wins … Book Buster (3.0 spring semester GPA).
As a Junior (2012-13)
Gabriel Flores 2012-13 match-by-match  

Fall: 3-2 singles, 0-2 doubles. Spring: 13-12 singles, 8-11 doubles. 
Finished the season with a 13-12 singles record… Went 4-6 in ACC matches… The 13 wins is tied for second most on the team… Won six of his first seven matches to start the season… Recorded a team-high 10 straight sets wins… Played a tightly contested match against top-ranked Jarmere Jenkins that ended in a close 5-7, 6-7 final… Won five consecutive singles matches over New Mexico, Georgetown, Florida Gulf Coast, then-No. 25 Clemson and then-No. 63 Georgia Tech in March… Played most matches from the No. 2 singles position but saw some action at the top spot as well as the No. 3 and once at No. 5… Clinched a 4-3 victory over then-No. 63 Georgia Tech with a 4-6, 6-1, 6-1 win over Juan Melian… Finished the season with eight doubles wins… Partnered with Diego Soto for five doubles wins and Omar Aly for three doubles wins at the No. 2 position… Posted a 3-2 overall singles fall match record, winning three of his last four matches… Partnered with Diego Soto for a pair of doubles matches losing both… Defeated top-16 seed Federico Sabogal of USF to advance to the Round of 32 in the USTA/ITA Regional Championships… Advanced to the Round of 16 in the USTA/ITA Regional Championships by defeating top-6 seed Didrik Berg (Stetson) 6-0, 6-3. 
As a Sophomore (2011-12)
Gabriel Flores 2012 match-by-match

Fall: 4-3 singles, 4-3 doubles. Spring: 7-16 singles, 7-12 doubles. 
Posted a 6-14 overallsingles dual match record with a 1-9 mark in ACC play … Miami's No. 1 player in all individual matches … Three of his seven wins did not go into the third set … Played both the Nos. 1 and 2 position in doubles, posting a 7-10 record with partner Diego Soto and 0-2 with Omar Aly … Won three-straight individual matches over South Florida, UCF and North Florida in late February … Earned four-straight doubles wins in January with partner Diego Soto.
As a Freshman (2010-11)
Fall: 6-7 singles, 1-4 doubles. Spring: 14-7 singles, 0-0 doubles. 
Among three Canes to finish with 20- or-more singles wins, going 20-14 during his freshman campaign… The first Miami rookie since Ignacio Taboada in 2009 to reach 20 wins… Posted a 14-7 mark in dual match play, including a 7-4 mark versus ACC opponents… Played at the No. 5 and 6 positions, going 4-2 at No. 5 and 10-5 at No. 6… Won seven straight between Feb. 21 and March 20 and 11 of 13 matches from Feb. 21 through April 10, including wins over players No.16 Georgia Tech, No. 23 Minnesota and No. 28 Florida State… Clinched UM's 4-3 win over No. 41 Nebraska in the opening round of the NCAA Tournament, rallying for the 7-6 (8-6), 4-6, 6-2 win over Tom Blackwell at No. 5… Marked his fifth match-clinching victory of the season – including the March 13 win over No. 16 Georgia Tech… Went 6-7 in his inaugural fall season… Won four consecutive singles matches in his debut, including three matches in straight sets, to advance to the semifinals of the Southern Intercollegiate Championships in Athens, Ga… Knocked off two opponents from programs that finished among the Top 25 in 2010 during that run… Five of his six singles victories in the fall came in straight sets… Played doubles matches with teammates Omar Aly, Santiago Nieto and Christian Blocker… Pairing with Nieto, the duo knocked off FAU's Derek Madon and Oliver Webb, 8-6, at the UM Invitational.
Prep 
Top recruit out of Puerto Rico and all of the U.S. territories and ranked No. 26 among all U.S. players in the Class of 2010 by TennisRecruiting.net… Top junior player in Puerto Rico, No. 2 among men in Puerto Rico and ranked as high as No. 84 in the world junior rankings… 2009 Puerto Rico High School champion and Puerto Rico Men's Open National Tournament finalist… Undefeated in singles play in 2008 en route to the USTA Grade I Intersectional team championship… 2008 doubles champion at the ITF Grade 4 Hawaii Junior Championship and a finalist at both the 2009 ITF Grade 4 Bahamas Junior Championship and 2009 ITF Grade 3 Central America and Caribbean Championship… Trained at the Sanchez-Casal Tennis Academy in both Spain and Naples. Fla.
Personal 
Born February 18, 1992 … Son of Eduardo and Claudia Flores… Has two brothers who also play tennis… Born in Washington, D.C., but raised in Puerto Rico… Off the court, enjoys playing golf… Graduated with honors from the Kaplan College Preparatory School… First played on UM's courts as a 12-year old in the Junior Orange Bowl Tournament – since then his dream was to study and play tennis at Miami… Chose Miami over several Top 25 collegiate men's tennis programs for its excellence in academics and for its strong tennis tradition… Travelled the world as a junior tennis player, competing in tournaments across the U.S., Central America, South America, Europe and North Africa… An international finance and marketing major with aspirations to pursue a degree in law and a career in international sports ventures and management.