University of Miami Athletics
Eduardo Pavia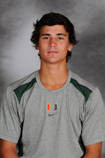 2010-11 (Senior):
Fall: 7-4 singles, 4-3 doubles. Spring: 15-8 singles, 10-5 doubles. 
The first of three Canes to hit the 20-win mark in singles this season, finishing with a team-high 22-12 record, including a 7-4 mark in ACC play in his lone season competing for Miami… Put together four- and five-match win streaks, winning 11 of 13 matches from Feb. 21 through April 10… 10 of those wins were in straight sets, including a 6-4, 6-4 victory over No. 28 Florida State's Andres Bucaro and a 7-6, 6-1 win over Julian Dehn of No. 23 Minnesota…Played the No. 4 through 6 positions, going 5-2 at No. 4, 9-6 at No. 5 and 1-0 at No. 6… Compiled a 12-8 doubles record, including a team-high 8-1 mark at No. 3 versus ACC competition alongside Pedro Ast… Won seven-straight matches to close the regular season, including a key win over 71st-ranked pair John Collins and Tommy Laine of No. 43 Maryland… Also knocked off tandems from No. 10 Duke and No. 19 North Carolina on their home courts… During the fall, put together a 7-4 mark in singles and a 4-3 record in doubles play with Waylon Chin… Advanced to the quarterfinals of the Lakewood Ranch Clay Court Classic, after defeating Florida's Michael Alford, 5-7, 6-3, 6-4, and Arizona's No. 107-ranked Jason Zafiros, 6-3, 6-3… Won three matches in straight sets at the UM Invitational, knocking off Arkansas' Mike Ward, 7-6 (7-1), 6-3, FAU's Ervin Garibovic, 7-6 (7-3), 6-3 and Florida State's Anderson Reed, 6-4, 6-0… Downed USF"s Romain Deridder, 6-1, 7-6… Won three-straight doubles matches with Chin at the UM Invitational, cruising past USF's Deridder and Juan Acuna, 8-3, Arkansas' Gregoire Lehman and Nikolas Zogaj, 8-3, and rallying to defeat Florida State's Blake Davis and Andres Bucaro, 9-8 (7-3).
Prior to Miami: 
A three-year letterwinner at Ball State, earning2010 Mid-American Conference Player of the Year accolades… As a junior in 2010, went18-4 overall and a perfect 4-0 in conference play at No. 1 singles en route to this third-straight First Team All-MAC honors…MAC Newcomer of the Year in 2008.
Prep: 
Top-ranked Puerto Rican player in the Class of 2007 and ranked No. 42 among all U.S. players according to TennisRecruiting.net…Represented his country in the Davis Cup three times, going 2-0 in singles and 1-1 in doubles play in 2010… Also won the 2010 US Open Men's Southern Section Qualifying Tournament and competed in the Central American and Caribbean Sports Games in Mayaguez, P.R.
Personal: 
Son of Gerardo and Tere Pavia… Has one brother and one sister.