University of Miami Athletics
Diego Soto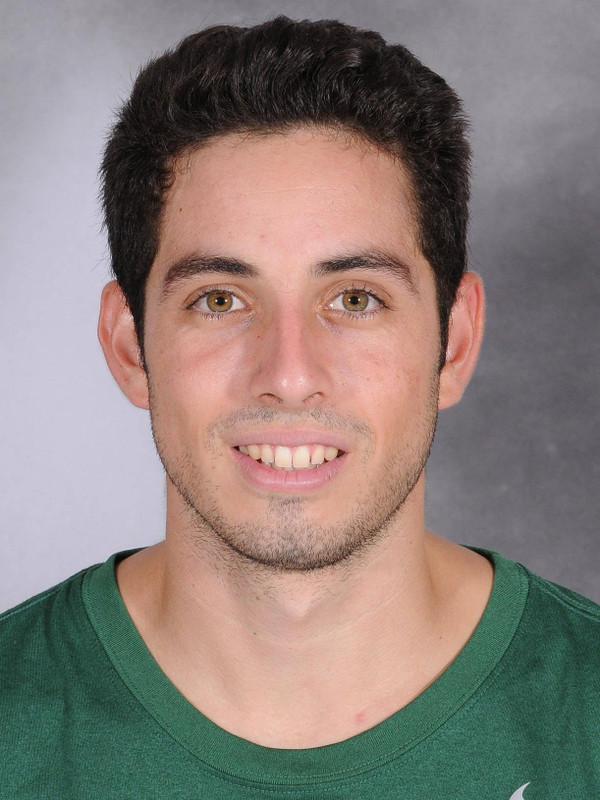 Photo Gallery
Rallying With Diego Soto 2014  |  Q & Ace interview with Diego Soto
ACC Honor Roll – 2013-14
Career (2011-14)
Posted 56-41 singles and 32-50 doubles marks in four years … Won career-high 19 matches as a senior with just 12 losses … Was 14-15 as a junior, 21-11 sophomore year and 2-3 as a rookie … In doubles, record was 14-15 as a senior, 7-16 junior campaign, 11-18 as a sophomore and 0-1 in freshman season.
As a Senior (2013-14)
Diego Soto 2013-14 match-by-match  

Fall: 4-3 singles, 2-4 doubles. Spring: 15-9 singles, 12-11 doubles. 
Finished the spring season with a 15-9 singles record and 4-7 ACC mark … Posted 12-11 doubles record, 2-7 in ACC … Five of nine singles matches went to three sets … Won five consecutive singles matches in March … Primarily played out of No. 3 spot (13-6) but competed out of No. 2 for five (2-3) matches … Defeated NC State's Sean Weber 7-6 (11-9), 3-6, 6-1 to secure the Canes' victory … Partnered with Gabriel Flores for an 11-11 doubles record, 1-2 at No. 2 and 8-9 at No. 2 … Was 1-0 with Henrique Tsukamoto at No. 2 … With Flores, defeated No. 27 Sean Weber/Nick Horton (NC State) … Book Buster (3.0 spring semester GPA) … Athletic Director's Honor Roll (3.2 spring semester GPA).
As a Junior (2012-13)
Diego Soto 2012-13 match-by-match  

Fall: 4-2 singles, 0-2 doubles. Spring: 12-13 singles, 7-14 doubles. 
Played to a 12-13 spring singles record with a 3-7 mark in ACC matches… Finished fourth on team in overall singles wins… Tied for third on team in ACC singles wins… Won ACC Player of the Week honors for the week of January 19… Only Miami player to win the award in the 2012-2013 season… Went 9-10 at the No. 1 singles position and 3-2 at No. 2 singles… Amassed seven singles wins against players on ranked teams… Won four consecutive singles matches in March against then-No. 58 Minnesota, Georgia State, then-No. 16 Florida State and then-No. 28 Wake Forest… Relinquished only one game in his singles match against Georgia State, winning 6-0, 6-1… Finished tied for a team-leading eight doubles wins… Partnered with Henrique Tsukamoto at No. 3 doubles and Gabriel Flores at both No. 1 and No. 2 doubles… Posted a 4-2 overall singles fall match record, winning three of his last four matches… Recorded a 0-2 overall doubles fall match record while partnering with Gabriel Flores… Advanced to the Round of 16 in the USTA/ITA Regional Championships by defeating top-6 seed Cristin Gonzalez Mendez (FSU) 6-1, 4-6, 6-3.
As a Sophomore (2011-12)
Diego Soto 2012 match-by-match 

Fall: 7-3 singles, 4-3 doubles. Spring: 14-8 singles, 7-15 doubles. 
Posted a 14-8 overall spring singles dual match record with a 5-4 mark in the ACC … Only one of two Canes to post a winning record this season … Only Miami player to have a winning record in ACC matches … Notched a 1-0 record at No. 3, 4-4 at No. 4, 6-2 at No. 5 and 2-0 at No. 6 … Was 6-13 in doubles play, earning all six wins with classmate Gabriel Flores … In singles, 11 of his 13 wins were in straight sets … Started the season 5-2 with four wins in straight sets at three different positions … In March had a streak of five-straight wins … In doubles, paired with Gabriel Flores to pick up three-straight duals victories in late January … Downed the Clemson duo of Ayrton Wibowo and Cedric Wellems to pick up his ACC doubles victory.
As a Freshman (2011)
Spring: 2-3 singles, 0-1 doubles. 
Joined the Hurricanes in January 2011, putting together a 2-3 singles record and an 0-1 mark in doubles play during the spring… Posted two singles wins in straight sets over players from Top 50 programs, defeating Andy Magee of No. 43 Maryland, 6-4,6-4, and No. 41 Nebraska's Sebastian Florcyzk,6-4, 7-6 (7-1), in the opening round of the NCAA Tournament… Dropped his lone doubles match, falling to USF, 8-3, alongside Eduardo Pavia.
Prep 
Won five tournaments in 2010 and was a doubles champion at the CPTO Madrid… Also advanced to the singles finals at CPTO Madrid and the quarterfinals at the Leiria (Portugal) ITF tournament.
Personal 
Born February 3, 1992 in Ávila, Spain … Son of Miguel Soto and Victoria Gonzalez … Off court, enjoys music, movies and soccer… Lists Cristiano Ronaldo and Rafael Nadal as his favorite athletes … His first step on the court is always with his right foot … Majoring in business and finance.