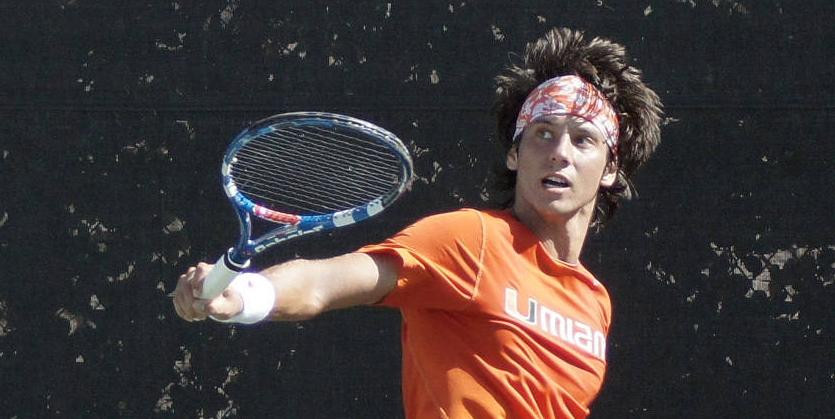 April 17, 2012
CORAL GABLES, Fla. – They are stories of perseverance. Stories about growing up, becoming men and being a part of a family. One-by-one, we hear from them. These are the Miami Hurricanes…
 
Diego Soto | Sophomore | Madrid, Spain
 
I started playing tennis when I was little. I saw my father play when I was five years old or so, I started to play with him, and I liked it. I started improving and went to a tennis school. After that, I trained with some of the best tennis players in Spain at another academy. Later on I decided to come to college.
After a stressful day I like to hang out with friends, relax in my room or Skype with my family.
I wanted a good college with a good coach. I had about 21 different options, but after talking to all the coaches I loved Coach Mario and what he had to offer. Obviously the city and the weather is incredible, it's great here.
The biggest difference between the Miami and Madrid cultures is the lifestyle, even with tennis. In Spain people don't say things to your face as much in tennis. And people tend to cheat in tennis in Spain. Here everything is upfront and honest. I like that.
In Miami, my life is so busy. I'm either playing tennis or studying. I don't have a lot of free time to do anything. Once in a while I'll be able to go to dinner with a friend, but it's hard during the season especially.
The guy with the most rituals on the team is Wilfredo, but after him it's me. I have a lot when I'm playing or getting ready to play, I can't even think of all of them.
I look up to my parents. I love how they raised me and how they live their lives.
Tennis has given me the opportunity to travel. I learn about life through tennis. You get to meet a lot of people and go to a lot of places, which is something I otherwise wouldn't have been able to do.
After I graduate I don't have a dream job, but we'll see. I'll either stay in Miami or go back to Spain. I just want to enjoy life, have a good time and learn a lot.
The biggest adjustment moving from Spain to Miami is the language. When I first came here I didn't know anything about the English language. I couldn't speak a word of it. My roommate, Omar Aly, taught me everything I know since I got here two years ago. I learn quickly.
If I was stuck on a desert island and could only eat one food for the rest of my life, it would be a Spanish food called Jamon Serrano. It's a typical Spanish dish that I miss very much. It's hard to find here, and if a restaurant serves it then it's usually really expensive.
When I want to laugh I hang out with Omar, my roommate, and Gabriel, my suitemate. We love to bother Omar! I also have my best friend who from Spain who plays for N.C. State. It's weird playing against his team and rooting for the person playing against him, but he's still my best friend no matter what. He loves North Carolina, but when he came to Miami he loved it!
I have a great relationship with my coaches here, and my teammates. The team is so close. There's no drama on this team. I could call anyone on the team right now and we would go out to eat or hang out.
This season we haven't had the scores that we wanted, but we're still fighting and trying to get into the NCAA tournament. For the next few seasons everything is going to change. So many of us are new this season. I think we'll be a much better team, especially during my senior year.
In ten years, I don't know where I see myself but hopefully it will either be in Madrid or Miami because I like both cities. I don't know if I'll play tennis or stop after college, but I do see myself enjoying life, having fun and enjoying my family and friends.
If I won the lottery I would continue with school because even if you have a lot of money you should still be a person of culture and get an education. But I really love to play tennis, especially for this team, so I would keep up with that. I would probably buy a house for my parents in Miami because I miss them.
My hidden talent is dancing. I love to dance!
If I could go anywhere in the world it would be New York City. I've never been there, but everyone's told me it's beautiful. I'd also like to see Hawaii.