University of Miami Athletics
Davonte Fuller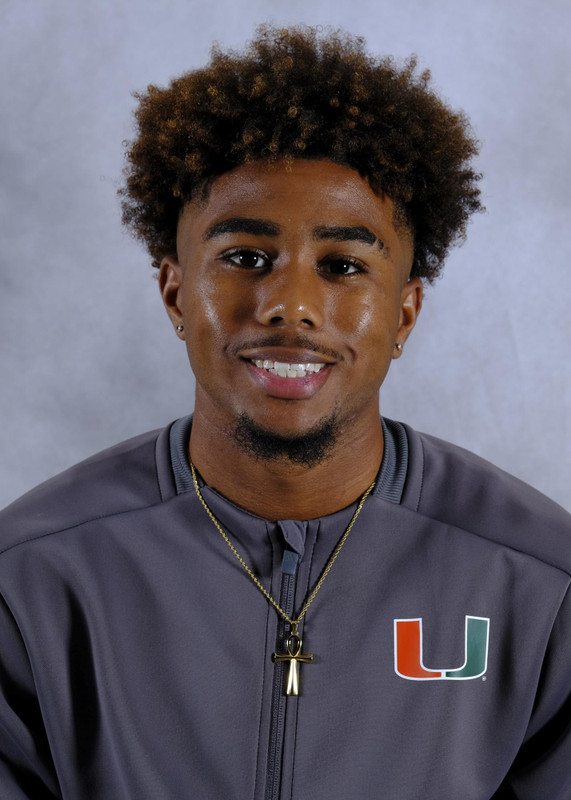 2019 Outdoor: Helped the Canes win the 4×400 relay at the Hurricane Invitational with a time of 3:09.69…Helped the Canes to a second-place finish in the men's 4x400m relay with a time of 3:06.75 at the Alumni Invitational.
2019 Indoor: Debuted with the Canes with a fourth place finish in the men's 600m with a time of 1:21.00 seconds, breaking Henri Delauze's school record at the UAB Blazer Invite… Finished sixth in the men's 400m at the UAB Vulcan Invite with a time of 48.89… Combined to run the program's second best time in the 4x400m in 3:10.83 at the Texas Tech Classic… Ran a 21.70 in the 800m at the Virginia Tech "Doc Hale" Elite Meet… Ran a 1:56.53 in the men's 800m at the Tiger Paw Invite… Ran a 48.52 in the 400m prelims and was on the silver medal 4×400 relay team that ran a 3:12.04 at the ACC Indoor Championships.
Fuller is one of the top mid-distance runners in the country and he heads to Miami from South Carolina. Fuller is a back-to-back state champion, winning the 400m title at the South Carolina Class 5A state meet in 2016 and 2017. The Goose Creek, S.C., native also won the 800m at the 2017 New Balance Outdoor Emerging Elite meet and won both the 400m and 800m titles at the 2017 Mount Pleasant Invitational. Fuller's personal-best of 1:52.00 in the 800m ranks ninth among returning high school competitors in the United States, while his top 400m time of 47.36 is 19th among returners.