University of Miami Athletics
David Rosenfeld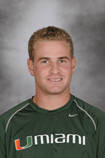 2008-09: 
Fall: 4-5 singles, 5-3 doubles. Spring: 9-11 singles, 11-10 doubles. 
Compiled a 3-4 singles record and a 5-3 mark in doubles play during the fall… Put together a 3-3 mark with David Simon and a perfect 2-0 record with Keith Crowley… All four singles losses were to ranked opponents.
2007-08 (Junior): 
In his first season on the court with the Hurricanes, the junior went 27-8 in doubles competition and 14-17 in singles play… Those 27 doubles victories tie with teammate Daniel Vallverdu for the second-most doubles victories in a season — just one shy of the record set by Alvaro Fillol in 1975-76… Teaming with Vivek Subramanian at the No. 2 doubles position, the duo compiled a team-high tying 25-8 mark and was ranked as high as 18th in the country… The tandem went 17-6 in dual match play and 8-2 in the ACC, going 17-5 at the No. 2 spot and 0-1 at No. 1… With Subramanian, knocked off Florida State's 26th-ranked duo of Sam Chang and Maciek Sykut, 8-6, to advance to the finals of the Seminole Invitational… Also went 2-0 in doubles play with Vallverdu, including an 8-5 win over Notre Dame's No. 32 Andrew Roth and Sheeva Parbhu to open the fall season… In singles competition, went 11-11 in dual match play, including a 5-4 mark in the ACC… Posted a 5-9 mark at No. 2 and a 6-2 record at the No. 3 position… Faced 12 ranked opponents, registering straight-sets wins over Alabama's No. 42 Billy Mertz, 6-3, 7-5 and Florida's No. 57 Alex Lacroix, 6-3, 6-4… Defeated Lacroix again in the second round of the NCAA Tournament, 7-5, 6-2, in Gainesville.
Prior to Miami: 
Spent the 2005-06 season at Virginia Tech… Posted an overall record of 22-10 during his freshman season with the Hokies… Went 18-7 in dual matches, including a 12-5 record at the No. 5 position, a 3-2 mark at No. 4 and a perfect 3-0 record at No. 3.
Prep: 
Ranked among the top-50 under-18 players and one of the top-15 players in the state of Florida… Posted an overall record of 20-1 in singles and 21-0 in doubles during his senior year at Gulliver Prep… Crowned the 2004 Florida State Champion in No. 1 doubles and No. 2 singles while leading Gulliver to the 2004 Team Championship… First Team All-Dade selection by the Miami Herald… Named Second Team All-Dade in 2003 behind an 18-3 overall record in singles and a Florida State Championship berth at No. 3 singles… The state runner-up at No. 4 singles as a sophomore and at No. 5 singles as a freshman.
Personal: 
The son of Miguel and Clarissa Rosenfeld… Has three sisters, Clarissa, Nathalie and Cynthia… A business management major… Working toward his pilots license… Played alongside former Hurricane John Hoyes and Billy Mulligan of Florida in high school.