University of Miami Athletics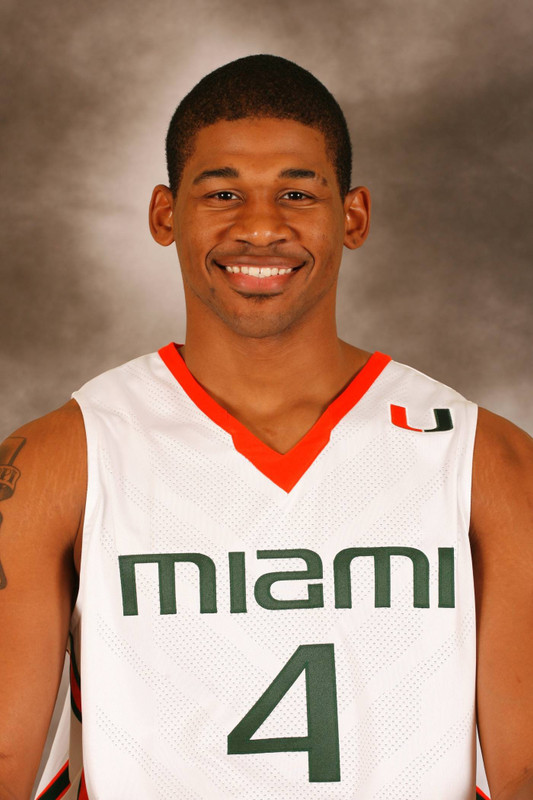 As a Redshirt Junior (2008-09) 
Played in all 32 games, making 22 starts… Team won 15 games when he was in the starting lineup… Second on the team in blocks (19) and fourth in rebounding (140)… Averaged 4.6 points and 4.4 boards an outing… Converted 70.3 percent of his free throws, including a 6-for-6 effort versus North Florida (12/31) and 4-for-4 performances in wins over No. 6/7 Wake Forest (2/4) and St. John's (12/27)… Posted two double-doubles, with 10 points and a season-high 12 rebounds versus Ohio State (12/2) and a season-high 17 points and 10 boards versus North Florida (12/31)… Went 5-for-7 from the field with a three-pointer, while going a perfect 6-of-6 from the charity stripe versus the Ospreys… Grabbed double-figure rebounds four times, including 10 boards in a win over North Carolina Central (1/3)… Put up multiple blocks four times, including a season-high three versus Clemson (12/21) and two against Ohio State (12/2), North Florida (12/31) and Virginia (2/26)… Shot 32.3 percent from beyond the arc, including a season-best 2-for-2 effort versus No. 2/2 UConn (11/23)… Finished with eight points, five rebounds, an assist, block and steal in the win over No. 6/7 Wake Forest (2/4)… Grabbed five-plus rebounds 13 times, including eight at Kentucky (12/6), seven versus Virginia Tech (1/25) and six at No. 5/6 North Carolina (1/17)… Finished with nine points, including a three-pointer, and five boards versus Florida Atlantic (1/5)… Connected on a season-high tying five field goals (5-6), including a three-pointer, to finish with 11 points — including Miami's first nine points of the game — and a season-high three blocked shots versus No. 25/25 Clemson (12/21)… Recorded a team-high eight rebounds and four points in the win over Kentucky (12/6)… Finished with 14 points and eight boards versus Stetson (11/30)… Posted double-figures scoring for the first time as a Hurricane with 10 points vs. San Diego (11/24)… Went 2-of-2 from long range en route to eight points, three rebounds, two assists and a blocked shot in the Paradise Jam semifinal vs. No. 2/2 UConn (11/23)… Grabbed 10 rebounds and scored seven points in his Hurricanes debut in the season-opening win over Florida Southern (11/15).
At Arkansas (2005-07)
Averaged 0.8 points and 1.0 rebound in two seasons at Arkansas… Appeared in 23 games, including one start, as a freshman in 2005-06… Averaged 0.9 points and 1.2 rebounds in his first season with the Razorbacks… Saw time in 17 games, averaging 0.6 points and 0.6 rebounds as a sophomore in 2006-07.
High School
Averaged 11.1 points, 12.3 rebounds and 4.0 blocks as a senior… Led Meridian High School to a 28-9 overall record that year… Rated the No. 77 overall prospect and No. 6 center in the class of 2005 by Rivals.com… Rated the No. 8 center in the class of 2005 by Scout.com… Rated the No. 72 player in the nation by TheInsiders.com and was the 24th-best prospect at the 2004 ABCD Camp… Named to the all-state second team, as well as earning all-area, all-region and region MVP honors as a senior… McDonald's All-America nominee… As a senior and a junior, earned team Defensive Player of the Year honors at Meridian…. Coached by Ernie Watson.
Personal
A sociology and communication studies major… Enjoys watching movies off the court… Member of the National Honor Society, graduating with honors from Meridian… Nickname is Cy.