University of Miami Athletics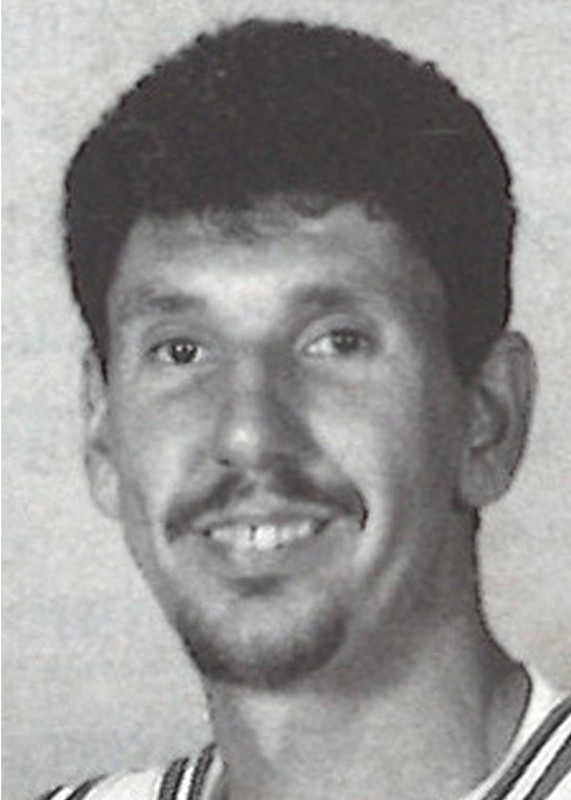 Fourth-year senior who at 7'3" is the tallest player to ever don a Hurricane uniform … Is Um's all-time leader in blocked shots with 208 … Is naturally left-handed, was switched to right by his parents and is ambidextrous … Enters the season in 19th place on UM's all-time scoring list with 819 points … Should become the 19th player in school history to top the 1,000-point plateau … Also among UM's all-time leaders in games started (8th), steals (9th), and minutes played (10th) … Is UM's all-time leader in points, rebound, blocks, minutes and games played in BIG EAST play … Is the lone senior on this year's squad … Has played in all 86 games during his career … Signed a letter of intent to attend Miami in 1990 … First player from Romania to attend UM and is the second foreign Cane, following Tito Horford of the Dominican Republic.
1994 Israel Tour
Appeared in five games and made four starts … Averaged 10.6 points and 22.2 minutes per game … Missed one game with a fever … Led the squad in defensive rebounds (30), total rebounds (42, 8.4 rpg) and blocked shots (10) … Recorded back-to-back double-doubles with 15 points and a game-high 10 rebounds vs. Maccabee Jerusalem (Aug. 15) and a team-high 18 points and 16 rebounds against Zefat (Aug. 18) … Also had a game-high four blocks against Zefat.
As a Junior (1993-94)
Saw action in all 27 games and made a team-high 24 starts … Was the only Cane to start 20 or more games … Led the squad in field goals attempted (216), defensive rebounds (105), total rebounds (162), and blocked shots (59) … His 59 blocked shots represent the fourth highest single-season total in UM history … Topped the team in scoring five times and in rebounds on 11 occasions … Recorded four double-doubles … Scored a season-high 20 points, grabbed 10 rebounds, blocked four shots and recorded career-highs in steals (four) and assists (three) vs. Pitt (Feb. 1) … Recorded game-highs in both points (18) and rebounds (15) in UM's road victory at Buffalo (Dec. 19) … Entered the year as a 57% career shooter from the free throw line and shot a career best 70% from the charity stripe … Scored a team-high 18 points against both Providence (Jan. 8) and UConn (Feb. 22).
As a Sophomore (1992-93)
Appeared in 27 games, starting 26 times … Shared team MVP honors with Steven Edwards … Voted "Most Improved Player" by the BIG EAST Writers' Alliance … Established a school record wit h85 blocked shots … Led the BIG EAST in overall play wit h3.1 blocks per game … In conference play he ranked third in field goal percentage (.533) and 10th in scoring (14.5 ppg) … Topped the team in scoring nine time and rebounds 14 times … Scored 20 or more points on seven occasions including one stretch between Jan. 26 and Feb. 13 where he tallied 20 or more points five times in six games, including five consecutive BIG EAST games … Registered five double-doubles … Had a career and team-high 25 points and 13 rebounds in UM's 77-76 victory over Villanova in the regular season finale (Mar 6.) … Amassed 21 points and 12 rebounds vs. Connecticut (Jan. 26) … Tallied 21 points (8-9 FGS, 5-5 FTs) in 20 minutes as UM scored a come-from-behind victory over St. John's (Feb. 20) … Scored 13 of his 21 points in the final 8:39, all with four fouls, to lead UM to the BIG EAST win … Grabbed a career and game-high 18 rebounds while adding 19 points and six blocks vs. Seton Hall (Feb. 23) … Set a school record with eight blocks against FAU (Dec. 19).
As a Freshman (1991-92)
Played in UM single-season record 32 game and started 14 times, including the final nine … Suffered a partially collapsed lung on the opening day of practice after two weeks in Europe with the Romanian National Team … Led the team in both rebounds (152, 4.8 rpg) and blocked shots (64, 2.0 bpg) … Recorded three double-doubles … 64 blocks are the third highest single-season total in UM history … Topped the squad in scoring three times and rebounding nine times … Voted to the Palm beach Classic all-tournament team following a two-game performance in which he netted 26 points, 16 rebounds, six steals and seven blocked shots … Was a force in the win over St. John's (Jan. 14) with eight points, 10 rebounds and four blocks in 20 minutes … Tallied nine points, eight rebounds, two blocks and one steal in 31 minutes vs. Georgetown (Jan. 25) leading Coach John Thompson to say "I'll take that kid in a minute. I told our kids they'll see him in the NBA." … In the second meeting with Georgetown (Feb. 15) he helped hold NBA all-star Alonzo Mourning to season-lows in points (11) and rebounds (7) … Scored the tying bucket on a slam with 14.2 seconds remaining in regulation to send UM and Seton Hall into OT (Feb. 4) … Finished that game with 13 points, 12 rebounds, four blocks, three steals and just one turnover in 32 minutes … Recorded his first career double-double with 11 points and 11 rebounds vs. Howard (Dec. 6) … Had back-to-back double-doubles with 13 points and 12 rebounds vs. Seton Hall (Mar. 4) and 14 points and 10 rebounds against Providence (Mar. 7).
Prep School
Fork Union Military Academy in Fork Union, VA … Spent one season at the Virginia prep school working on the transition to the American style of play … Helped Fork Union to a 25-3 record … Fork Union is the same prep school attended by William Davis and former Hurricane football players Stephen McGuire and Vinny Testaverde … Coached by Fletcher Arritt.
Personal
Majoring in business management … Full name is Constantin Popa … Is nicknamed "Titi" after his godfather … Born February 18, 1971 … Mother is Ileana Popa … married the former Michellle Estis on July 16, 1994 … Prior to coming to the U.S., Popa was a member of both the Romanian Junior and Senior National Teams as well as the Romanian club team … His 6'5" brother, Nicu (Nick), 24, play club basketball in Romania … Enjoys playing tennis, soccer, and listening to music in his free time.
Constantin Popa                        
Year
GP
GS
Min
Avg
FG
FGA
Pct.
3FG
3A
3Pct.
FT
FTA
Pct.
Off-Reb
Def-Reb
Total Reb
Avg.
Ast
Steal
Block
TO
Fouls
Pts.
Avg.
1991-92
32
14
683
21.3
81
187
0.433
0
1
0
54
100
0.54
64
88
152
4.8
19
30
64
69
101
216
6.8
1992-93
27
26
693
25.7
145
275
0.527
0
0
0
66
111
0.595
76
121
197
7.3
20
22
85
60
103
356
13.2
1993-94
27
24
613
22.7
100
216
0.463
0
0
0
47
67
0.701
57
105
162
6
30
23
59
56
85
247
9.1
1994-95
27
19
635
23.5
126
239
0.527
0
0
0
61
84
0.726
76
114
190
7
19
14
55
44
86
313
11.6
Career
113
83
2624
23.2
452
917
0.493
0
1
0
228
362
0.63
273
428
701
6.204
88
89
263
229
375
1132
10