University of Miami Athletics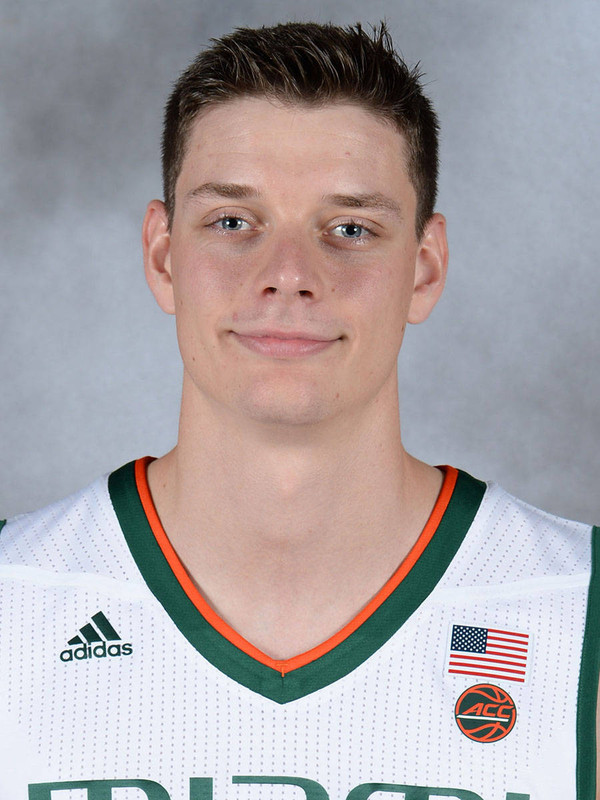 Omicron Delta Kappa (ODK) National Leadership Society – Spring 2017
All-ACC Academic Honor Roll – 2014-15, 2017-18
President's List (4.0 GPA): Spring 2017, Fall 2016, Spring 2016, Fall 2015, Spring 2015
Provost Honor Roll (3.75+ GPA): Spring 2017, Fall 2016, Spring 2016, Fall 2015, Spring 2015, Fall 2014
Dean's List (3.5+ GPA): Spring 2017, Fall 2016, Spring 2016, Fall 2015, Spring 2015, Fall 2014
Athletic Director's Honor Roll (3.2+ GPA): Spring 2017, Fall 2016, Spring 2016, Fall 2015, Spring 2015, Fall 2014
Book Buster Honor Roll (3.0+ GPA): Spring 2017, Fall 2016, Spring 2016, Fall 2015, Spring 2015, Fall 2014
As a Senior (2017-18)
Played in seven games … Earned first career start on Senior Day against Virginia Tech and hit free throw for first career point (3/3) … Tapped into the Iron Arrow Society, the highest honor bestowed at the University of Miami … Earned bachelor's degree in entrepreneurship and business technology with minors in international business and sports administration in May 2018.
As a Junior (2016-17) 
Stowell 2016-17 game-by-game stats  

Played in six games … Totaled two rebounds in 10 minutes … Season highs: 2 rebounds vs. South Carolina State, 12/6.
As a Sophomore (2015-16)
Stowell 2015-16 game-by-game stats  

Played in nine games … Totaled three rebounds and one block in 13 minutes … Attempted one shot, a 3-pointer, against UTRGV … Season highs: 1 rebound three times, last at LaSalle 12/22; 1 blocked shot at North Carolina 2/20; 2 minutes four times, last at LaSalle 12/22.
As a Freshman (2014-15)
2014-15 game-by-game stats  

Played in four games … One assist vs. Howard, in first collegiate game … One shot attempt, vs. College of Charleston … Totaled six minutes.
Prior to Miami
During post graduate year in 2013-14 at Tilton School, won postseason coaches award … Coached by Marcus O'Neil … Honor roll … At Exeter High School helped Blue Hawks to state playoffs in both the 2011-12 and 2012-13 seasons … Reached quarterfinals senior year … In 2012-13 assisted team to championship game of the 50th Annual Queen City Invitational by scoring 10 points and going 6-for-6 from line in semifinal game … Coached by Jeff Holmes at Exeter … Twice earned scholar-athlete award … Honor roll.
Personal
Born Christopher Michael Stowell on Dec. 29, 1994 in Exeter, N.H. … Last name is pronounced Stole … Son of Bill and Maria … Brother to Bill, Jr., who played basketball at Plymouth State University … One of 560 students (out of 10,000 undergrads) to be named a Foote Fellow at UM – a program that is offered to select incoming freshmen who have a record of curricular and co-curricular distinction in high school and exhibit an interest in and capacity for independent and self-motivated learning … Student-Athlete Advisory Committee representative at UM … Started playing basketball at age five.