University of Miami Athletics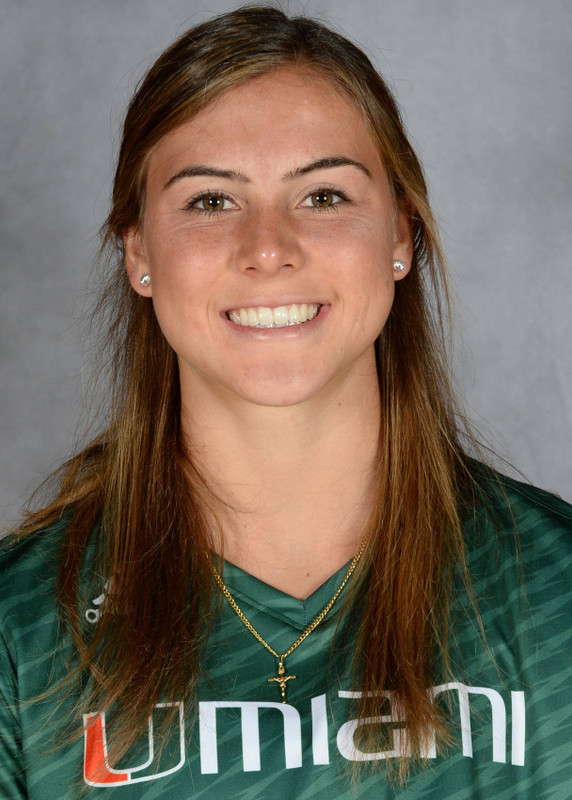 2016 (Redshirt Junior): Played a total of 47 minutes and 25 seconds over two matches without conceding a goal … Made one save on the season … Helped Miami set a record for fewest goals allowed (16) and lowest goals against average (0.82) in a season … Played the final 27 minutes of the match in the season-opening shutout at North Florida (8/19) … Played the last 20 minutes against Jacksonville (8/28) and recorded one save to help preserve the shutout.
2015 (Redshirt Sophomore): ACC Defensive Player of the Week (10/6/15) … Top Drawer Soccer Team of the Week (10/6/15) … College Soccer 360 National Primetime Player of the Week (10/7/15) … ESPN Deportes West Palm 760 AM 2015 Palm Beach County Hispanic Female Athlete of the Year … Miami's Top Female Scholar-Athlete for 2015-16
Led the team with 10 appearances in goal and made eight starts … Recorded 46 saves and one assist … Had six-plus saves in six of her outings … Conceded 21 goals, including one or fewer in four-straight matches … Posted a 2.17 goals against average and a .687 save percentage … Tallied one shutout … Went 2-7 on the season … Went the distance in eight of her appearances, including each of the final seven matches of the year … Ranked third in the ACC in saves per game (4.60) and No. 10 in total saves (46) … In conference play, finished fourth in the ACC in saves per game (4.71) and seventh in total saves (33) … Made six saves in the first start of her college career against No. 14/10 Florida (9/27) and played all 90 minutes … Tallied six saves against UCF (8/30) … At Florida Atlantic (9/4), logged one save … Earned her first win and clean sheet in a double overtime win against No. 14/4 Notre Dame (10/2), while playing all 106 minutes and logging six saves … Set a new career best with seven saves against Duke (10/8) … Logged the second win of her career and made one save while playing the full 109 minutes in the double overtime victory over NC State (10/11) … Posted two saves at No. 12/7 Virginia Tech (10/17) … On the field for all 101 minutes at Syracuse (10/22) and tallied six saves … Made five saves and earned the first assist of her career at Boston College (10/25) … Registered six saves against No. 8/5 North Carolina (10/31).
2014 (Redshirt Freshman): Did not compete while recovering from surgery … Redshirted to retain eligibility.
2013 (Freshman): Saw action in six contests as backup keeper, recording four wins … Made 10 saves across six appearances, including career-high four stops in 2-1 win over Milwaukee (9/1) … Played season-high 60 minutes against Panthers … Finished season with .769 save percentage and 1.12 goals against average … Totaled over 240 minutes in first season.
High School: Four-year player at St. Andrew's School … Recognized with Palm Beach All-County honors in 2010-11 … Named to Sun Sentinel All-County First Team in 2010 … Also competed in cross country, water polo and tennis at St. Andrew's, where she earned "most athletic" award in final year.
Club: Competed for Team Boca Soccer Club from 2004-13 … Won Disney Showcase Championship in 2013 and guided team to semifinals at Florida State Cup in 2008 and 2009.
International: Member of the Colombian Senior Women's National Team at the 2016 Olympic Games … Competed in the 2015 FIFA Women's World Cup with the Colombian Senior Women's National Team … Started and did not concede a goal during her time in net in the World Cup round of 16 match against the United States, which marked the team's first-ever knockout round match … Trained with Colombian Senior Women's National Team during pre-Olympic trials in 2012 … Helped Colombia to fourth-place finish at 2011 Pan American Games … Competed with Colombia U-20 Women's National Team at 2010 FIFA U-20 World Cup in Germany.
Personal: Parents are Alejandro and Luz … Has an older brother, Jose … Majoring in finance.
 STATS
YEAR
GP
GS
MIN
G
A
PTS
GA
AVG
SV
SV%
REC
SHO
2013
6
0
240:49
0
0
0
3
1.12
10
.769
4-0-0
0/0
2014
0
0
0:00
0
0
0
0
0.00
0
.000
0-0-0
0/0
2015
10
8
870:46
0
1
1
21
2.17
46
.687
2-7-0
1/0
2016
2
0
47:25
0
0
0
0
0.00
1
1.000
0-0-0
0/2
 CAREER
18
8
1159:00
0
1
1
24
1.86
57
.704
6-7-0
1/2