University of Miami Athletics
Barnabas Carrega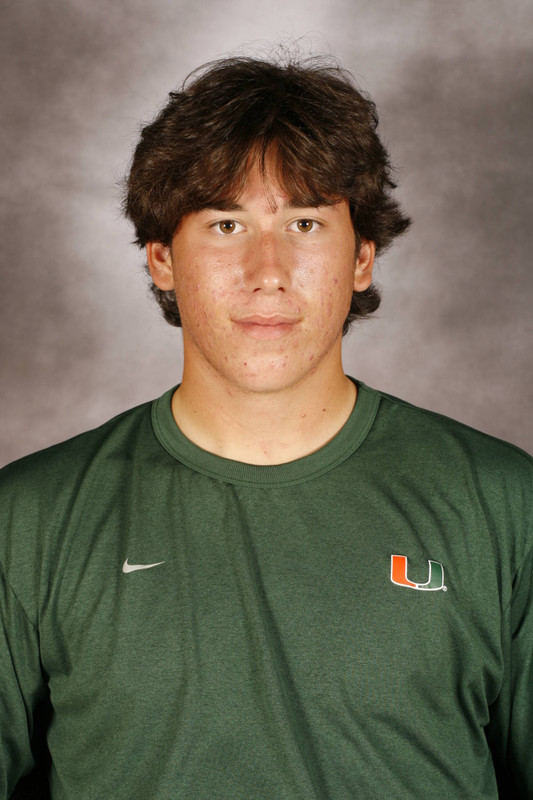 Fall 2009 (Senior):
Fall: 1-4 singles, 1-1 doubles. Spring: 0-2 singles, 4-6 doubles.
Compiled a 1-4 singles mark after a year away from competition… Defeated LSU's Cody Loup, 6-4, 3-6 (10-6) for his first win of the fall at the USF Fall Invitational… Also went 1-1 in doubles play, teaming with Hector Nieto to defeat USF's Alex Pukal and Juan Carlos, 8-5, at the USF Fall Invitational.
2008-09 (Junior):
Did not compete.
2007-08 (Sophomore):
Put together an 11-13 mark in singles play and a 4-5 record in doubles competition… Went 7-5 in dual match play at the No. 6 position — including a 4-3 mark versus ACC opponents… Won three straight to open the spring season… Registered the match-clinching singles victory overNo. 11 North Carolina in the second round of the ACC Tournament with a tough-fought 2-6, 7-6 (3), 6-1 win over Will Plyler — in a match that lasted over three hours, pushing the Hurricanes into the ACC Tournament semifinals… Defeated five opponents from ranked teams… Compiled a 4-3 mark in doubles play with Hector Nieto, and also saw competition paired with Westin Wendt and J.C. Whitner.
2006-07 (Freshman):
Posted a 12-15 singles record as a freshman, playing at the No. 5 and No. 6 positions… Picked up three singles wins in ACC play, defeating Aaron Carpenter of No. 21 Duke, 6-2, 6-4, David Rozek of No. 24 NC State, 2-6, 6-3, 1-0 (10-6) and Boston College's Dennis Reardon, 6-4, 6-2…Picked up four doubles wins with both J.C. Whitner and Hector Nieto… Went 3-1 in dual matches with Whitner at the No. 3 position, including an 8-4 win over Boston College's Thomas Nolan and Geoff Mueller.
Prep:
Earned a berth into the 2006 Guadalupe ITF Grade 4 Final, the 2006 Coasta Rica Bowl Grade 3 ITF Quarterfinals, the 2006 Barbados ITF Grade 4 Quarterfinals and the 2005 Guadalupe ITF Grade 4 Semifinals.
Personal:
Son of Emillo and Penny Carrega… Has two brothers, Nicholas and Andrew… A sports administration major… Lists Roger Federer as one of his favorite athletes… Off the court, enjoys movies, music, art and history.