University of Miami Athletics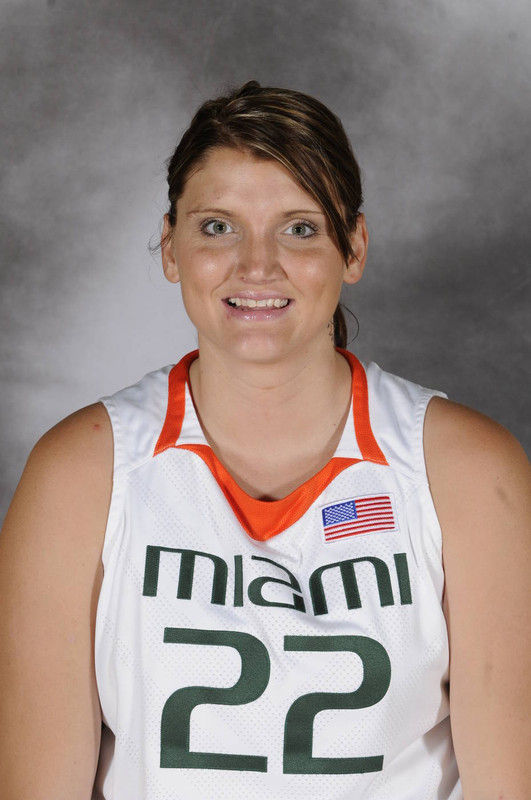 2008-09 (JUNIOR)
Played a career-high 25 minutes and added three blocks in a loss at Florida State (2/22)… Had a career high six blocks to go along with eight points versus Florida State (2/8)… Scored a career-high 16 points and had four blocks at SIU-Edwardsville (2/4)… Scored six points and pulled down seven rebounds versus Grambling State (12/21)… Recorded six points and five rebounds at UCF (12/18)… Scored 10 points and pulled down eight rebounds in 23 minutes versus Austin Peay (11/28)… Scored six points with four rebounds at FIU (11/25)… Scored her first points with Miami (4) against Green Bay (11/16)… Made her Hurricane debut with three rebounds versus Norfolk State (11/14).
PRIOR TO MIAMI
Led Central Arizona to the NJCAA Final Four in both her freshman and sophomore seasons… Was named third team All-American as a sophomore as her team finished as the national runner-up… Her senior season of high school, was named the 4A/5A All-State Big Player of the Year, the Wells Fargo 4A Region Player of the Year, first team All-State, team captain, Arizona Republic All-Star Basketball Classic MVP and first team all-region… School's scoring leader with 1883 points, scored 50 points in one game… led team to a 30-1 overall record and a state championship…Her junior season was named region player of the year and first team all-state… Become first junior to score 1000 points at school and led team to a state runner-up finish.
PERSONAL
A sports administration major… Has a younger brother, Trevor (18)… Chose Miami because she felt the coaches were up front with her and she liked the beauty and diversity on campus… Daughter of Joy Sours.