University of Miami Athletics
Amanda Gale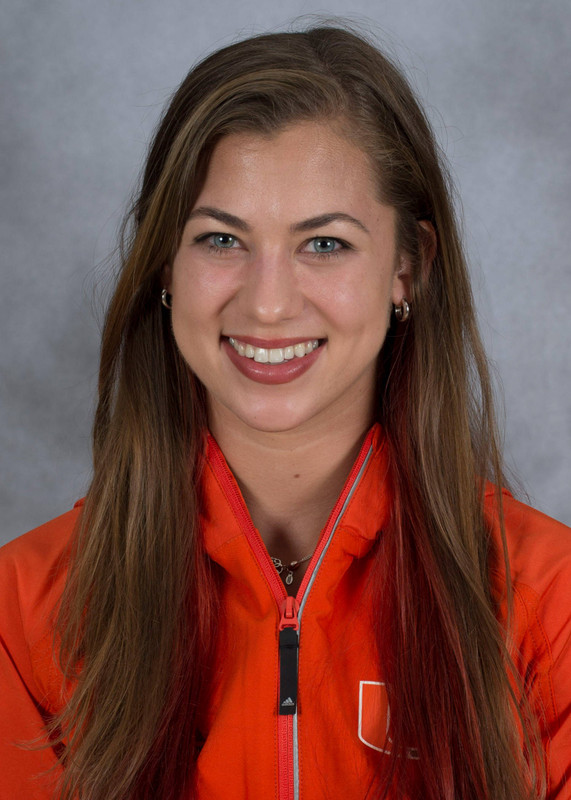 2017 Indoor: Posted an indoor-best mark of 3.77m at the VT Invitational to move into third place in UM history…Finished tied for seventh in the women's pole vault with a personal-best mark of 3.95m at the McCravy Memorial Invitational that ranks second in school history… Competed in the pole vault at the Meyo Invitational… Tied for sixth in the women's pole vault with marks of 3.80m at the Tiger Paw Invitational… Set a new personal-best in the women's pole vault finishing tied for sixth with a mark of 3.96m at the ACC Championships… Tied with her twin sister Emily for second all-time in the women's pole vault in school history…
2016 Outdoor: Had a season best mark of 3.91m in the pole vault at the LSU Invitational… Competed in the pole vault at the ACC Championships…
2014 Outdoor – Posted a season-best mark (11-7 3/4) in the pole vault at the USA Invitational and NSU Leon Johnson Invitational … cleared the bar at 11-1 3/4 at the Bobcat Invitational … Indoor –Cleared the bar at 11-5 3/4 to finish sixth overall at the McNeese Cowboy Invitational … made her collegiate debut with a mark of 11-5 at the Texas A&M 12-Team Invitational.
High School: The 2013 Florida Class 1A state champion in the pole vault … a two-year letterwinner at Fort Lauderdale's Calvary Christian Academy … claimed district and regional titles as a senior … set personal-best (11-6) at the 2012 state meet, finishing as the state runner-up behind twin sister, Emily.
Personal: Born April 20, 1995 in Barrington, Ill. … the daughter of Ron and Ingrid Gale … twin sister, Emily, is a member of the Miami track and field team … is right-handed … career ambition is to go to medical school … majoring in biology.