University of Miami Athletics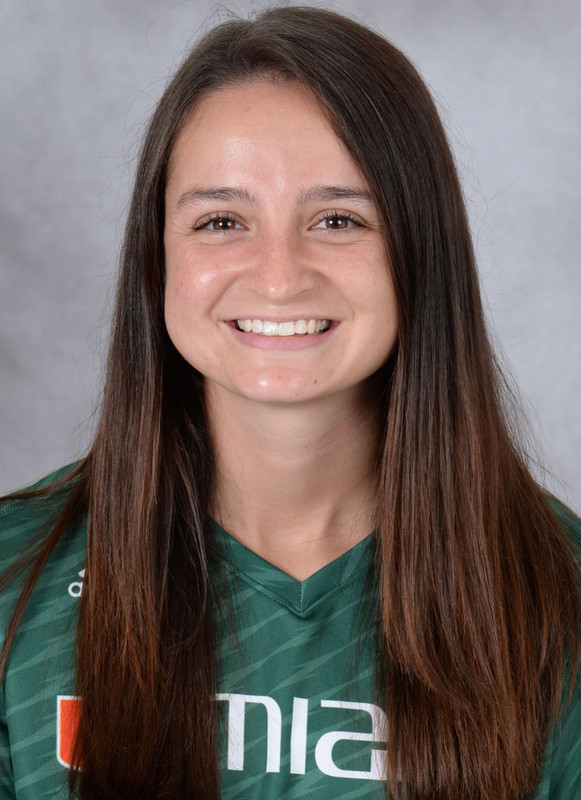 2017 (Redshirt Sophomore): Played in 11 matches and logged six starts … Missed four contests due to injury … Notched one goal, one assist and three points … Tied for fifth among Hurricanes in assists and tied for sixth in points … Totaled six shots, including three on goal … Registered 619 minutes of playing time … Played over 70 minutes five times, including going the distance once … Made her return to the field in the season opener, playing 43 minutes against St. Francis (PA) (8/18), scoring her first-career goal and logging a pair of shot attempts … Played 44 minutes at FIU (8/20) before leaving with an injury that caused her to miss the next two matches … Returned to play 60 minutes at Yale (9/1) … Earned her first start of the year at Quinnipiac (9/3), registering an assist on the winning goal to go along with a shot attempt in 76 minutes of action … Played 81 minutes at No. 11 Virginia (9/21) … Went the distance for the first time on the season against Clemson (9/29) … Started, attempted a co-team-high two shots and put one on goal in 78 minutes versus fifth-ranked North Carolina (10/5) … Started against Boston College (10/11) and left after 25 minutes with an injury that kept her out of the next two matches … Notched one shot on goal at No. 21 Wake Forest (10/26).
2016 (Sophomore): Did not see any match action … Redshirted to retain eligibility.
2015 (Freshman): Played in 15 matches and made 12 starts, all of which came in the final 13 contests … Ranked third on the team with five assists … Tied for fifth on the Hurricanes with 19 shot attempts and had seven shots on goal … One of eight players on the team to log over 1,000 minutes played, ending the season with 1,101 … Played 55-plus minutes in all but her first two appearances … Went the distance in six matches, including five of the final nine … Tied for No. 37 in the nation in assists among freshman (five) … Played 27 minutes against No. 14/10 Florida (8/27) in her college debut and logged her first-career shot attempt … Tallied the first point of her career with an assist at Florida Atlantic (9/4) … Earned her first start in Miami's win at Jacksonville (9/6), went the distance for the first time and registered an assist, a match-high six shot attempts and the first two shots on goal of her career … Recorded an assist on the lone goal in the victory at FGCU (9/11) … Logged two shot attempts, one shot on a goal and had an assist for the fourth-straight match in Miami's win over North Florida (9/13) … Played the full 106 minutes in Miami's double overtime victory against No. 14/4 Notre Dame (10/2) … After missing the match at Virginia Tech (10/17) due to injury, returned to play all 101 minutes at Syracuse (10/22) and tallied an assist.
High School: Played soccer as a freshman and sophomore at Bixby High School … Team made the playoffs both seasons … Led the team in assists and finished second in goals both years … Ranked as a four-star recruit by Top Drawer Soccer … Earned three varsity letters in basketball as a point guard, playing as a freshman, junior and senior … Won the school's Wendy's High School Heisman as a senior and was a finalist for the Wendy's High School Heisman in the state of Oklahoma … Class valedictorian and made the Honor Roll every semester … Member of the National Honor Society, student council executive board and a community service club … Officer in the Fellowship of Christian Athletes and an AP Scholar … Chris Harris, Jr. of the Denver Broncos also attended Bixby.
Club: Played for the Dallas Sting ECNL from 2013-15 … Went undefeated in 2013-14, finished ranked No. 1 and won the 2014 ECNL national title … Played for the TSC Hurricane ECNL from 2011-13 … Finished seventh nationally at the level in 2012 … Made the Region III semifinals in 2011 and also won the Oklahoma State Cup … Played for the Hurricane Futbol Club from 2009-11 … Won theOklahoma State Cup in 2009 and made the finals in 2010 … Took part in Nike National Training Camp in Portland, Ore., in the summer of 2013 and the summer of 2014 … Invited to ECNL Player Development Program in March 2013 … Participated in the Puma Elite Women's Showcase in Maryland in July 2012 … Made the U.S. Club Soccer ID2 Camp in Frisco, Texas, in November 2011.
International: Chosen for the U.S. Soccer National Camps at the U-17 level (January 2013 in Carson, Calif.), U-15 level (October 2012 in Cary, N.C.) and U-14 level (July 2011 in Portland).
ODP: Member of the Oklahoma State ODP Team from 2011-13 … Also a part of the Region III ODP Team from 2011-13 … Played in an Interregional Region III event in Austria, Germany and Switzerland in 2013 and one in Costa Rica in 2012 … Participated in a 2012 Thanksgiving Interregional Region III event in Boca Raton, Fla., in 2011 and 2012.
Personal: Full name is Ainsly Paige Wolfinbarger … Name is pronounced AINZ-Lee WOLF-In-Bargg-Urr … Born July 23, 1997 … Parents are Mike and Kathleen Wolfinbarger … Father is the president of a business supply and technology company … Has an older sister, Jordan, and a younger brother, Jake … Majoring in biology with a pre-med track … Favorite athlete is Stephen Curry for a variety of reasons, including how he has worked through adversity and used failures to get better … Best sports memory is the perfect season and national title with the Dallas Sting … Chose Miami in part because of the academics, conference, location and resources to help students succeed … Chose Miami over Auburn, Oklahoma, SMU, TCU, Tennessee, Texas, Tulsa and Wake Forest.