Golf Inks Amion Villarino and Hlinomazova to National Letters of Intent
CORAL GABLES, Fla. – University of Miami head golf coach Janice Olivencia announced Wednesday the signing of Cloe Amion Villarino and Sofie Hlinomazova to National Letters of Intent.
"We are extremely excited to add Cloe and Sofie to the Canes family," Olivencia said. "We're signing a pair of international players that will add excitement to our team during their time in Miami. Both bring a great resume of international experience to The U, having played for their national teams around the world. We're thrilled to welcome them to Coral Gables as they are going to bring an edge and great depth to our program as we continue to climb."
Amion Villarino, who current sits at No. 257 in the World Amateur Golf Ranking (WAGR), is a seasoned international player, representing Spain at the 2023 U18 European Team Championship and the 2023 Ping Junior Solheim Cup.
At the 2023 RA& Girls Amateur Championship, Amion Villarino finished 17th among all junior golfers. She is the 2023 U18 Spanish National Champion and has totaled nine top-10 finishes in her career.
When making her collegiate decision, Amion Villarino was drawn to Miami for the golf program, coaches, academics and location of The U. She intends to major in business management and marketing.
"Over the past couple years, Cloe has become one of the top elite golfers in Spain," Olivencia said. "She has developed and experienced great success at a rate that not many, if any, players have been able to accomplish in such a short time. Her fire and drive to compete at the highest level is motivating and will bring a spark that will elevate our competitive culture in Miami. With our focus on player development, we believe she can become one of the top collegiate players in the country. A high-character individual, who has strong values, Cloe will make for a phenomenal teammate and leader on this team, as she has the desire to continue to grow within."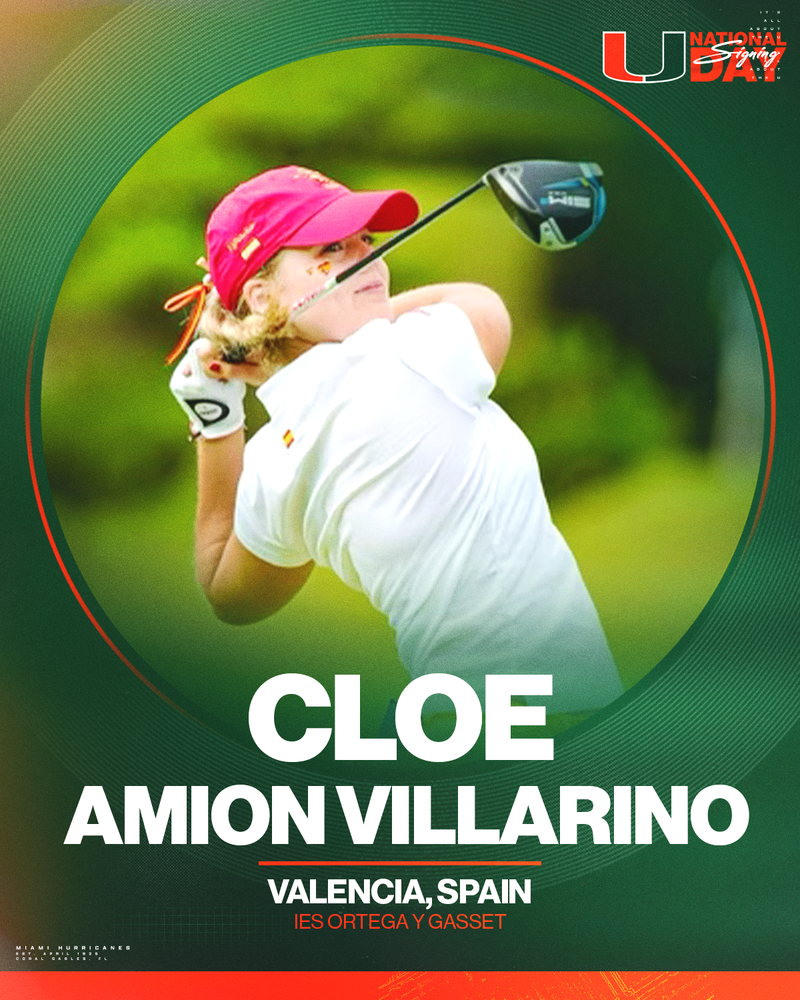 Hlinomazova, a native of the Czech Republic, is the No. 343 amateur golfer according to the WAGR. Like Amion Villarino, Hlinomazova has represented her home country at numerous international events, including the World Junior Girls Team Championship, where she helped the Czech Republic to a third-place finish.
A two-time Czech Republic U18 Girls champion, Hlinomazova also placed second at the Czech International Junior Amateur Championship and third at the Czech International Amateur Championship.
Hlinomazova chose Miami for because it is not only a prestigious academic institution, but also because it is a place where she can achieve her athletic goals. She plans to major in health sciences or take the pre-med track.
"Sofie has become one of the top elite players in Czech Republic and is able to represent her country at the highest level of competition. In her career, she has showed skill, determination, talent and intensity; traits of a caliber player who will make an immediate impact on the team. Sofie is a positive mindset individual with a very mature way about her, which will make for a solid teammate and great fit for Miami. She has all the tools to be a rapid force in the collegiate level and we are looking forward to experiencing that. Sofie is one of the kindest and most determined young ladies you'll come across."