MBB Tops Parisian Select, 97-74, to Open Foreign Tour
VIRY-CHÂTILLON, France – The University of Miami men's basketball team defeated Parisian Select, 97-74, Friday night in front of a packed crowd at Espace Edmond Delfour.
The Hurricanes, in a wire-to-wire victory, controlled the contest from start to finish, leading the all-star team of local professionals by 21 points after just one quarter. Junior guard Wooga Poplar paced Miami with 18 points, finishing 6-of-10 from the floor and 5-of-5 at the stripe.
"After a few weeks of practice, it was great to see our team compete against new faces," Miami head coach Jim Larrañaga said. "I thought we came out of the gate with a strong effort and had some nice moments throughout the game. We got good production not only from our returning players, but also from some of our talented newcomers."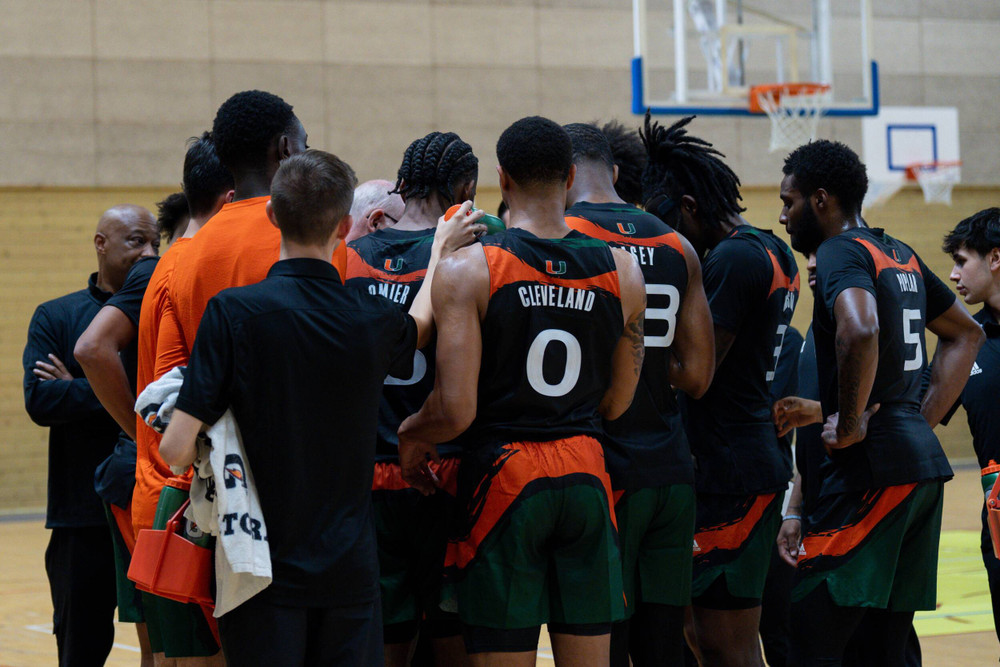 In its first outing since the Final Four over four months ago, Miami jumped out to a 9-0 lead and did not allow a point for nearly three minutes. Fourth-year junior forward Norchad Omier (11) and sophomore forward AJ Casey (nine) combined for 20 points on 8-of-9 shooting in the opening frame, as the Hurricanes built a lead as high as 23 and took a 35-14 cushion into the second session.
Poplar excelled in the next stanza, connecting on all three of his field-goal attempts, while fourth-year junior guard Nijel Pack matched him with six points on 2-of-4 long-range shooting. The Hurricanes amassed a 24-point edge, 55-31, at the intermission.
In the third quarter, Poplar (seven) and junior guard Matthew Cleveland (six) each made both their field goals and both their free throws, combining for 13 points. At the other end, junior guard Bensley Joseph totaled four steals in the period, helping the Hurricanes up their advantage to 33 points, 83-50, through 30 minutes.
Casey, freshman center Michael Nwoko and redshirt sophomore guard Jakai Robinson tallied four points apiece in the last quarter, while freshman guard Paul Djobet—a native of nearby Lille, France—added recorded the team's other two. The Hurricanes kept the lead over 20 for the entirety of the finale and earned the 23-point decision.
Despite no individual playing over 23 minutes, four Hurricanes joined Poplar in double figures, with Omier notching a 15-point, 11-rebound double-double to go along with three assists, two steals and one block. Casey also scored 15 points, while pulling down seven rebounds in the triumph.
Pack finished with 14 points, shooting 4-of-7 on 3-pointers, and paced the team with five assists. Cleveland chipped in 10 points, seven boards and two blocks.
As a team, Miami went 9-of-21 (42.9 percent) from beyond the arc and 24-of-29 (82.8 percent) at the line. It also compiled 21 assists on 32 made field goals and recorded with 13 steals.
First win in Paris ✅🙌 pic.twitter.com/klxOYBdnK3

— Canes Men's Basketball (@CanesHoops) August 4, 2023
The Hurricanes, in their second of three games abroad, will face again Parisian Select at the same venue Saturday at 12 p.m. ET.
To keep up with the University of Miami men's basketball team on social media, follow @CanesHoops on Twitter, Instagram and Facebook.
PLAYER STAT HIGHLIGHTS
– AJ Casey: 15 points, seven rebounds
– Matthew Cleveland: 10 points, seven rebounds, two blocks
– Paul Djobet: two points, two steals
– Kyshawn George: five points, three assists
– Bensley Joseph: four assists, five steals, zero turnovers
– Michael Nwoko: six points, three rebounds, 2/2 field goals
– Norchad Omier: 15 points, 11 rebounds, three assists, two steals, one block, 5/8 field goals
– Nijel Pack: 14 points, four rebounds, five assists, two steals, 4/7 3-pointers, zero turnovers
– Wooga Poplar: 18 points, four rebounds, 6/10 field goals, 5/5 free throws
– Jakai Robinson: four points, 4/4 free throws
– Christian Watson: six points, three rebounds, two assists