MBB to Play at Kentucky in Inaugural ACC/SEC Challenge
CORAL GABLES, Fla. – The University of Miami men's basketball team will take on Kentucky in the 2023 ACC/SEC Challenge, as announced Wednesday morning.
The Hurricanes and Wildcats will take the floor Nov. 28 at 7:30 p.m. at Rupp Arena in Lexington, Ky. The network designation will be released at a later point.
Kentucky is coming off a 22-12 (12-6 SEC) campaign in 2022-23 that included a spot in the NCAA Tournament Round of 32. The eight-time NCAA champion Wildcats have reached the Elite Eight in seven of the past 14 years, logging 30-plus wins in five of them.
The Hurricanes are 1-3 all-time against Kentucky, including 1-2 on the road. The teams last met Dec. 6, 2008, with No. 21/22 Miami notching a 73-67 road victory.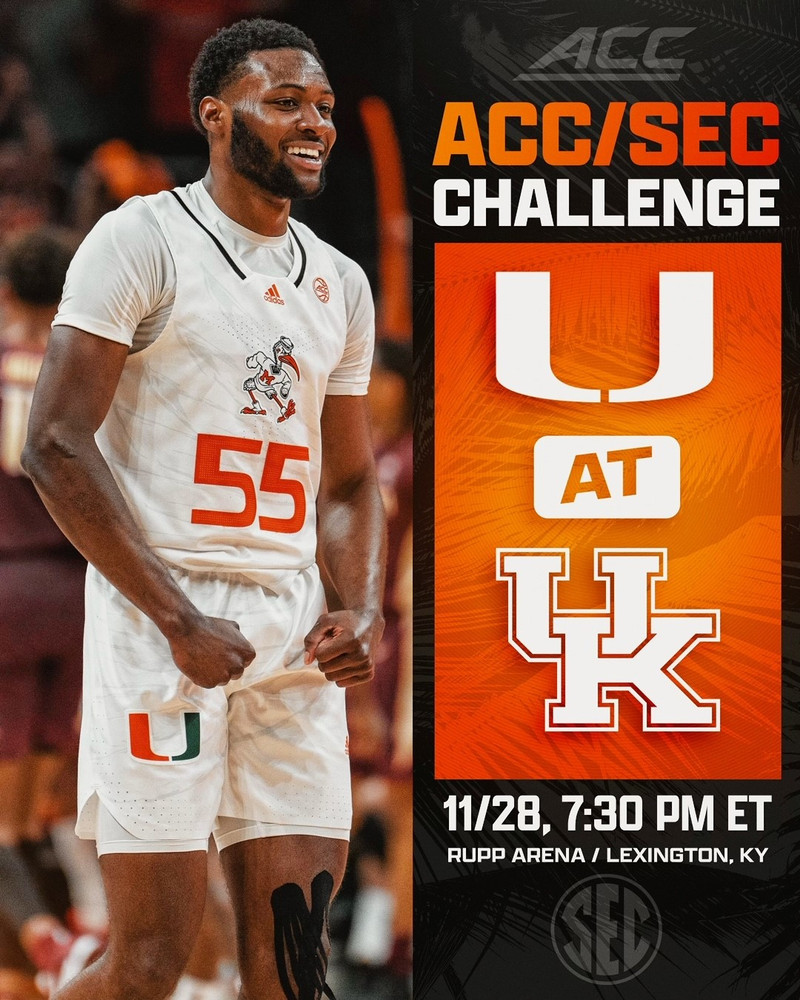 This is the first year of the ACC/SEC Challenge, replacing the ACC/Big Ten Challenge, which was held annually 1999-2000 through 2022-23. The Hurricanes went 10-6 in the event, including posting an 8-1 mark over the last nine years to lead all teams in both leagues during that time.
2023 ACC/SEC CHALLENGE
LSU at Syracuse (Nov. 28, 7 p.m.)
Missouri at Pittsburgh (Nov. 28, 7 p.m.)
Mississippi State at Georgia Tech (Nov. 28, 7 p.m.)
Notre Dame at South Carolina (Nov. 28, 7 p.m.)
Miami at Kentucky (Nov, 28, 7:30 p.m.)
NC State at Ole Miss (Nov. 28, 9 p.m.)
Clemson at Alabama (Nov. 28, 9:30 p.m.)
Tennessee at North Carolina (Nov. 29, 7:15 p.m.)
Texas A&M at Virginia (Nov. 29, 7:15 p.m.)
Florida at Wake Forest (Nov. 29, 7:15 p.m.)
Duke at Arkansas (Nov. 29, 9:15 p.m.)
Virginia Tech at Auburn (Nov. 29, 9:15 p.m.)
Georgia at Florida State (Nov. 29, 9:15 p.m.)
Boston College at Vanderbilt (Nov. 29, 9:15 p.m.)
To keep up with the University of Miami men's basketball team on social media, follow @CanesHoops on Twitter, Instagram and Facebook.