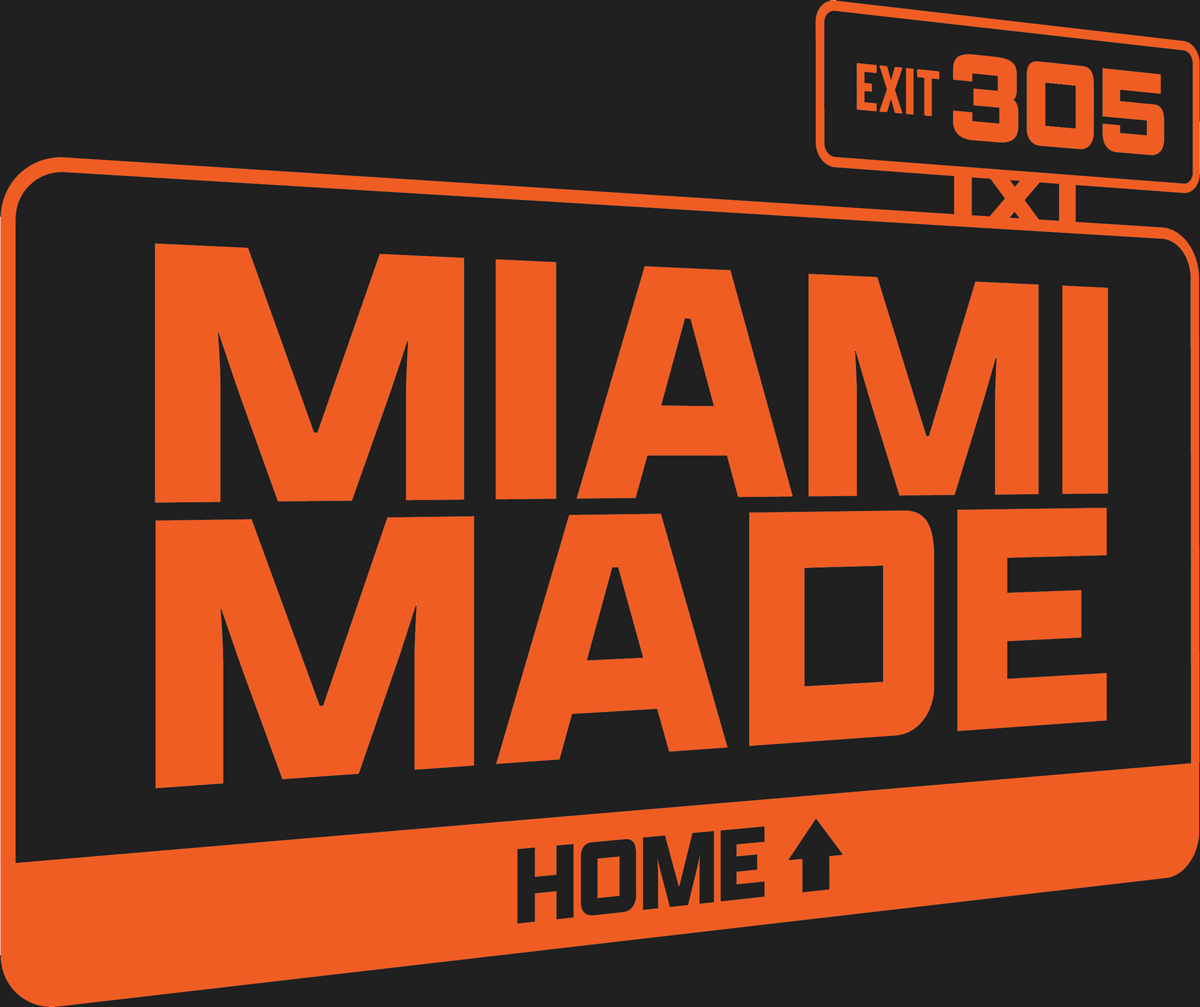 Ja'Leah Williams
Ja'Leah Williams fell in love with basketball as a middle-schooler. But just when Williams started dreaming of the possibility of playing collegiately, doctors informed her about the severe curvature of her spine. After surgery, she came back to make history both at her high school and later, at Miami.
By Christy Cabrera Chirinos
CORAL GABLES, Fla. – It was one fun moment in a magical March run filled with them.
With the Hurricanes trying to both hold on to momentum and work all the way back from a 17-point halftime deficit in their Women's NCAA Tournament opener against Oklahoma State, Ja'Leah Williams shuffled her feet, shimmied and playfully pointed to Miami's end of the court.
Cameras captured her dance and on social media, some college basketball sites instantly spotlighted it as a symbol of March giddiness for both the fans watching and the players competing in the tournament.
What those posts didn't note, though, was that Williams wasn't just dancing for dancing's sake.
She was stating her case to the officials trying to determine possession in one of the game's most critical moments and Williams knew that ball belonged to Miami.
The game resumed, the Hurricanes notched a 62-61 win over the Cowgirls to complete one of the biggest comebacks in tournament history and in one viral moment, Williams showed the world something her teammates and coaches have long known.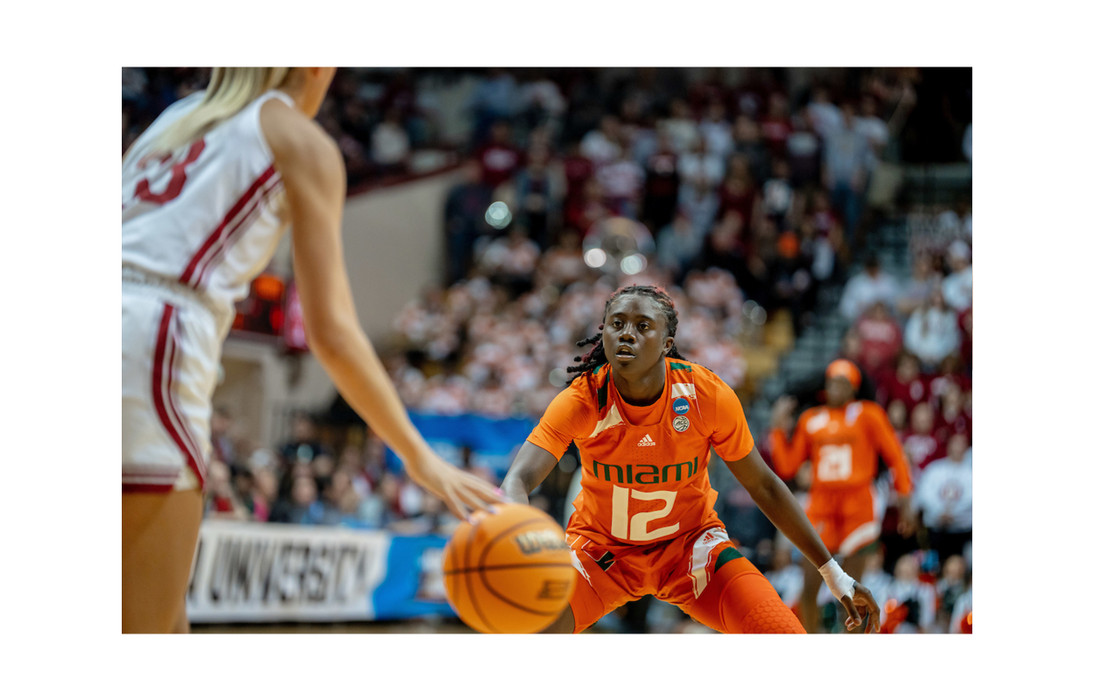 She's a fierce competitor – who happens to enjoy a little fun with her basketball.
"Her joy, her love of the game, those things just jump out at you…You can't think of Ja'Leah without that smile and that joy," Hurricanes head coach Katie Meier said. "I love sweaty, smiley Ja'Leah, when she's working so hard and she's so proud and she's got so much energy and she just looks at you with this incredible amount of love and passion for the sport."
Williams first discovered that love for basketball as a middle schooler growing up in Pompano Beach, just outside of Fort Lauderdale.
After running track, she signed up for basketball at her local Boys & Girls Club, where she found herself surrounded by boys at her first practices and games.
Unfazed, Williams dove in, telling herself the more she played against boys, the better she'd get.
"I started beating them, so I knew I was good at it," Williams shrugged. "If I could beat a boy, I could beat anybody…But just being out there, playing against them, it made me tougher. So, when it was time to play the girls, it was easy for me."
It didn't take long for Williams to discover she had a knack for basketball – and that the sport could provide her with opportunities she could never have imagined.
She began playing travel basketball and landed herself at a Hurricanes youth camp where she quickly made an impression on both Meier and Hurricanes associate head coach, Fitzroy Anthony.
By the time she started playing at Blanche Ely High School – a Broward County powerhouse that has produced eight state championship boys' basketball teams – Williams knew she wanted to find a way to make a difference.
"I went there and there was like a 1992 [championship banner] on the wall," Williams said, referring to Ely's girls' basketball history. "Well, I'm a 2000s baby and I needed something 2000s on the wall. So, I made a goal, and I told my team, 'Hey, we've got to get something on this wall. We've got to make a mark and leave it for the ones that come after us.' Growing up there, it's a standard, especially with the boys. They always win states and set the standard high and we as the girls, we look up to them. We want to get there. It motivates us to want to play and be where they are, too."
A "Setback"
Williams did make history at Blanche Ely when she helped lead the Tigers to their first state since 1992.
But her journey to that championship, and eventually to Miami, came with a significant challenge.
During high school, she was a regular attendee at Miami's youth camps, but some staff – including Lonnette Hall, the Hurricanes' director of basketball operations and recruiting coordinator – noticed that Williams didn't seem to be growing as much as some of the other campers they'd seen at multiple events.
And both Williams and her mother noticed that, on occasion, whenever Williams would lean her body a particular way, something seemed off. It wasn't always visible, and Williams wasn't in any kind of pain, but it was enough for Jessica Williams to seek a doctor's opinion on what was happening.
Eventually, X-rays revealed a diagnosis: scoliosis so severe Williams would need surgery to straighten the 67-degree curvature of her spine.
Williams, then a sophomore at Blanche Ely, tried to remain optimistic, but now, years removed her procedure, she acknowledges there was fear as she prepared for her surgery, particularly when she started doing research into all her treatment would entail.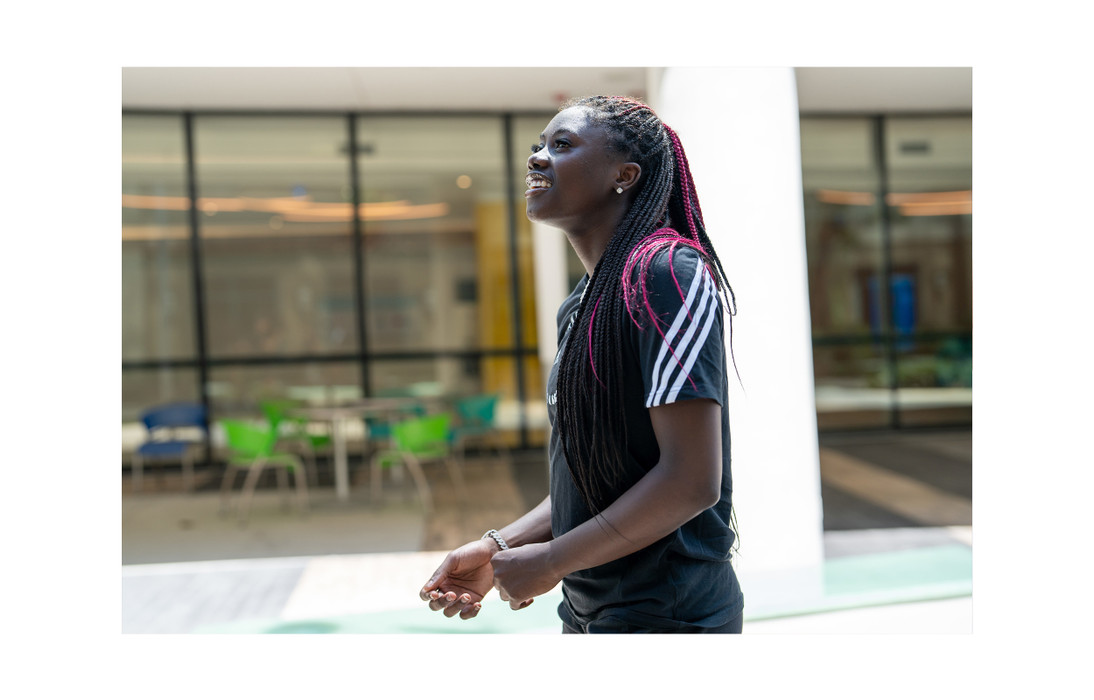 But her family and her faith, she says, carried her through.
"Honestly, after it was done, the doctor told me the pain wasn't going to last for long. I really didn't believe her because I was in a whole lot of pain in that wheelchair, just getting in the car," Williams recalled of the day she left Nicklaus Children's Hospital in Miami after her surgery. "But I knew it was going to be a process and I knew I was going to have to fight, and I knew I wasn't going to be able to do it alone.
"My mother, my daddy, my sister, my brother, my household being there by my side…As soon as I got out of surgery, I went to the couch. I did not move. They had to actually pull me up to get me in the bed…Alone nights, crying [and] my dad came in there and prayed over me. I had a scare and basically, I told him, 'I don't think I'm going to play anymore' and my daddy was telling me 'Don't say that. Have faith.' I think that was the first time I actually saw my daddy cry…and I knew that my dad telling me that, I had to push."
After her surgery, Williams embarked on a five-month recovery process.
There were slow walks around her neighborhood with her family to build up her strength and mobility. She attended one of Miami's camps, though she could not participate. And she sat out her AAU season, with her focus set on returning in time for her high school season.
And while some of the college programs that had been recruiting her backed away, Meier and Anthony were constants, checking in with Williams often, their questions usually more focused on how she was doing mentally and emotionally than how she was doing physically.
"Because we'd built a relationship with her, it was almost like that was one of my daughters, you know? And I'm sure coach Meier felt the same way," Anthony said. "So, at that point, it was like 'Well, what can we do for you? How can we help you? What do you need?' I know naturally, some coaches might be like 'There goes the player we recruited,' but we cared about her so much…Just being there for her, talking through it. Her biggest thing was she was scared she wouldn't be able to play again…So, just kind of keeping her calm, being able to [say], 'You're going to be back, you're going to be better.' It was a big surgery, so she had to see it, believe it and she's bounced back great."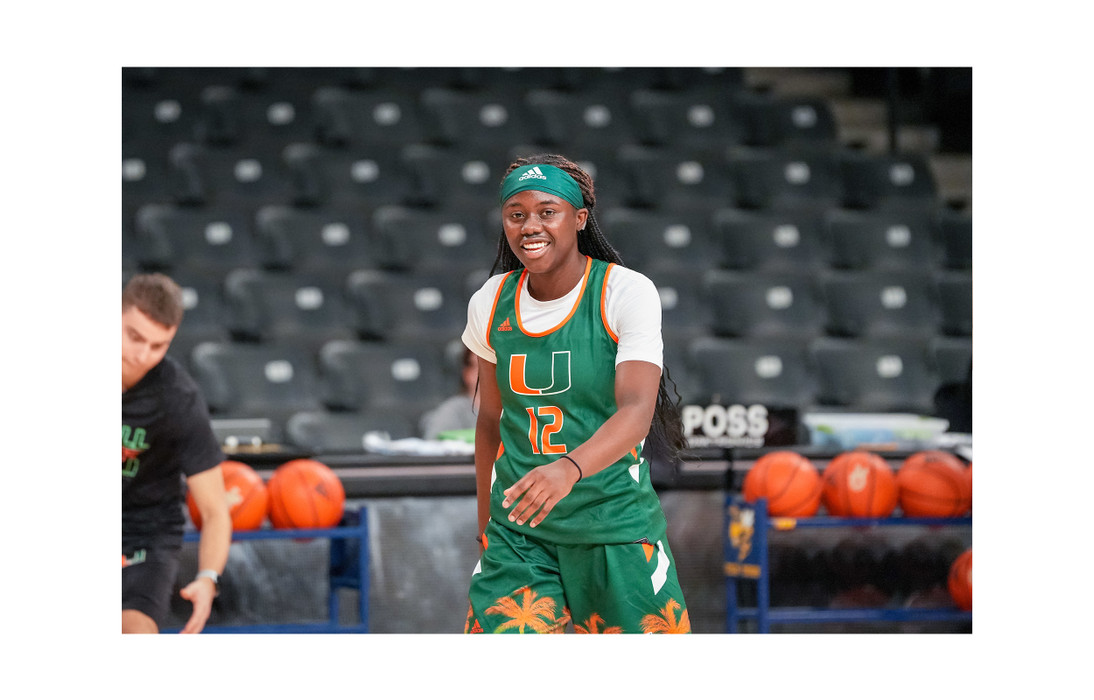 Said Williams, "I actually felt like I was already at Miami, the way they were checking up on me. I felt like they were my parents…I was to a point where my phone would ding and I said, 'That's Fitz.' It was just that moment. They believed in me. They actually believed I could do it and that's all I needed."
When doctors cleared Williams to return to basketball, she did it with gusto.
As a junior at Blanche Ely, she averaged 18.0 points, eight assists, seven rebounds and five steals per game. She earned first-team All-County recognition in both the Miami Herald and Sun Sentinel for two straight seasons and in 2020, helped lead the Tigers to their first state title since 1992.
Finally, there would be an update to the championship banners on the wall.
That summer, months after she won that state title she so desperately wanted for her community, Williams made the decision to become a Hurricane.
It's a decision she has never regretted.
"I just felt like Coach Katie and her team, they treated me like family. With me having a setback, a lot of people backed up off me. But Coach Katie and Coach Fitz, them, the team, they always stayed with me," Williams said. "They made sure they checked up on me and that was really special to me because I'm all about family."
Setting the Tone
Once she arrived at Miami, it didn't take long for Williams to make an impact.
During her first workout on campus, Williams went hard at one of the team's senior leaders, Kelsey Marshall.
It's a moment her coach still hasn't forgotten.
"I was teaching, explaining [the drill] and Kelsey had the ball on her hip…I said, 'Alright, let's go,' so Kelsey puts the ball up and Ja'Leah just comes up, stares at the veteran, pops the ball out, steals it and goes and makes a layup," Meier laughed. "I just had the biggest smile. I thought, 'Oh my God, what freshman does that to the returning captain, fifth-year senior, All-ACC player in the first drill?' Just looks at her, creeps right up on her, pops the ball, takes off and scores a layup? I think we have a star. I think we have a star. That was such a great moment for me."
Williams went on to start 28 of Miami's 34 games her freshman season. She led the Hurricanes with 65 steals and ranked third on the team in points per game (7.3) and rebounds per game (4.1). Nine times she scored in double digits, and she finished the season ranked in the top five among ACC freshmen in steals (first), rebounding (third), scoring (fourth) and assists (fourth).
All of that helped her earn a spot on the ACC All-Freshman Team.
In her first season in orange and green, she also helped Miami make history, with the Hurricanes advancing to their first conference championship game in program history and at the ACC Tournament, she was recognized as the conference's winner of the Bob Bradley Spirit and Courage Award.
It was just the beginning for Williams.
As a sophomore, she started all 35 games for Miami and averaged 6.5 points, 3.1 rebounds, 2.7 assists and 1.2 steals per game during the Hurricanes' magical run to their first berth in the Elite Eight.
During Miami's tournament run, her story was shared on ESPN's national broadcast, prompting more than a few scoliosis patients to reach out to her on social media.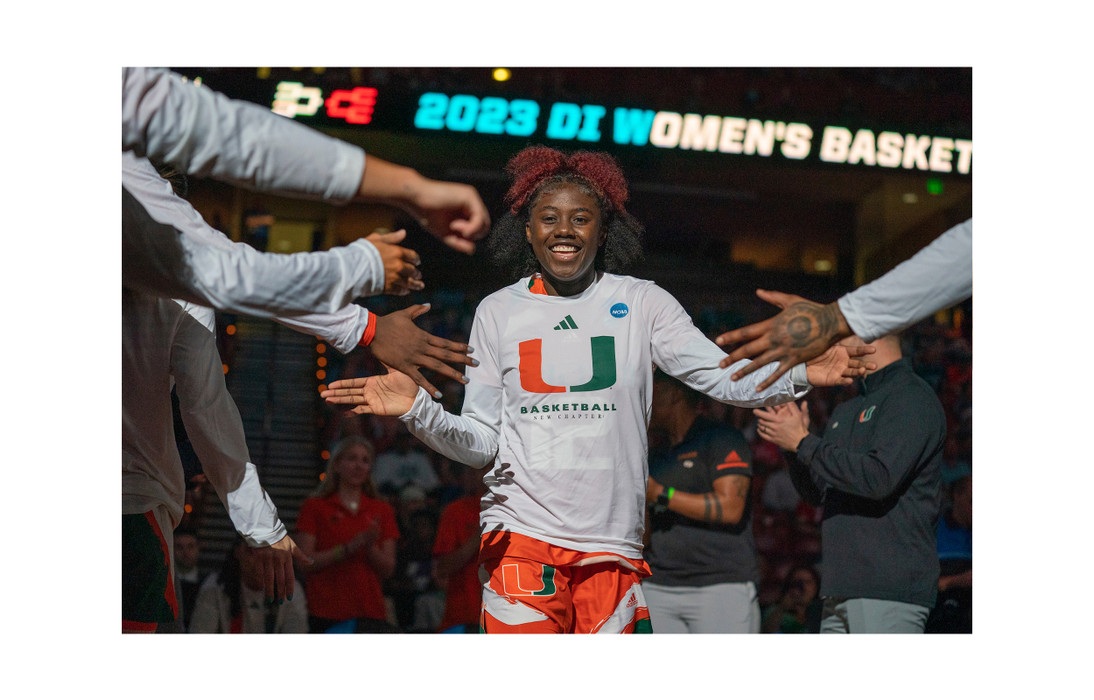 Without even knowing it, Williams became an inspiration – not just for her community in Pompano Beach watching her make history for the hometown program, but for the countless youngsters who sought her out, motivated by what Williams had overcome to compete in college basketball's championship tournament.
"It meant a lot to me, just seeing all these random people…texting me what they're going through and what surgery they've had," Williams said. "Moms [were] texting me, dads [were] texting me. 'Can you give my son courage? Can you give my daughter courage?' I was like 'Whoa.' … But just being an inspiration to random people is just amazing to me. It makes me want to tell my story more. By doing [that], it lets them know the process and what I went through. Maybe they could be going through the same thing, and it can encourage them to keep going instead of giving up."
Williams, even in her darkest moment, never gave up on herself.
Miami didn't give up on her either.
Now, as Williams turns her focus to the season ahead, the once-unfazed freshman is a junior.
She knows she'll be one of the returning veterans expected to continue setting the tone for a Hurricanes team looking to build on its success this past season.
And she – and her teammates and coaches – can't wait to see what's next.
"It says a lot about Ja'Leah. It says that she's strong. She can handle anything that comes her way," said Hurricanes guard Jasmyne Roberts of her teammate and roommate. "She doesn't let setbacks become her reality. She's going to keep fighting for what she wants. And with that mentality, she can make it anywhere in life because she doesn't let anything stop her."
Said Meier, "I want to see her roar. I want to see her literally every moment of every game, every moment of every practice, she needs to be the loudest person in the gym. She's the most certain person in the gym. She has so much in her resume already, but my vision for Ja'Leah is that you don't get through Miami without going through Ja'Leah Williams and you're not going to get through Ja'Leah Williams."