Robinson and Andrade Nationals Bound, Rhea Advances on Day One of NCAA Prelims
JACKSONVILLE, Fla. – The University of Miami track and field team completed day one of the NCAA East Regional Preliminary Wednesday evening in Jacksonville, Fla.
Graduate student Décio Andrade started the Hurricanes off strong in the men's hammer throw, posting a final distance of 70.94m, good for fourth-place in the event. The fourth-place finish earned Andrade a trip to Austin, Texas, for the NCAA National Championships on June 7-10.
Andrade has consistently placed in the top five in the nation throughout the outdoor season, making him a prominent athlete to watch at nationals.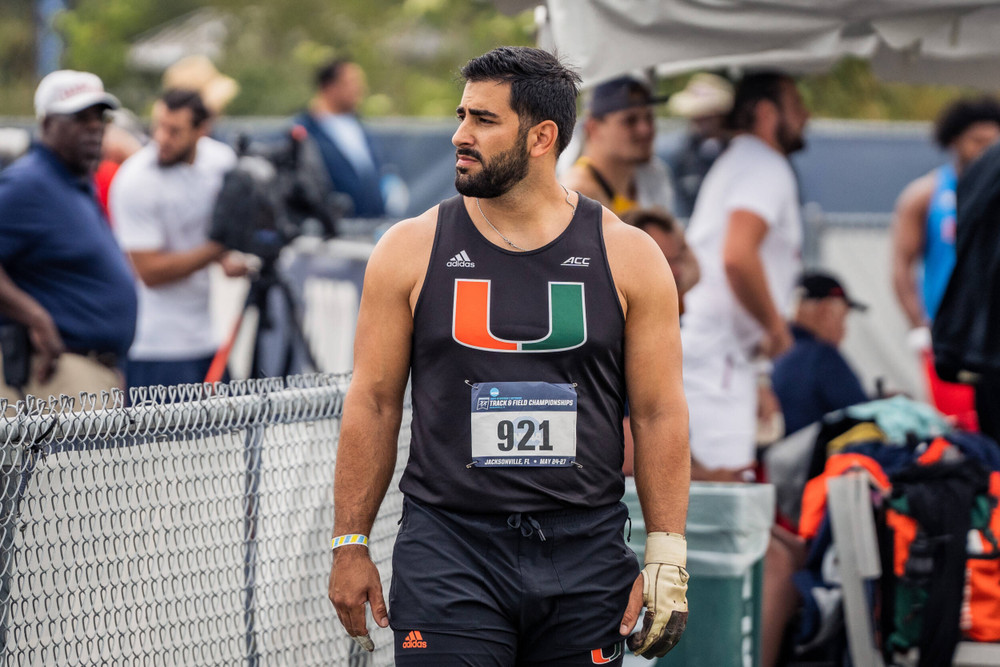 Junior Russell Robinson will join Andrade in Austin, Texas, having punched his ticket in the men's long jump with a fourth-place jump of 7.72m.
The Windermere, Fla., native will also compete in the triple jump on Friday at 6 p.m. Robinson is coming off a silver-medal showing in the men's triple jump at the ACC Outdoor Championships two weeks ago in Raleigh, N.C.
Sincere Rhea advanced to the quarterfinals of the men's 110m hurdles after finishing in a time of 13.70. The quarterfinals will take place on Friday at 6:15 p.m.
"Decio, Russell, and Sincere continue to provide leadership to this team," head coach Amy Deem said. "The key to this meet is advancing. They all did that well today and I'm very proud of all of them. For Sincere, he has to come back and do it again on Friday."
To stay up to date with the University of Miami track and field team, make sure to follow @canestrack on Instagram, Facebook, and Twitter.