Noel Tops No. 34 Zaar to Begin NCAA Singles Championship
ORLANDO, Fla. – Alexa Noel of the University of Miami women's tennis team opened the NCAA Singles Championship with a straight-set victory Monday evening at the USTA National Campus.
After dropping the first three games against No. 34 Lisa Zaar of Pepperdine, fifth-ranked and fifth-seeded Noel won 12 of the final 17 to claim a 6-4, 6-4 triumph.
"I thought it was a tough opening round. Zaar is a tough player, coming in with an impressive record. She is tough to play, doesn't beat herself," Miami head coach Paige Yaroshuk-Tews said. "But I thought Alexa today was just unwavering. She didn't let Zaar's style of tennis impact her decision making, which is what she needed to do."
Noel lost each of the first two games on deuce points and then play halted during the third game due to lightning in the area. All matches moved inside, with Noel's the last of the 12 set to resume in the six-court facility.
After a delay of two hours and 28 minutes, the players continued their match inside. Zaar earned her second early break to go ahead, 3-0, but then Noel began to take over.
The redshirt sophomore won four straight games, including the first two on deuce points, to pull ahead, 4-3. After Zaar held at deuce to even the score, Noel did the same thing in the next game—six of the first nine games went to a deciding point—to pull back in front. She then broke at love to win the first set, 6-4.
"I think she had a little bit of a slow start, even though she played a couple deuce games there in the beginning of the first set. I think Zaar made one unforced error in the first three games, so [that is a] great job on her part," Yaroshuk-Tews said. "But I think that Alexa definitely raised her level, started to understand what the match was going to feel like and started to understand the rhythm of the match. And then once she settled in … was able to play her style and do what she wanted to do with the ball."
Zaar, who entered the tournament at 15-2 on the season, took the first two games of the second set. Then, just as she did in the first, Noel began to assert her dominance, winning five straight games with just one even going to deuce.
The Summit, N.J., native had four match points in the eighth game, but Zaar saved them all and then broke to make it 5-4. Noel, however, let her get no closer, as she answered with a break of her own to seal a 6-4, 6-4 decision.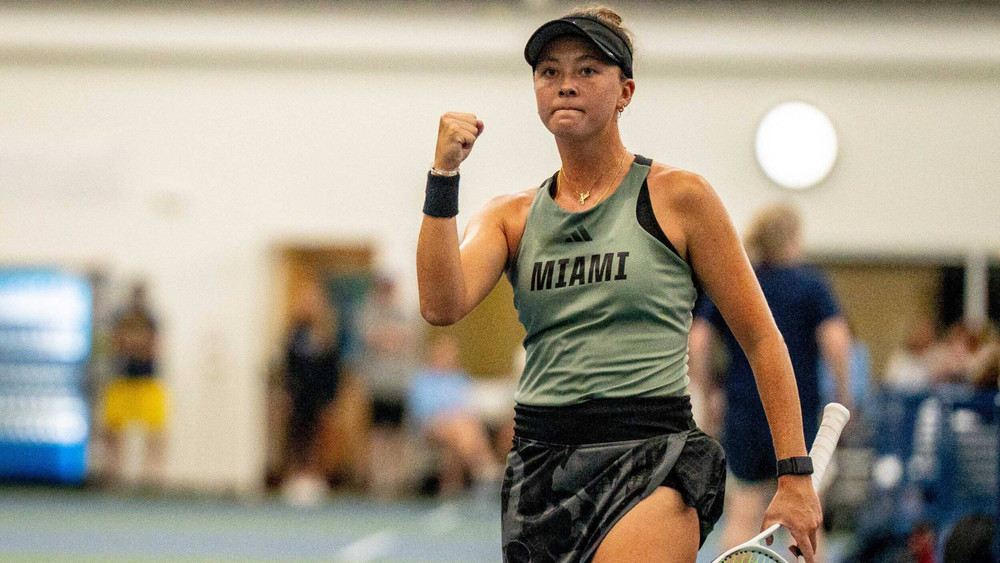 The triumph improved Miami to 99-62 (.615) all-time in the NCAA Singles Championship. A Hurricane has now won at least one match in the event in 10 of the last 11 tournaments, dating back to 2012.
Noel will be back in action Tuesday against No. 23 Carolyn Ansari of Auburn in the Round of 32. In addition, she will take the court alongside junior Isabella Pfennig in the NCAA Doubles Championship Round of 32 versus the top-ranked and top-seeded duo of Savannah Broadus and Janice Tjen of Pepperdine. Both match times are still to be determined.
For more information on the NCAA championships, including schedules, brackets and live stats, visit the tournament homepage HERE.
To keep up with the University of Miami women's tennis team on social media, follow @CanesWTennis on Twitter, Instagram and Facebook.
MONDAY RESULT
NCAA Singles Championship First Round
No. 5 [5] Alexa Noel (UM) def. No. 34 Lisa Zaar (PEP), 6-4, 6-4
TUESDAY SCHEDULE
NCAA Singles Championship Second Round
Time TBD: No. 5 [5] Alexa Noel (UM) vs. No. 23 Carolyn Ansari (AU)
NCAA Doubles Championship First Round
Time TBD: No. 32 Alexa Noel/Isabella Pfennig (UM) vs. No. 1 [1] Savannah Broadus/Janice Tjen (PEP)