NCAA W. Tennis Individual Championship Draws Released
CORAL GABLES, Fla. – The brackets are set for the 2023 NCAA Singles Championship and NCAA Doubles Championship, as announced Sunday morning.
Redshirt sophomore Alexa Noel, both ranked and seeded fifth nationally, will begin play Monday at 2:30 p.m. against No. 34 Lisa Zaar of Pepperdine. Action is slated for the USTA National Campus in Orlando, Fla.
The sixth Hurricane—11th occurrence—ever to earn a top-five seed in the NCAA Singles Championship, Noel is 33-7 in her first season at Miami, including 23-3 this spring and 22-5 against ranked opponents. She is currently on an 11-match winning streak with 10 of the triumphs in straight sets.
Noel, who played in the singles tournament in 2021 while at Iowa, will be the 31st Hurricane—65th total appearance—to play in the NCAA Singles Championship. Competitors from Miami, which is represented in the event for the 20th consecutive time, are a stellar 98-62 (.613) all-time in the event and have earned five Final Four berths in the last seven tournaments, including one national title.
Along with her spot in the singles field, Noel will also play in the NCAA Doubles Championship with junior Isabella Pfennig. Initially the third-alternate pair, Noel and Pfennig, together ranked No. 32, officially earned a spot in the field this past week. It will the first appearance for Noel and the second for Pfennig, who made the cut in 2021 with Estela Perez-Somarriba.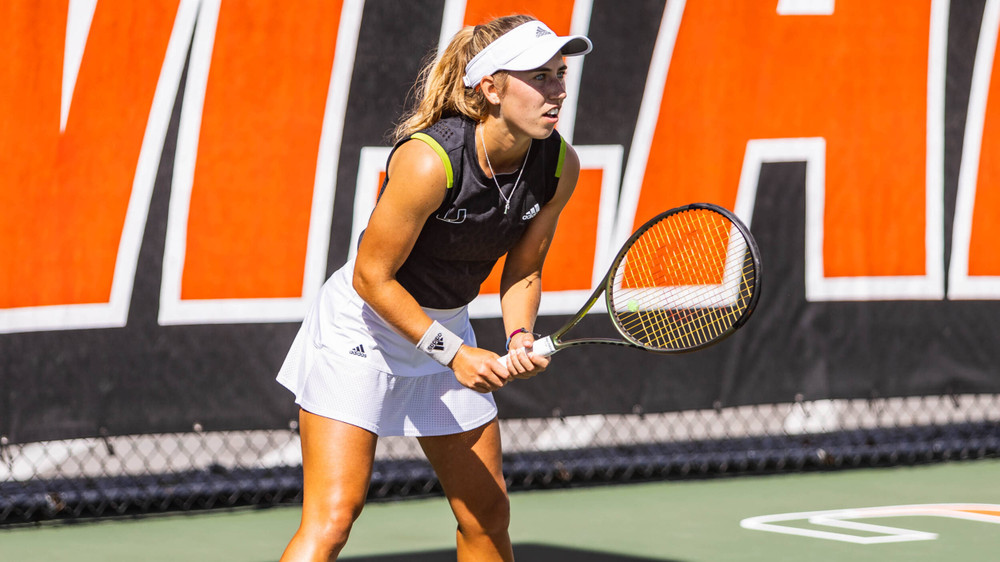 The tandem opens play Tuesday at a to-be-determined time and is also slated to face an opponent from Pepperdine in Savannah Broadus and Janice Tjen, the top-ranked duo in the country. This will be Miami's second straight NCAA Doubles Championship matchup against the top seed, as Daevenia Achong and Eden Richardson played the No. 1 overall seed in the 2022 national title match.
Noel and Pfennig are 13-5 together and have two wins over top-12 foes. They are 5-1 in their last six completed matches.
This will be the fourth straight NCAA tournament in which the Hurricanes will compete in both the singles and doubles events. In each of the prior three, either an individual or pair advanced to the national championship match.
Additional information on the NCAA Championships, including live stats and streaming links, can be found HERE on the event website.
To keep up with the University of Miami women's tennis team on social media, follow @CanesWTennis on Twitter, Instagram and Facebook.