Harden Selected by Phoenix Mercury in 2023 WNBA Draft
CORAL GABLES, Fla. – University of Miami women's basketball forward Destiny Harden was selected by the Phoenix Mercury in the third round of the 2023 WNBA Draft Monday night.
Harden went No. 27 overall in the draft, as one of just three Atlantic Coast Conference players picked.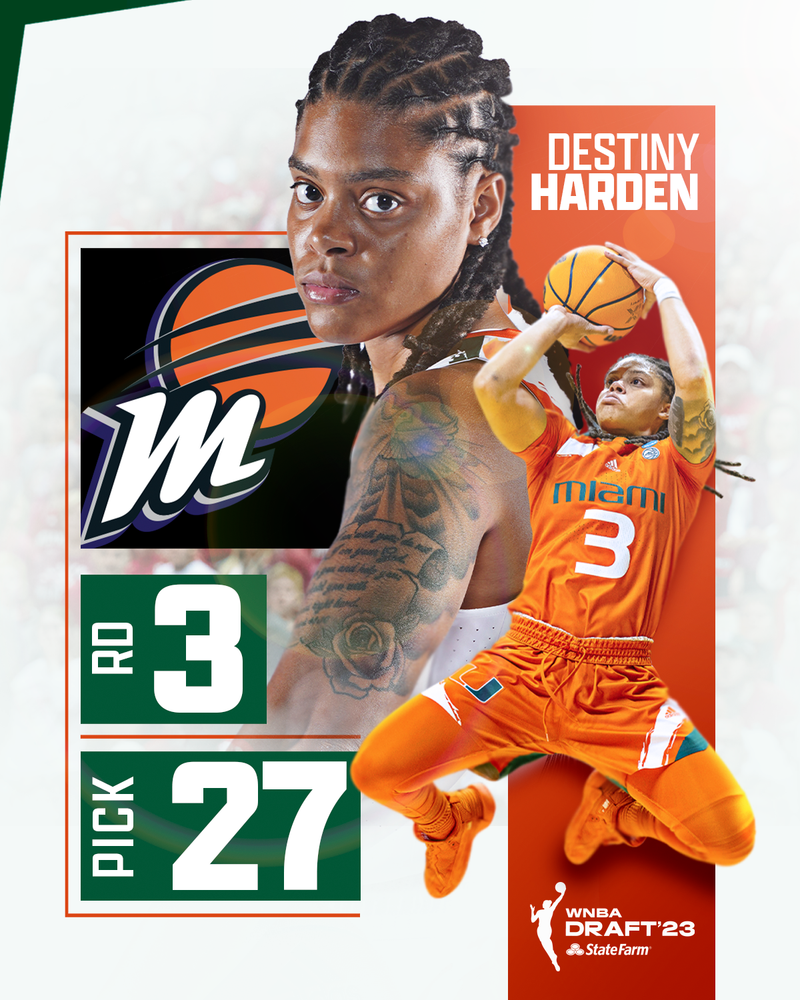 The Chicago native is the seventh player in program history chosen in the WNBA Draft, alongside Beatrice Mompremier (2020), Adrienne Motley (2017), Shenise Johnson (2012), Riquna Williams (2012), Tamara James (2006) and Octavia Blue (1998).
Harden transferred to Miami after spending her freshman season at West Virginia. During her four years as a Hurricane, Harden averaged 9.0 points, 4.9 rebounds and 1.3 steals per game, while shooting 43.4 percent from the field.
The forward eclipsed the 1,000-point mark during Miami's NCAA Tournament run and finished her collegiate career totaling 1,024 points in 139 games.
Harden was an instrumental part to Miami's success over the last two seasons, not only helping the Hurricanes to the first ACC Championship game appearance in program history in 2022, but also to the program's first Elite Eight appearance in this year's NCAA Tournament.
Harden finished her collegiate career totaling 46 double-digit outings, nine double-doubles and nine 20-point games. She is the Miami record-holder for single-game field goal percentage in the ACC Tournament (.733) shares the top mark for ACC Tournament single-game field goals made (11).
The forward is the first ever Hurricane to be selected by the Phoenix Mercury.