Helping Make History at Miami
HOUSTON – Jordan Miller stood in a hallway at NRG Stadium on Thursday, waiting for his turn in front of one of the countless cameras documenting Miami's historic trip to the Men's Final Four when a production assistant tried to get his attention.
But that assistant didn't call Miller by name.
Instead, he used the moniker "Mr. Can't Miss Himself" to call Miller over, an obvious nod to the guard's perfect-game performance against Texas last week in the Elite Eight.
That night, Miller was 7-of-7 shooting from the field and 13-of-13 from the free throw line.
He finished with a game-high 27 points and helped Miami erase a 13-point deficit in its eventual 88-81 win over the Longhorns.
That win brought Miller and the Hurricanes to this moment where, on Saturday night, in front of 75,000 fans in Houston and millions more watching from home, Miami will take center stage when it faces Connecticut for a chance to play for a national title.
No wonder Miller has had a hard time wiping the smile off his face since the win over Texas.
"This is a once-in-a-lifetime thing, more times than not," Miller said of the Hurricanes' season and run to the Final Four. "Just being able to share laughs together, just experiencing this in my final year of college is truly a blessing."
Things ended a bit differently for Miller and the Hurricanes a year ago.
Though Miami made history then by advancing to the first Elite Eight in program history, the Hurricanes fell short of their ultimate goal.
Instead, they saw their season end after a disappointing loss to eventual national champion, Kansas.
The season as a whole, yes, was something to be proud of. How it ended, though, stuck with Miller for months after the fact.
"I think, for me personally, it fueled me 110 percent. I would assume [the same] from the other guys that were on the team," Miller said. "No one wants to feel that pain again. And that's what pushed us in the off season, pushed us during the season to continue to play at an elite level and not have bad practices…
"I would say, the seven guys that returned, the leadership we kind of took for the guys that haven't either gone this far or were freshmen that hadn't experienced college yet, we came with a certain determination, a certain focus and I think in the offseason, the new guys did a good job of kind of hopping on that train and being like 'Okay, man, these guys want more. Let's help them as much as we can.' And they did."
Miami's team chemistry, no doubt, is one of the reasons the Hurricanes are in Houston.
But Miller's leadership and experience have been part of creating that chemistry.
A former transfer from George Mason – the same program Miami head coach Jim Larrañaga led to the Final Four in 2006 – Miller made it a point to welcome new faces Norchad Omier and Nijel Pack when they joined the Hurricanes.
He's tried, often, to help set the tone in the locker room and in the huddle. And his steadying presence, teammates say, has made as much of a difference this season as his performance on the court.
"Everybody knows about that perfect game he had, but I don't think that's all that defines him. He's been a great player during the whole season," Omier said. "He's one of the key players that has us here right now. He's an amazing player that I look up to. But he's not just a good player. He's a good friend and a brother, too."
Added fourth-year junior guard Harlond Beverly, "He's brought everything, from what he does on the court and off the court. He's been a great role model for everybody coming in behind him. He's been a great friend and leader to everybody. He gets buckets, rebounds, goes 7-for-7, so his game speaks for itself on the court. He's really amazing and we're all blessed he's a teammate of ours…He keeps us all calm and he's really knowledgeable, too. He really knows what he's talking about, so that makes it easy for all of us to listen to him…He's just really good for us."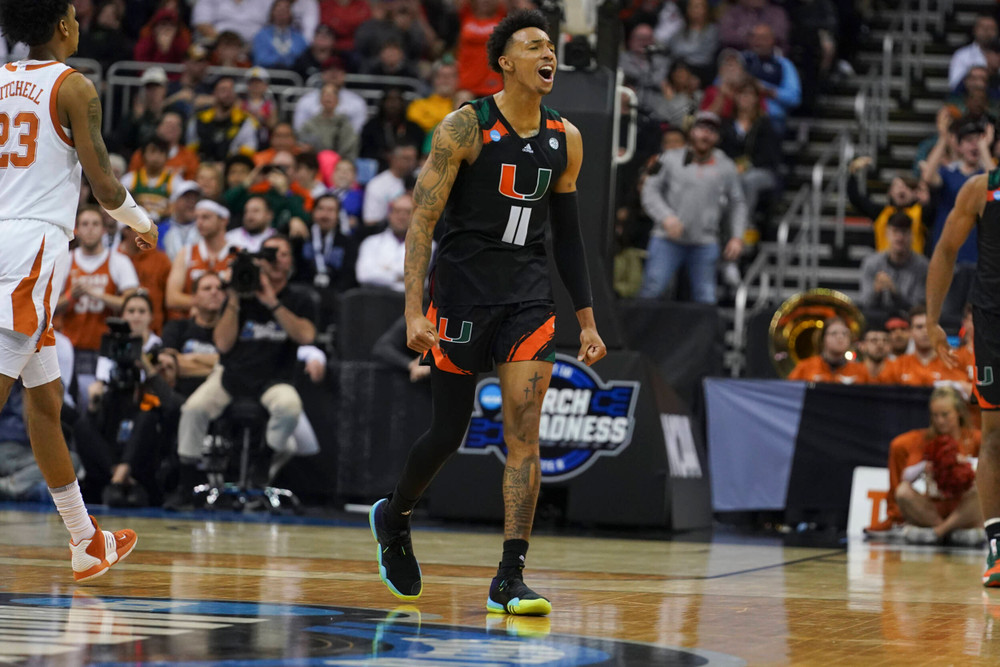 For his part, Miller would say the Hurricanes have been really good for him, too.
When he transferred to Miami, he wasn't sure what to expect – particularly given that his move came during the height of the Covid-19 pandemic, when student-athletes across the country visited with coaches via video calls and conversations.
Miller hadn't set foot on Miami's campus or met his new teammates in person when he arrived in Coral Gables, but he was quickly made to feel welcome, particularly by Beverly and Isaiah Wong, along with former Hurricanes basketball players Deng Gak, Kameron McGusty and Rodney Miller Jr.
The group took Miller out to dinner and bonds were formed, quickly.
It didn't take long for the rest of the Miami community to make Miller feel welcome, too, he said.
"I didn't know what to expect coming in, but the way the community, the athletic department, my peers, everyone in the Coral Gables area has shown love, even if we lose a game, there's still that love there," Miller said. "And the women's team, they've been supportive, and we've been supportive of them. It's just a great community filled with great people…I'm just very appreciative of everyone I've come across and they've all been nothing but great to me."
Now, Miller says, it's time to finish the job he started when he came to Miami, to reach the goal he and his teammates set for themselves the moment the buzzer sounded at the end of last season.
The first step this weekend will be a win over Connecticut. After that, a matchup with either Florida Atlantic or San Diego State potentially awaits.
Whatever happens, though, Miller said he hopes his impact in Coral Gables won't be forgotten.
Given what he's meant to Miami, and the history he's helped make, there's little doubt it will be.
"I just want people to know that, regardless of what was happening, I always had a smile on my face," Miller said. "I always tried to make sure that everyone at the Watsco Center felt involved. Whether it was someone calling my name and I tried to wave to them. Now, I ultimately just wanted to make history and we did, both years. Yeah, we did."