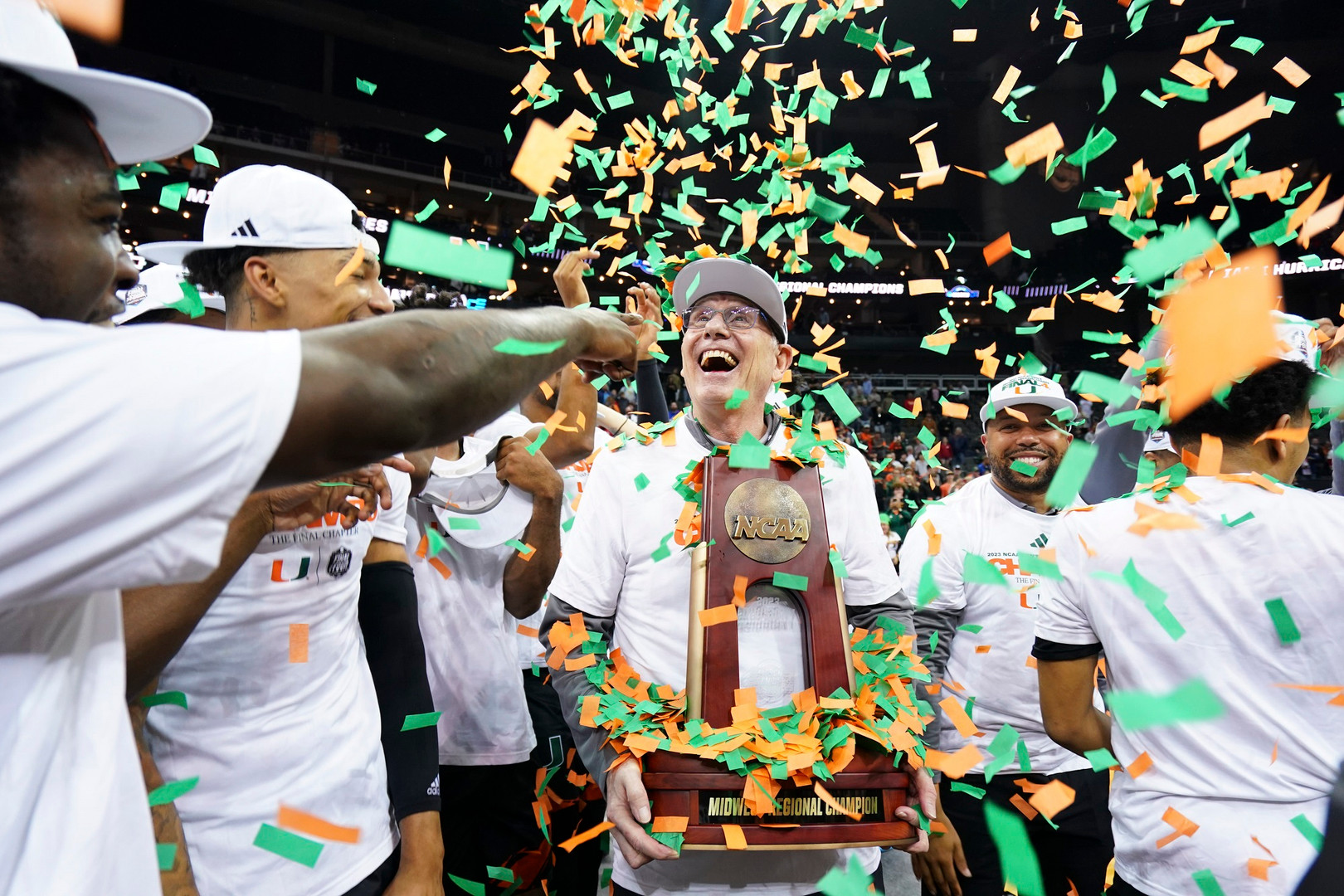 KANSAS CITY, Mo. — In 1984, Jim Larrañaga went to his second NCAA Final Four as an assistant coach.
In 1984, the University of Miami did not have a men's basketball program.
The program would return a year later, for the 1985-86 season, after a 15-year hiatus. A dozen years later, the Canes made it back to the NCAA Tournament. By 2003 they finally had an on-campus arena.
It was a slow but steady climb to respectability when Larrañaga arrived in Coral Gables as head coach in 2011. In his second season, the Canes were ACC regular season and tournament champions. Three more Sweet 16 appearances followed, including the school's first ever Elite Eight berth last year.
And tonight, 364 days after that heartbreaking loss to Kansas, the Miami Hurricanes took that one giant leap further – securing the first Final Four berth in school history.
The Canes' scintillating, 88-81 comeback win over second-seeded Texas at T-Mobile Center was the culmination of an exhausting, nerve-wracking and ultimately delirious two-week, four-game stretch that has them headed for Houston to play on the sport's ultimate stage. But truth be told, the road has been much longer than that, which makes this win all the more rewarding.
"You just love when your players accomplish a goal they set out before the season," Larrañaga said. "I'm a great believer in the Seven Habits of Highly Effective People. The first habit is to be proactive playing ahead. So always talking to the guys about planning, visualizing, seeing yourself being successful.
"Habit two is begin with the end in mind. And what we said the first day of practice, we've got to start visualizing right now what we want to accomplish and be working toward that every single day. And that's what these guys have done."
Miami rallied from a 13-point deficit in the second half against the Longhorns thanks in large part to the heroics of Jordan Miller, who tossed his own version of a perfect game, scoring 27 points on 7 of 7 field goal shooting and 13 of 13 free throw shooting.
Nijel Pack, the NCAA Tournament Midwest Region MVP, had 15 points. Isaiah Wong added 14 points. while Norchad Omier collected 11 points and nine rebounds despite foul trouble in the second half. Marcus Carr had 17 points for Texas, which was seeking its first Final Four berth since 2003.
"They pushed the lead up to 13," Larrañaga said. "We called a timeout and I said to them, we just need to calm down and play better. There's no big secret in this. We're very good but we've got to play very good.
"Our defense dramatically improved. Our rebounding improved. And once we get stops, we really can score the ball. So we went on a run offensively, defensively, and that completely turned the game around. When it got to be 75-75, we've been in so many close games this year, I felt very comfortable and confident these guys will pull us through."
In a raucous atmosphere befitting a regional final, Miami was aggressive from the tip, jumping out to a 7-0 lead before Texas ripped off a 7-0 run of their own to tie the game at the first TV timeout. The Longhorns were on fire from three-point range in the first half, hitting 7 of 13 attempts, and assisting on 14 of their 17 baskets overall. Miami shot 64 percent from the field – including Miller hitting his first six shots — yet still trailed by eight at the half.
But there were still 20 minutes left to mount a comeback.
Texas pushed out its lead to 64-51 with 13:29 remaining when Wooga Poplar (16 points) made a heady play, bouncing the ball off the back of Brock Cunningham on an inbounds pass and dunking the ricochet. Miami kept hitting shots and the Longhorns finally started misfiring, hitting just 1 of 9 shots over one stretch. A turnaround jumper from Wong cut the lead to 72-68 with 6:58 left and Texas called timeout.
The Canes kept coming. Pack scored on a layup and then Wong fed Omier for a lob, which he turned into an old-fashioned three-point play and Miami had a 73-72 lead.
The teams traded the lead until it was tied at 79, and Omier was undercut by Cunningham and made two free throws with one minute left. Then Omier knocked the ball from Carr and the Canes got the ball back. Wong was fouled and made both free throws to make it 83-79 with 34.3 seconds left. Texas was forced to keep fouling and Miami kept connecting from the charity stripe. The calm and collected Canes hit 25 of 27 free throws in the second stanza.
When the clock hit triple zeros the team rushed the court, the confetti fell and Larrañaga rushed to the stands to embrace his wife, Liz. Miami made history tonight in Kansas City and Larrañaga knows how much this moment means not just to his basketball program but to the entire university community. He paused to reflect in the coaches' locker room after the game.
"One of the things I've learned throughout my coaching career is when your sports teams, in this case your basketball program, is enjoying so much attention from the national media it creates a lot of interest from the general public – and not just from our area but throughout the country," he said. "The result is so many more hits on your website and so much more interest in people applying to the school, learning more about it, finding out that we're a Top 50 school academically and that we have so much to offer any student.
"And that's really what it's about. We're an academic institution and we want to continue to rise. Our basketball program went from not being in existence in 1984 to being in the Final Four in 2023. And our university wants to make that same jump from being a Top 50 school to a Top 20 school to a Top 10 school. And you do that by improving your brand, getting your brand out there. It's marketing and that's exactly what getting to the Final Four will do."
So stand up Canes students. From Pearson to Stanford to Lakeside. Stand up South Florida. From Dade to Broward to Palm Beach. Stand up U Family. From coast to coast and around the orange and green globe.
The Miami Hurricanes are Final Four bound – and they're not finished.