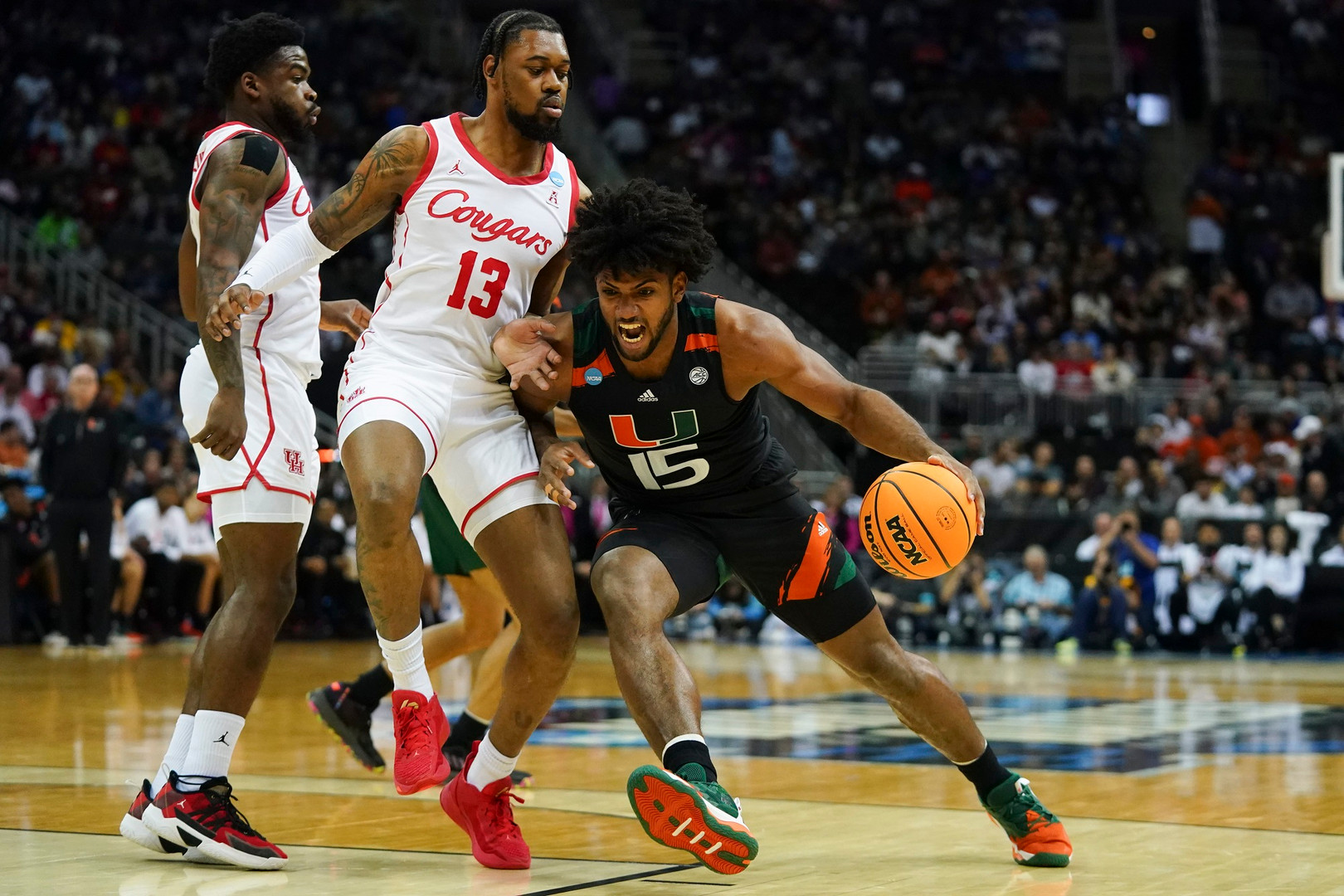 KANSAS CITY, Mo. – On the madness meter, this March has been off the charts.
Your bracket, like most, was likely in tatters before the first weekend of the NCAA Tournament had even concluded.
For the second time ever, a 16 seed won a first-round game. A 15 seed made the Sweet 16. And for the first time since tournament seeding began in 1979 there isn't a single No. 1 seed in the Elite Eight.
But while the rest of the bracket has been busted to bits, the Midwest Region, where the Miami Hurricanes reside, has been largely "chalk," befitting what the selection committee had in mind when they unleashed this tournament upon us. Which means Miami's path to Sunday's regional final has been a hard-earned journey. The fifth-seeded Canes (28-7) dispatched fourth-seeded Indiana in the second round and then boat raced top-seeded Houston in the Sweet 16. Their reward? A Sunday date at 5:05 p.m. with second-seeded Texas (29-8), the highest seed remaining in any of the four regionals.
It's the type of 10-day, four-game gauntlet this experienced group of Canes was built to face. After all, there's only one team from last year's Elite Eight still lacing up their sneakers this weekend.
"We're very excited to be in the Elite Eight," head coach Jim Larrañaga said. "These guys have earned that right. They played very hard and very well together to beat an outstanding Houston team."
Miami rolled to an 89-75 win over Houston in the Sweet 16 Friday behind scintillating backcourt play from Nijel Pack (26 points) and Isaiah Wong (20 points), and another tenacious effort on the boards from Norchad Omier, who is averaging 14.6 rebounds over his three tournament games. The Canes held the Cougars to 37.5 percent shooting and just 29 percent from three-point range.
Now Miami faces a veteran team in Texas, which left little late-night drama at T-Mobile Center in its regional semifinal, holding third-seeded Xavier to 9 of 33 shooting in the first half to build a 17-point lead at the break. The Longhorns had a balanced scoring attack with five players in double figures, led by 19 points from Tyrese Hunter and 18 apiece from Marcus Carr and Christian Bishop. Texas shot 52.5 percent from the field and has exceeded 50 percent in each of its three tournament games.
Dylan Disu, a 6-9 forward for Texas who averages 8.8 points per game, left the Xavier game with a left foot bone bruise with 18:26 left in the first half and did not return. Longhorns head coach Rodney Terry said Saturday that Disu is day to day.
Carr, a first-team All-Big 12 selection, leads the team in scoring, averaging 15.8 points per game. Hunter, who transferred from Iowa State, faced the Canes last year in the Sweet 16.
"I think last year they played very fast," Hunter said. "I think they was kind of everywhere on defense, just playing, trying to get out in transition. I really don't see no difference this year.
"Honestly, they kind of filled in the roles of the players they lost last year. Just getting out, running and jumping, playing fast up and down, and keeping the pace up."
Meanwhile, Pack is familiar with the Longhorns from his time at Kansas State.
"Playing this team in the past, they have a really good team, especially from the times that I played against them," Pack said. "We've got to do what Miami does best. We've got to protect the paint, rebound our ball, and we always seem to do well on the offensive end."
Since concluding a 5-5 stretch on March 1 with a loss at TCU, the Longhorns have won seven straight games, including the Big 12 Tournament on this very floor.
"This team, one of the characteristics of this team is they've been extremely unselfish," Terry said. "They play for one another. They've had each other's back. We work on it all the time in terms of sharing the basketball. One guy has a good shot. The other guy has a great shot.
"And they've really bought into that mentality. Let's get the best shot that we can get. Let's get a shot up every time now because we knew how hard it is for us to get a defensive stop, we know we've got to earn a basket at the other end. Let's share the basketball. Let's continue to take care of the basketball. And let's not beat ourselves."
For the second straight game Larrañaga sees an opponent similar in size and very athletic.
"The biggest difference right now, as I observe them, they like to put a lot of pressure on the pass receiver," he said. "So they deny passes. But they are very similar in size to us. In the ACC we've played against a lot of teams that had two 7-footers in the starting lineup. This is a much different matchup for us. I think it should make for a great game."
Terry for one has been impressed with what Larrañaga has done with the Canes this season.
"He has his team playing at the highest level right now," Terry said. "They can play really fast in transition. They do a great job of really sharing the basketball. They've got great guard play. They have an elite offensive rebounder with the mirror inside. They're a very talented ball club.
"Any time you win the regular season ACC, you're pretty doggone good."
And Miami does have experience on its side as Wong, Jordan Miller, Wooga Poplar, Bensley Joseph and Anthony Walker all played in last season's Elite Eight loss to eventual national champion Kansas.
"They experienced this last year," Larrañaga said. "They understand the level of competition and what's at stake…and hopefully they can kind of help bridge the gap with the other guys on the team, including Nijel and Norchad, of getting them to know that it's not about who we play and it's not about where we play, but it is how we play.
"No one is satisfied getting to an Elite Eight. Every team wants to get to the Final Four and win a national championship. We're no different than the other seven schools. But it's a challenge."