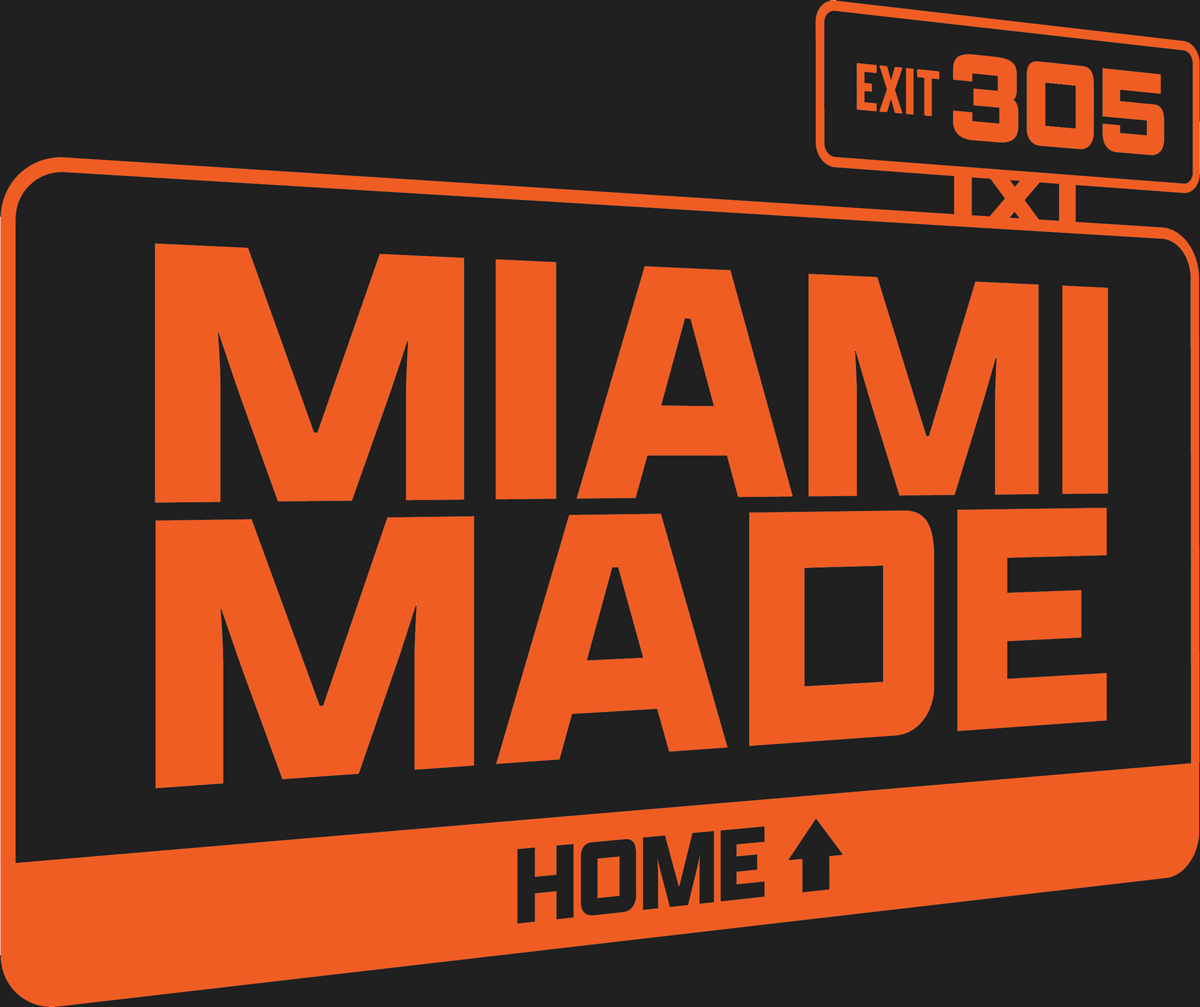 Norchad Omier
Witness the journey of Norchad Omier, a Nicaraguan basketball prodigy, as he transforms from a young boy in Bluefields playing baseball to a rising star on the courts of Miami. This is a story of dreams realized and aspirations to give back.
By Christy Cabrera Chirinos
CORAL GABLES, Fla. – It has become somewhat of a common sight.
Every time he takes the floor with his Miami teammates, Norchad Omier looks into the stands at the Watsco Center and catches a glimpse of a fan waving the Nicaraguan flag. Or he'll see someone sporting his nation's colors on their shirt.
Often, when the games end, many of those fans try to make their way closer to the court in the hopes of saying hello to or snagging a picture with Miami's energetic, outgoing big man.
And when he can – no matter what's happened on the court  – Omier tries to oblige.
He understands full well what his presence there means to his countrymen in Miami.
He knows the responsibility that comes with being the first Nicaraguan-born basketball player to earn a Division I scholarship.
He's beyond grateful, too, for the support he's received in the city he now proudly calls his home in the United States, a city that thousands of his fellow Nicaraguans call home, too.
But to see those same blue and white flags in South Bend, Indiana? To find that support in Atlanta?
Well, those were certainly pleasant surprises.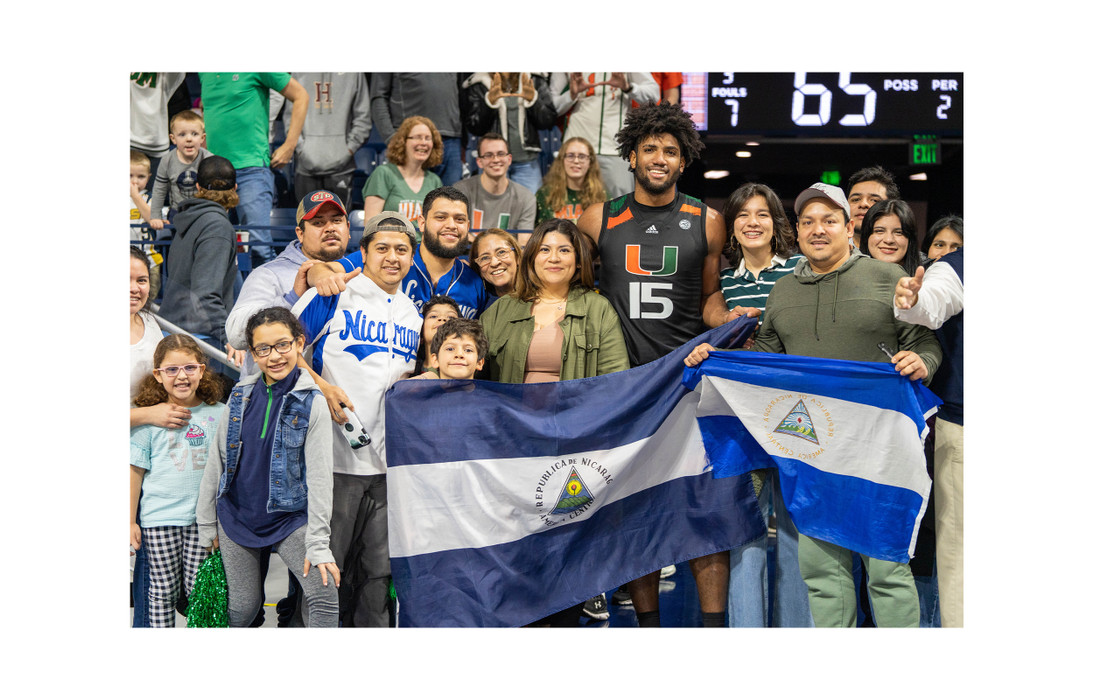 "It's really special. I'm in a foreign country and it's just amazing, being far from home that people from home still come and support me. It feels really good," Omier said.
"I wasn't expecting it at all. It makes me think I'm really doing something good. I guess I just have to keep doing what I'm doing. So far, so good."
So far, so good? That might be an understatement for Omier.
The third-year sophomore is a double-double machine for the 14th-ranked Hurricanes, averaging 14.1 points and 10.0 rebounds as top-seeded Miami prepares to open play in the 2023 New York Life ACC Men's Basketball Tournament on Thursday at noon.
He's pursuing a degree in sport administration and occasionally working out with NBA stars.
More than that, though, Omier has become an ambassador of the game in his homeland, a country where baseball reigns supreme and the prospect of attending college in the U.S. is a dream to so many.
None of that is anything Omier takes lightly.
From the Diamond to the Hardwood
Like many youngsters in his hometown of Bluefields, Omier grew up playing baseball.
He was the youngest of three sons, but the one most drawn to sports. His father, Halstead, took note and by the time Omier was five years old, father and son were waking up early together to play catch before the school day began.
As Omier grew taller, so did his skill on the diamond – in particular, on the pitching mound.
His size, power and athleticism made him a natural and the dream of playing professionally was born.
That dream eventually changed, thanks in part to a local basketball coach who spotted Omier playing baseball with some of his neighborhood friends when he was in middle school.
The coach asked the tall pitcher if he'd like to give basketball a try.
Omier, who'd to that point only put up casual shots with friends, was unsure.
"I said, 'Can I ask my parents first?'" he recalled with a chuckle.
Conversations were had, Omier's interest was piqued and before long, he was practicing at Bluefields' basketball academy with an eye on the national tournament.
Omier was hooked – even if he initially struggled with his new sport.
And none of it, he shares, would be possible were it not for a coach who believed in him.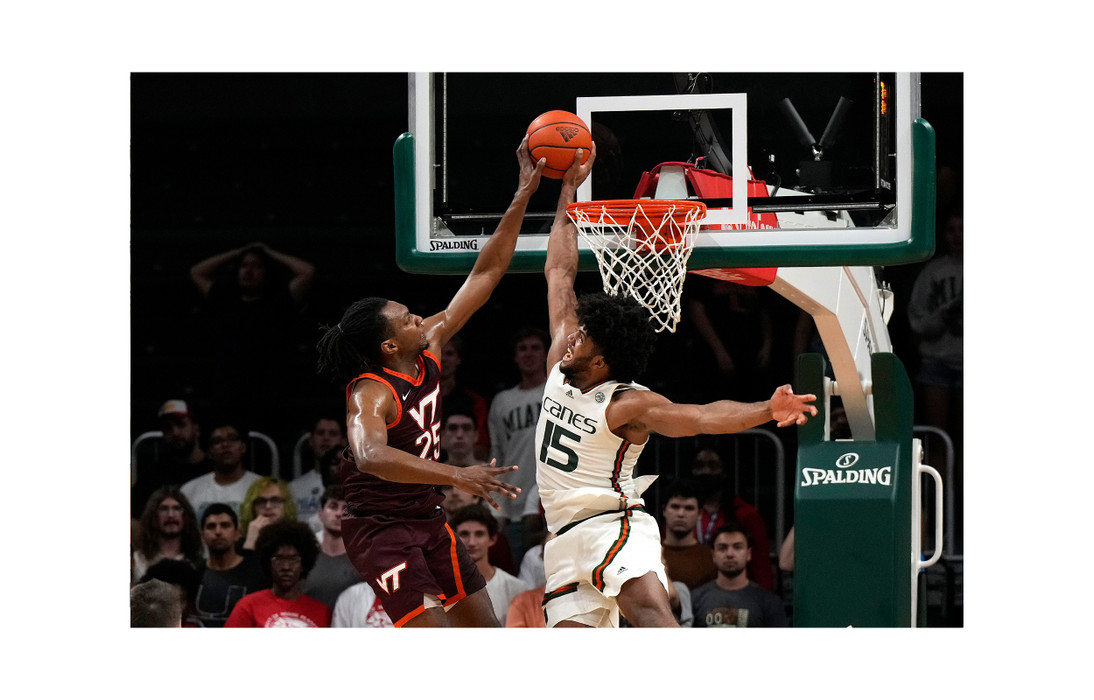 "I'm a very competitive person. I like to compete. If I do something, I want to do it to the best of my abilities," Omier said.
"I remember that year, I went to play with Bluefields Academy in the national tournament. I practiced for two months before we went to the national tournament and I sucked. I was like, 'Everybody here can play. I want to get to that point.'
"So I remember after we came off that trip, I was every day in the gym, every day in the gym, practicing with my friends and the coaches. I was just like 'I've got to get to that point that I'm the player on the team that everybody can rely on.'"
His efforts paid off. By the summer, Omier and his team participated in another tournament where he finished as the leading scorer and rebounder.
Basketball, he soon discovered, could be plenty fun.
And those who knew him best saw he was developing a talent. His high school baseball coach went to watch one of Omier's basketball games and told him he was a natural at his newfound sport.
And when a member of Nicaragua's national baseball team urged Halstead Omier to direct his son back to baseball, Omier's father made a statement that proved prophetic.
"My dad didn't know I heard the conversation with the guy…and he was like 'Nah, my son is going to make it in basketball. He's going to do something different that nobody else has done. He's going to be the first one doing it,'" Omier recalled. "That just stuck with me."
Bound for the U.S.
Halstead Omier's belief in his son wasn't unfounded.
The more basketball Norchad Omier played, the better he became.
He won a national championship with his high school team and eventually, Wesley Savery – one of Omier's mentors and the former vice president of the Basketball Federation of Nicaragua – offered to help Omier find a way to showcase himself to coaches and scouts.
Savery found a camp in Miami where he felt Omier could excel and the basketball player and his family worked to secure all the necessary paperwork to get Omier to the United States.
He traveled to South Florida, participated in the camp and was recognized as the event's most valuable player. There, Omier caught the attention of Art Alvarez, a local coach who believed Omier could excel in his post-graduate program at Miami Prep.
And excel the 17-year-old did.
Though he missed his family, battled homesickness and often wondered if he'd made the right decision by coming to the States on his own, Omier averaged 26.7 points and 20.3 rebounds per game during his time at Miami Prep. His team went 41-5 and Omier couldn't help but wonder if the dream of playing college basketball was within reach.
He hoped – given how comfortable he eventually became in Miami – that the Hurricanes would come calling, especially since he had an aunt and uncle who lived in the area, his native Spanish was widely spoken in the community and the Nicaraguan cuisine that reminded him of home was within reach.
But it wasn't to be. Not yet, anyway.
The COVID-19 pandemic had taken its toll on every facet of life, including college basketball recruiting. Coaches couldn't come see Omier play in person and the big man wasn't able to take any official visits.
Omier eventually signed with Arkansas State where he played for Red Wolves coach Mike Balado, a Miami native who spoke fluent Spanish and had starred at St. Thomas University.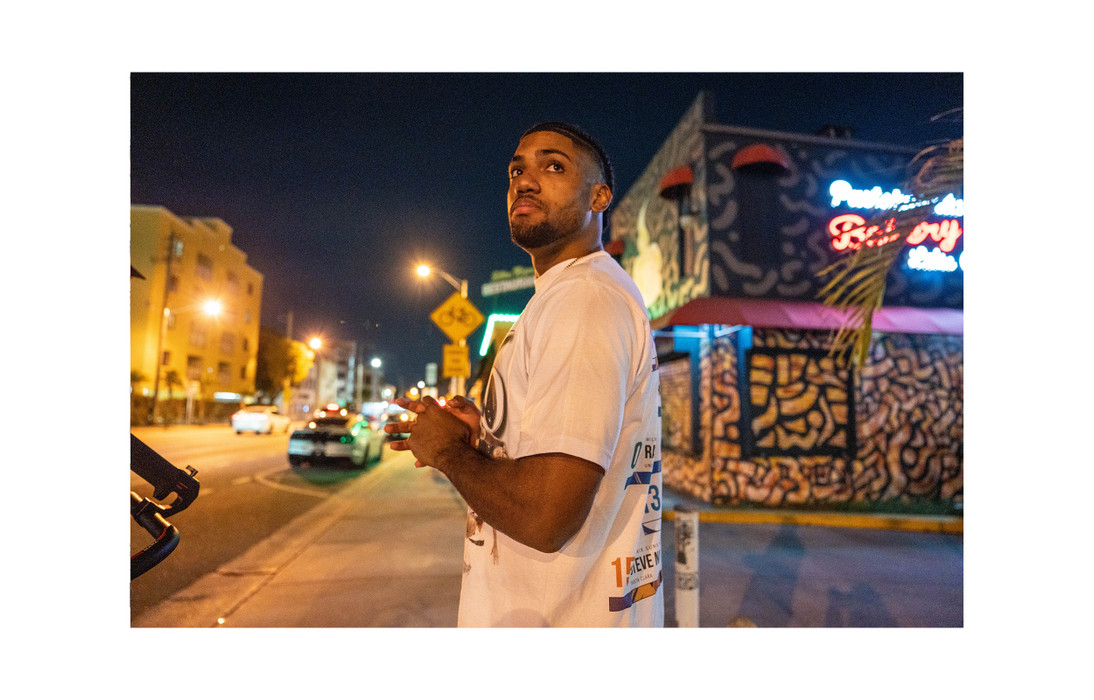 "Knowing that everybody in the country is watching you and they're proud of you no matter what the outcome is," says Omier.
Adjusting to both the American college game and life in Jonesboro had its challenges, but Omier embraced them all. He spent countless late nights in the gym, working on his game, even as teammates and classmates headed home on off days and campus breaks.
As a freshman, he started 22 games and averaged 12.6 points, 12.3 rebounds, 1.2 steals and 1.4 blocks. He totaled 15 double-doubles and earned recognition as the Sun Belt Freshman of the Year.
During the summer of 2021, Omier spent time with the Nicaraguan national team during pre-qualifying for this year's FIBA World Cup tournament.
Though Nicaragua didn't advance, Omier continued growing his game and learning from the players around him, many of whom were considerably older.
It was an experience he said only made him better.
"Playing with older guys, you learn a lot from them…and wearing the blue and white is just really good," Omier said. "Knowing that everybody in the country is watching you and they're proud of you no matter what the outcome is.
"It was just really good…We were one game short, but it was an amazing experience  that I learned a lot from. I know my senior teammates learned a lot from it. It was just amazing."
When he returned to Arkansas State, the forward put together another strong campaign, this time averaging 17.9 points, 12.2 rebounds, 1.6 steals and 2.0 blocks in 29 games.
Omier was named the Sun Belt Player of the Year, the Sun Belt Defensive Player of the Year, a first-team All-Sun Belt selection and was the Sun Belt Player of the Week four times.
It was time, Omier felt, to challenge himself again.
So he entered his name into the transfer portal with the hope he could play on an even bigger stage and hopefully, move closer to his dream of playing in the NBA.
"I think playing at Arkansas State helped me grow because the coaches were great," Omier said. "I had a lot of minutes. I had mistakes as a freshman, but I still had minutes. That helped me grow as a player. I had a lot of room to improve, but I also had a lot of room to make mistakes and learn from them. Arkansas State was really great to me and I'm really thankful."
This time, Miami did come calling.  As did Florida State, Georgetown, Texas Tech and countless others.
Omier was drawn to his dream school immediately. The fact that the Hurricanes had just put together a history-making run to the Elite Eight and returned more than a few players from that team was intriguing, as was the opportunity to play for Miami coach Jim Larrañaga.
Larrañaga was intrigued, too.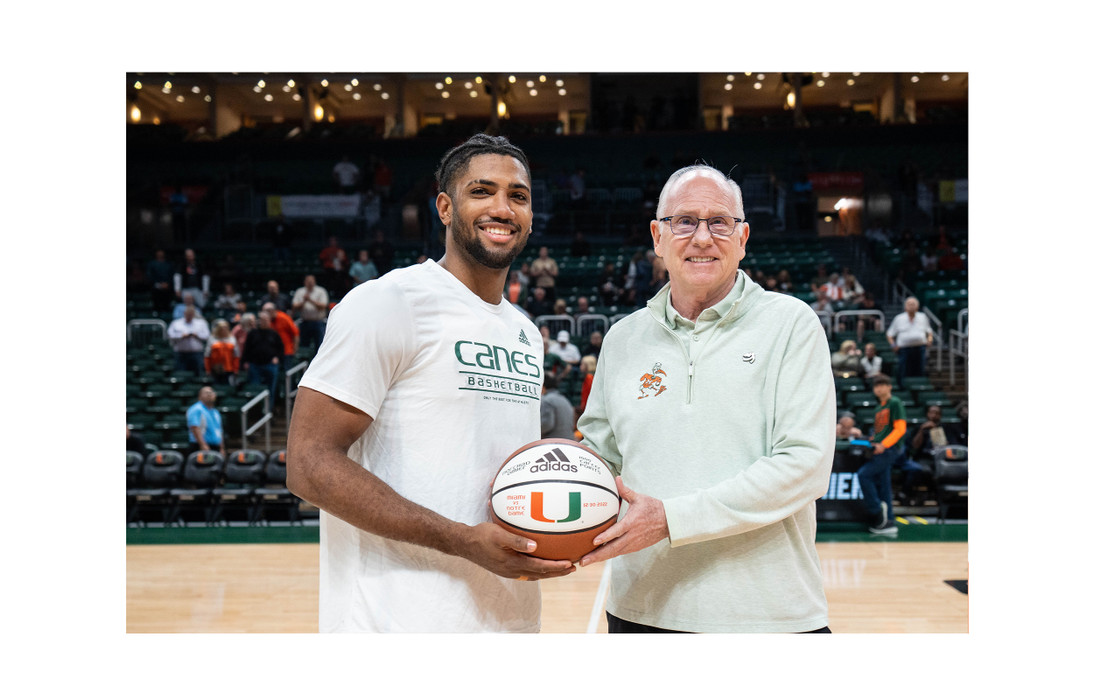 "When we first heard about Norchad, it was because he put his name in the transfer portal and then everybody we spoke to just raved about the young man," Larrañaga said.
"He had played at Miami Prep here in town and the coach and founder of Miami Prep, Art Alvarez, shared his thoughts with us and told us how great [Omier] was [while there]. Then of course, we looked up all his stats. We watched his videos and my coaching staff and I were totally sold on Norchad. We immediately made him a high priority in our recruiting."
Said Omier, "Coach L was like 'I just saw your name in the transfer portal. Tell me what I need to do to get you. I'm going to fly to Arkansas right now to talk to you. You can come on an official visit. Just tell me what I need to do.' It was just amazing because Miami has always been my dream school. Getting that call, I just had to try to act cool and not that excited. But I was just so excited about it, knowing that UM was reaching out to me. It was just great."
Omier chose Miami and returned to a community that this time, felt even more like home.
Back in Miami
With his decision made, Omier left Jonesboro and headed south.
It didn't take him long to settle in and make an impression on his new teammates.
He beat Hurricanes guard Jordan Miller – an avowed Uno expert – at the card game. He immediately connected with fellow transfer Nijel Pack, his eventual roommate.
And at one of his first workouts, he showed his new teammates he could move up and down the floor with ease and plenty of energy, despite his size.
He also showed a touch of his competitive personality and coined a catchphrase that's quickly helped make him a Hurricanes fan favorite.
During the summer, Omier found himself matched up against one of Miami's freshmen during a workout. Quickly sensing he had an advantage over his fellow newcomer, Omier called for the ball using a rather interesting phrase.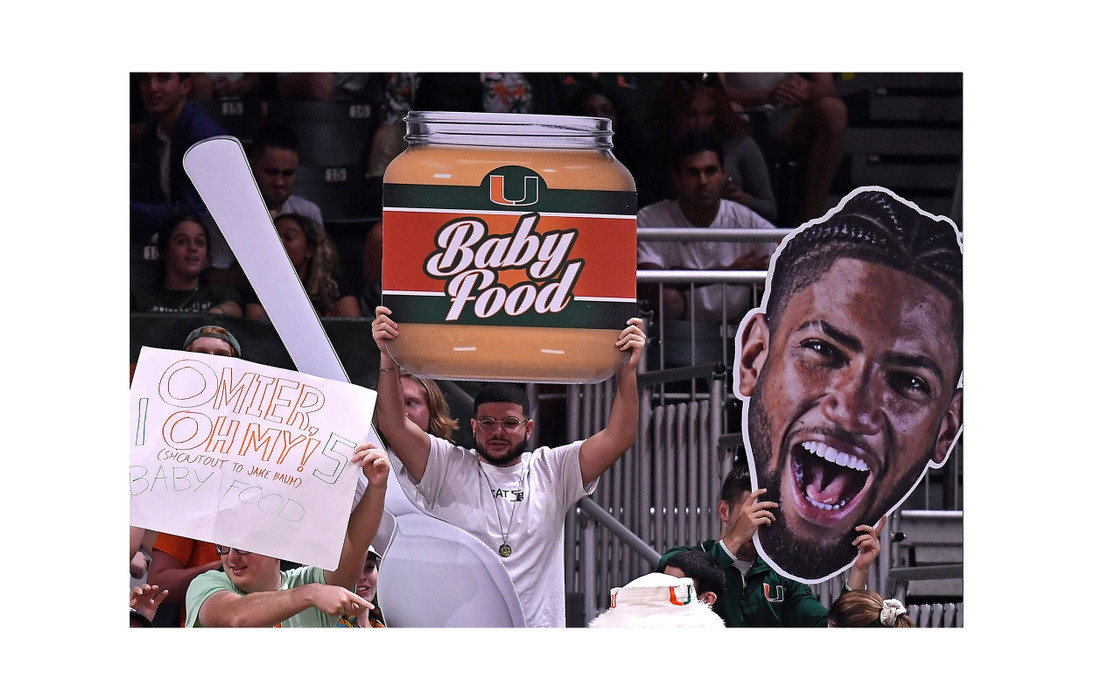 "Nijel had the ball and I was like 'Baby food! Give me the ball! I'm going to get a bucket right now.' And after that, my teammates just stuck with it," Omier laughed.
"They kept saying it over and over…I think it was just spur of the moment. I don't even know why I said it. I probably heard it on TV or something and I just said it."
But baby food? Coming from a 6-foot-7 basketball player? Why?
"It's easy to eat. Babies don't have teeth, so you have to give them soft food," Omier explained. "When I say 'baby food,' I have someone soft on me and it's going to be easy to get a bucket down there.'"
The phrase stuck and these days, Omier hears it often at the Watsco Center. His teammates have even borrowed it from time to time. Even Larrañaga is amused.
"It's spread around campus and our student body now has those fatheads with Norchad's picture and a jar of baby food," the coach said. "How cool is that? Now, not only is it his symbol and a sign that 'Hey, I've got a mismatch. I can score,' but it has now been a rallying point for all the players. Now, a lot of the other guys, if they think they have a mismatch, they'll yell 'baby food.'"
His new teammates weren't the only ones impressed by Omier's abilities during the summer.
The forward connected with Miami Heat center Bam Adebayo during the offseason and the Olympic gold medal winner and NBA All-Star asked Omier if he'd be interested in a few early-morning workouts together.
Needless to say, there wasn't exactly much to consider – even if it meant waking up before the sun to get in the gym.
"He's a really good player, so it wasn't even just about working out. It was about talking with him about defense. He gave me a lot of tips," Omier said. "I'm an undersized big, so he was telling me I have to do stuff earlier and be stronger than other players…He's just trying to help people that are coming up. And it meant a lot. It showed me the type of person he is. I'd never met him before and he just out of nowhere was like 'You can come work out with me at 5 a.m.' I was going to make the most of the opportunity and I did. It meant a lot."
Said Adebayo, "The one thing I feel is standard here is work ethic, being on time and bringing that positive mindset. And throughout that week, I feel like he brought all three of those components to every workout. There was not a workout where I went in and was like, 'Nah, he's being lazy.' He took the time to fine-tune everything that he worked for and just being able to watch him start to piece it together throughout the times we did play pickup and played one-on-one, you saw the progression in his game…He works so hard. He's got the body for it. He's got the size, the athleticism…You look at a player and you can see he has the potential to be in this league. You wish the best for him and I feel like his work ethic is going to take him there."
All the summer workouts and offseason conditioning have helped make Omier a force for the Hurricanes this season.
Teammates say his leadership skills, energy and willingness to go hard under the basket push them to be at their best on a day-to-day basis, even if they're struggling.
"Sometimes when we're dead or we need something, he always has something to say. He talks a lot on the court, you know? Motivational things, positivity, always," Pack said. "In practice, in games, in pre-game, he always has something positive to say, to get us up and get our minds right, to get us going. Even when we're down or we're in a slump or situation, he always has the right things to say to get us going and get us motivated."
Adds Miller, "It's important to have someone like Norchad in the locker room because I think he's just a natural-born leader. The way he uplifts guys and keeps the vibes positive…I think he's just one of those guys that that just really builds the group and makes sure that we all stay level-headed throughout games."
Omier's impact extends beyond what he does on the floor for the Hurricanes.
He goes about every day knowing all that he accomplishes with Miami has the potential to serve as inspiration and a source of pride for Nicaraguans in South Florida and beyond.
He dreams of one day, when his playing career is over, coaching and serving as a mentor to young basketball players back home.
Basketball, he says, has given him the opportunity of a lifetime. His countrymen have given him more support than he could ever imagine.
Finding a way to repay both would be yet another dream come true.
"When I step on the court, I want to do everything I can to help my team. Also, [it is] not just about when I step on the court, but after I retire or whatever, I want to give back to the kids at home," Omier said. "I want to help them. I want to show them the ropes to get where I am today and show them that it's possible. I want to give back to the community, home or anywhere I am.
"Home, if I'm being honest, baseball is the sport they support the most and they still don't do it that much, right? We just don't have that much help. I just want to be that person. I had someone that did it for me and I know without that person, I wouldn't be here today. I wouldn't be able to show my talent in the U.S. I want to be that bridge, someone that can help kids at home show their talents and dream big, like I did."