MBB Thumps RV/No. 24 Duke, 81-59
CORAL GABLES, Fla. – Playing in front of a sold-out crowd that included the third-largest student attendance in school history, the University of Miami men's basketball team turned in a resounding 81-59 victory Monday night over RV/No. 24 Duke.
Behind game highs in points (17) and rebounds (10) from third-year sophomore forward Norchad Omier, No. 19/20 Miami (19-5, 10-4 ACC) led by as many as 26 points in a thorough, wire-to-wire victory. The Hurricanes improved to 8-9 against the Blue Devils, including 8-8 in conference play, against the Blue Devils in head coach Jim Larrañaga's 12-year tenure, the best mark of any ACC team during that stretch.
Miami raced out to a 13-1 edge after just 2:53, starting 4-of-5 from the floor, 3-of-3 on 3-pointers and 2-of-2 at the line while forcing Duke (17-7, 8-5 ACC) into misses on its first four shots. The Hurricanes went on to hold the Blue Devils to a 3-of-16 (18.8 percent) clip through 10-and-a-half minutes and built a 19-7 lead, which they extended to 34-17 after Duke's shooting woes extended to 7-of-27 (25.9 percent) through 17-and-a-half minutes.
The Blue Devils made four of their final five shots of the half, including each of their last three, but Miami ended the frame with a thunderous alley-oop slam by Omier to earn a 40-26 advantage at the intermission. The Hurricanes held Duke to a 1-of-8 (12.5 percent) ledger from 3-point range, while shooting 9-of-9 from the stripe at the other end.
Miami scored the first nine points of the second half, making it an 11-0 surge, to go up by 23, 49-26, with 17:10 to go. The Hurricanes extended the cushion all the way to 25, 68-43, with 7:19 remaining and to 26, 76-50, with 4:44 on the clock.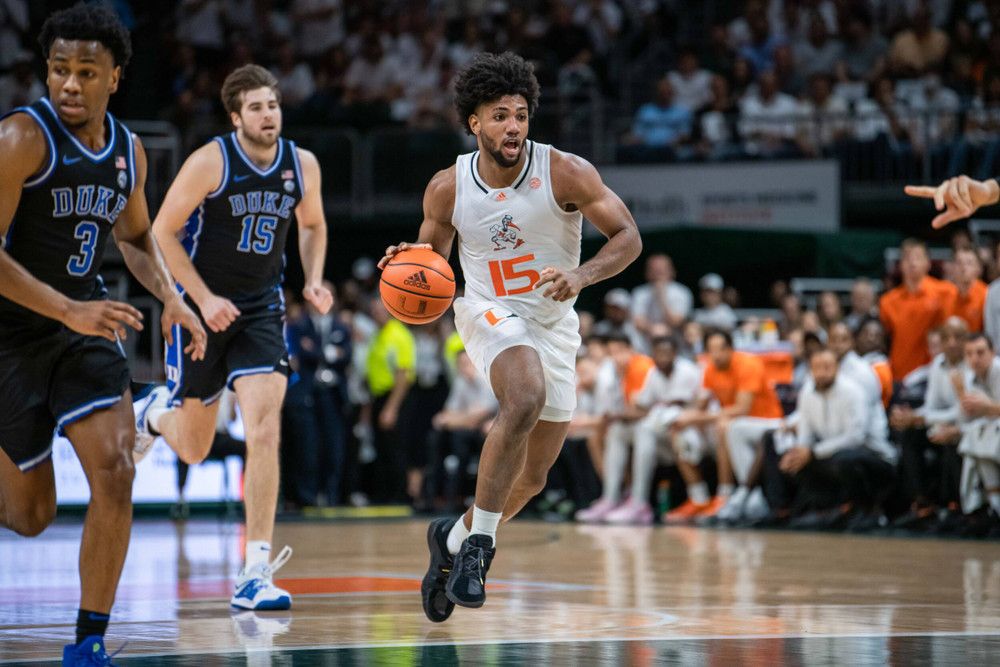 Duke then scored the next nine points to make it 76-59 with 90 seconds remaining, but the lead was far too large for the Blue Devils to get within striking distance. The Hurricanes scored the final five points to record their fourth win by double digits over Duke under Larrañaga, including their third by 15-plus and second by 22-plus. All of those marks lead or co-lead all schools over the last 12 years.
The Blue Devils, in their co-third-largest loss of the past decade, shot just 40.7 percent (22-of-54) overall and 5-of-19 (26.3 percent) from 3-point range against the strong Miami defense, which forced 21 turnovers, its most against an ACC foe this year and tied for Duke's most in a game in the past 13 seasons. At the other end, the Hurricanes shot 47.8 percent (32-of-67) from the field, 41.2 percent (7-of-17) beyond the arc and 90.9 percent (10-of-11) at the line.
Miami posted a 38-31 rebounding edge, including a 16-12 mark on the offensive glass that led to a 24-9 margin in second-chance points. The Hurricanes also had a 17-7 edge in fast-break points and a 23-9 advantage in points off turnovers.
Omier, who opened the scoring with a 3-pointer and shot 2-of-2 from long range after entering the night 2-of-16 in his career, was one of four Hurricanes in double figures. Fifth-year senior guard Jordan Miller tallied 16 points, including 14 in the first half, on 6-of-12 shooting from the floor and a 4-of-4 clip at the line, to go along with five rebounds, four assists, a season-high-tying three steals and a season-best two blocks.
Sophomore guard Wooga Poplar tied his ACC high for the second game in a row with 14 points, finishing 6-of-8 from the field and 2-of-2 beyond the arc. Third-year sophomore guard Isaiah Wong added 11 points to become the eighth Hurricane with over 1,650 in his career.
Freshman center Dereck Lively II and graduate student center Ryan Young scored 11 points apiece to pace the Blue Devils, while junior guard Jeremy Roach notched 10.
Miami is back in action Saturday, when it hosts Louisville, live on ACC Network from the Watsco Center.
To keep up with the University of Miami men's basketball team on social media, follow @CanesHoops on Twitter, Instagram and Facebook.
MIAMI HURRICANES POSTGAME NOTES
– Duke's 14-point deficit marked its second-largest of the season, trailing a 22-point mark by NC State on 1/4/23 in Raleigh, N.C.
– The Blue Devils shot just 1-of-11 (9.1 percent) from 3-point range through the first 23 minutes of action.
– Duke recorded 21 turnovers—it has not had more—in a game for just the fourth time in the last 13 seasons (2010-23), including only the second in ACC play, joining a 2/10/20 matchup against Florida State.
– The only team with more giveaways against Miami this season was Florida A&M, which logged 22 on 11/15/22.
– Monday marked just the fifth time in 2022-23 the Blue Devils did not outrebound their opponent.
– The last time Miami had 7,000-plus fans in attendance was 12/10/22 against sixth-ranked Virginia (7,257) and the last time it had a complete sellout was 1/22/22 versus Florida State.
– The 1,811 students in the crowd marked the third-largest total in program history, with four of the top five marks coming during the last two seasons.
– Among the many notable attendees Monday night were 12-time Naismith Memorial Basketball Hall of Famer Rick Barry (Miami alumnus), NBA all-star Carlos Boozer, MLB all-star Jazz Chisolm, MLB all-star Avisail Garcia, former NBA player Dewan Hernandez (Miami alumnus), Marlins first base coach Jon Jay (Miami alumnus), three-time All-ACC honoree Jack McClinton (Miami alumnus), actor Danny Ramirez and 2021 World Series MVP Jorge Soler.
– The Hurricanes improved to 8-9 against Duke (8-8 ACC, 5-3 home) under 12th-year Larrañaga, after owning a 2-15 (1-9 ACC, 2-6 home) record prior to his tenure.
– At 8-9 against Duke during his Miami tenure, Larrañaga is tied with Florida State's Leonard Hamilton (8-22) for the most wins versus the Blue Devils among any active ACC coach while at his current school.
– Miami (8-8) and Louisville (5-5) are the only teams with a .500 record against Duke in ACC play since 2011-12, the start of Larrañaga's tenure in Coral Gables.
– Miami (8-9) and North Carolina (12-15) are the only teams with seven-plus wins over Duke during Larrañaga's 12-year tenure.
– The Hurricanes joined North Carolina as the lone teams with four victories by double digits over the Blue Devils since the start of the 2011-12 season, while only NC State and Wake Forest have even three.
– Miami and North Carolina are the only teams with three wins by 15-plus against Duke during Larrañaga's 12-year tenure, with only NC State owning even two.
– The Hurricanes join NC State as the only teams with multiple 20-point wins over Duke since 2011-12, while only two other schools (Louisville and Ohio State) have even one.
– Miami (15-19) matched Duke (15-12) for the second-most wins against Duke and/or North Carolina over the last 12 seasons—Virginia is 17-17—after owning a 4-31 record prior to his arrival.
– The Hurricanes have now defeated Duke and/or North Carolina in 10 of Larrañaga's 12 seasons at the helm.
– Miami now has eight double-digit wins over Duke and/or North Carolina since 2011-12, while only Duke (six) and Virginia have even five.
– The Hurricanes now own six victories by 15-plus points against Duke and/or North Carolina under Larrañaga, twice as many as second-place Louisville and North Carolina, with three each.
– Miami's four wins by 20-plus points over Duke and/or North Carolina in Larrañaga's tenure are twice as many as second-place NC State and Ohio, each of which have two.
– Larrañaga also passed Terry Holland, whom he worked for as an assistant for 11 years, for No. 11 on the ACC's all-time leaderboard in total league wins (regular season and ACC Tournament) with 127.
– In addition, Larrañaga has now won 10-plus conference games in 23 of his 37 seasons as a Division I head coach, including in seven of his 12 years at Miami, after the Hurricanes hit that mark in just four of 20 years before his arrival.
– Monday marked the second straight Miami/Duke game—the other was on 1/21/23—with the Hurricanes ranked and the Blue Devils unranked in the AP Poll after that never occurred in the first 32 meetings (Duke was ranked in 30 of them).
– In addition, with the Blue Devils ranked in the Coaches Poll, Monday was the third top-25 matchup in ACC play this season, based off that poll, with Miami playing in and winning all three.
– Miami is now 25-10 in its last 35 ACC games, passing Duke (24-11) for the best mark among all teams in the league during that stretch.
– Wong passed Durand Scott (2009-13) for eighth place on Miami's all-time scoring list, now owning 1,652 points in his career.
– Omier, who now owns 46 double-doubles in his career and 11 during the 2022-23 campaign, surpassed Kamari Murphy (2016-17) for fifth place on Miami's single-season ACC-only rebounds list with 139.
– Wong notched four assists to reach 145 in his career in ACC play, passing Chris Lykes (2017-21) to tie Anthony Lawrence II (2015-19) for fifth place all-time at Miami.
– Poplar has now scored 14 points in three of the last five ACC games after never doing so once previously.
– Miller became the 22nd player with at least 16 points, five rebounds, four assists, three steals and two blocks against a DI foe this season, including the fifth Power Six player to do so and the second Hurricane, as Isaiah Wong hit those marks on 12/17/22 versus St. Francis (PA).
– Third-year sophomore guard Nijel Pack set a season high with a game-leading six assists and tied a season best with five rebounds.
– Fourth-year junior guard Harlond Beverly, who scored nine points on 4-of-5 shooting, tied a career a career high with four steals, matching the mark he set on 12/8/20 against Purdue.