Miami Soars Past Boston College
CORAL GABLES, Fla. – The University of Miami women's basketball team recorded its fifth victory in six games Thursday night, defeating the Boston College Eagles (13-10, 3-7 ACC), 86-65, at the Watsco Center.
The Hurricanes (13-7, 6-3 ACC) rallied from down 12 points in the first quarter to post a 21-point victory over the Eagles.
"When you play Boston College, you just have to have a ball player who goes out there and makes a play and it took us a while to adjust, but Destiny [Harden] went out there and did her thing," head coach Katie Meier said. "It was really an important game and the kids knew it and we didn't panic, which was great."
Miami totaled 22 steals in the game, the most by the Hurricanes since Feb. 8, 2012, when then-senior and current Miami assistant coach Shenise Johnson helped her team to 22 takeaways. The Hurricanes converted those steals into points, tallying 24 points off turnovers.
Graduate student Destiny Harden anchored the Hurricanes on offense and defense, posting 23 points, seven rebounds and a career-high seven steals. The forward knocked down 11-of-16 shots at the charity stripe to set a new career high in made free throws.
"It was a really special and inspirational performance [from Destiny]," Meier said. "She knew what was on the line. This was a separation game. It was one of those games where it could really help you or it could really hurt you."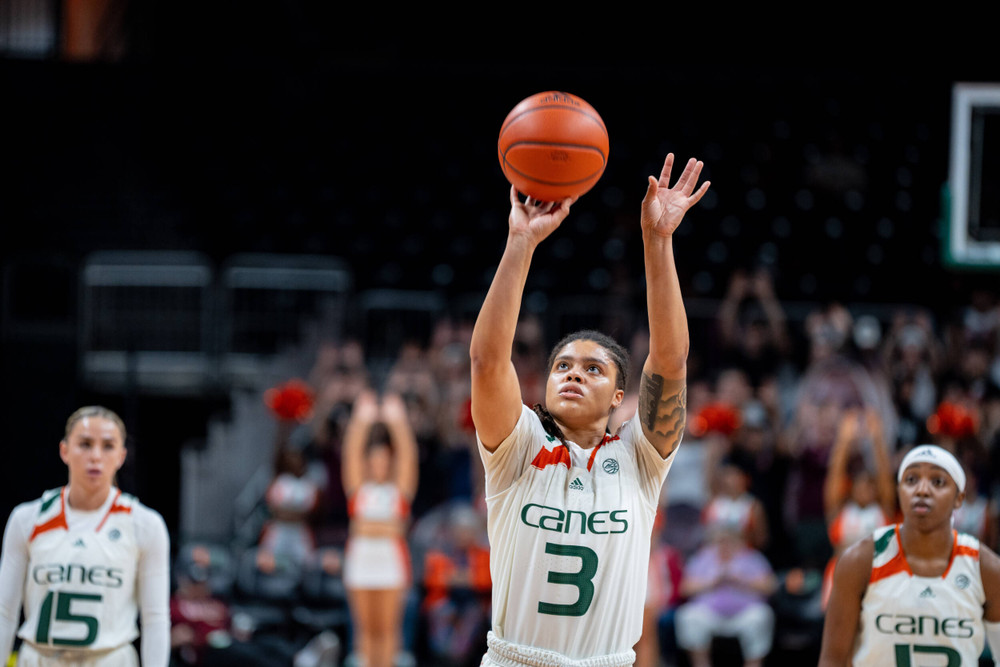 Seniors Karla Erjavec and Haley Cavinder joined Harden in double-figures with 13 and 10 points, respectively, while sophomore Lashae Dwyer recorded 12 points, five steals and four rebounds off the bench.
The Hurricane bench accounted for 39 of Miami's 86 points, marking the seventh time this season that the reserves have totaled 30-plus points in a game. Miami is 7-0 this season when the bench scores 30 or more points.
Boston College's JoJo Lacey caught fire early for the Eagles, knocking down three 3-pointers in the first four minutes to give the visitors a 26-18 lead through the first quarter.
The Eagles extended their lead to as much as 11 in the second frame, but the Hurricanes slowly chipped away at the deficit, pulling to within three the 5:14 mark thanks to a 7-0 run. Miami ultimately outscored Boston College, 19-15, in the second quarter to trail by four, 41-37, heading into halftime.
Haley Cavinder came alive for the Hurricanes following the break, knocking down her first four shots, including two 3-pointers to put Miami ahead, 54-52, midway through the frame. The Hurricanes closed the quarter on a 9-0 run to extend their lead to double-digits, highlighted by a 3-pointer from Karla Erjavec.
"Karla's performance was so meaningful for our team. She's been struggling and she admits that, but she's been positive all week," Meier said. "She has worked her tail off and kept saying I'm good."
The Hurricanes continued to assert their dominance in the fourth, outscoring Boston College, 18-9 in the final 10 minutes. Seven different Hurricanes tallied a bucket in the fourth quarter and Miami finished the game on an 11-0 run to clinch the home victory.
Miami heads north to Winston-Salem, N.C., to take on the Wake Forest Demon Deacons on Sunday, Jan. 29. Tipoff at LJVM Coliseum is set for 2 p.m. and the game will air on ACC Network Extra.
Single-game tickets are available for purchase online or by calling the Miami Hurricanes ticket office at 1-800-GO-CANES. For more details, dial that number or email canestix@miami.edu.