MBB Rallies for 82-78 Win over Syracuse
CORAL GABLES, Fla. – The University of Miami men's basketball team stormed back from an 11-point deficit in the final 15 minutes to defeat Syracuse, 82-78, Monday night at the Watsco Center.
Third-year sophomore forward Norchad Omier posted a 16-point, 16-rebound double-double to pace No. 17/16 Miami (14-4, 5-3 ACC) and help the Hurricanes remain undefeated at home. Fourth-year junior guard Harlond Beverly also notched 16 points to help the Hurricanes to their third double-digit comeback of the year, this time in front of 1,727 students, the third-largest such crowd in school history.
Miami used a 9-0 sub-two-minute run to race out to an 11-2 run after just four minutes and held the Orange without a point for 4:25. However, Syracuse (12-7, 5-3 ACC) quickly began to chip away and then used a 9-0 run of its own, in just 75 seconds, to go ahead, 29-24 with 4:40 on the first-half clock.
Miami got back within one in the final minute of the session, but Syracuse took a four-point cushion, 38-34, into the locker room. Both teams shot under 41 percent in the first half, but combined for an 82.6 percent (19-of-23) clip at the line, as the Hurricanes went 10-of-12 and the Orange shot 9-of-11.
The Orange extended their edge to 10, 49-39, just three minutes into the second frame and went up by a game-best 11 points, 55-44, with 14:44 to go. Miami, though, went on an extended 27-15 run to pull ahead, 71-70, on a fast-break dunk by Beverly with 3:43 on the clock.
The Hurricanes shot 89.3 percent (25-of-28) from the free-throw line and posted a 24-14 edge in bench points, good for its highest such offensive total this year, as well as an 18-8 margin in fast-break points. Miami scored 48 points in the second half of the victory.
Omier, who hit two free throws with 10 ticks left, shot 6-of-10 from the floor and 4-of-5 at the line. His game-high 16 rebounds were the most by a Hurricane since Feb. 19, 2020, and the most by a Miami player in regulation since Nov. 13, 2018.
Beverly, whose 16 points were the second-most of his career, shot 8-of-8 at the stripe to tie his career high in makes. His two shots from the line with three seconds left iced the triumph. Third-year sophomore guard Nijel Pack, who crossed 1,000 collegiate points, scored 15 points on 5-of-9 3-point shooting, while fifth-year senior guard Jordan Miller totaled 13 points, seven rebounds and a career-best seven assists to pace all players.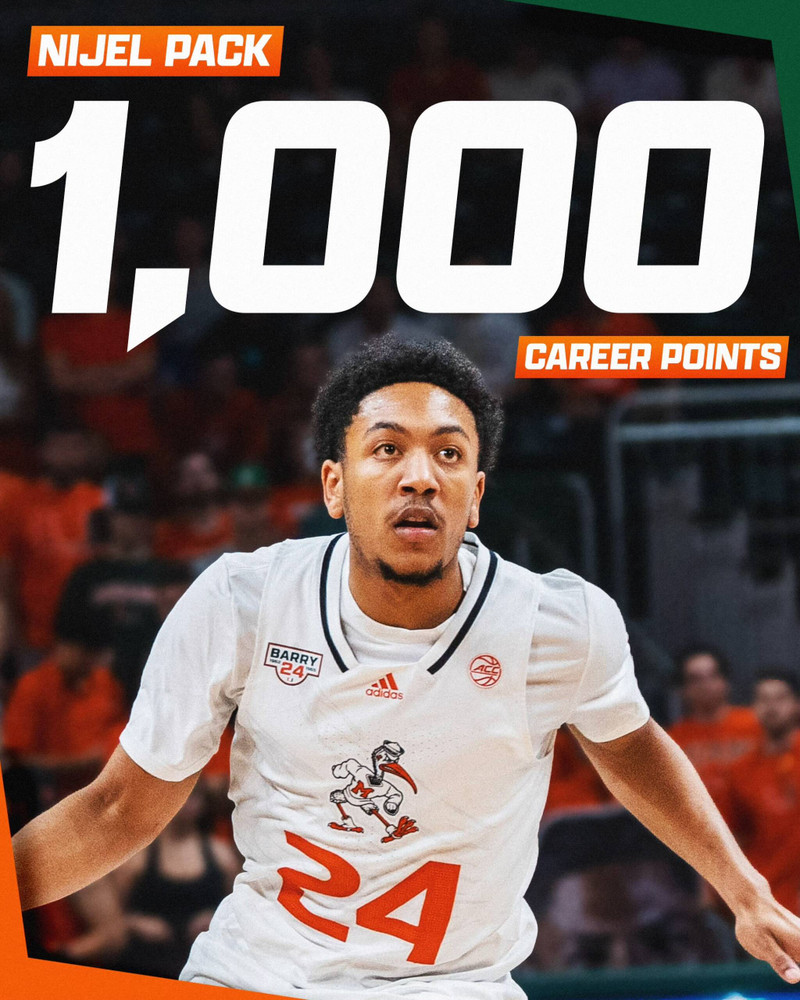 Syracuse senior center Jesse Edwards, who went 9-of-16 from the floor and 7-of-8 at the stripe, notched a career-best 25 points and a team-high 11 rebounds, the latter the most by a Miami foe this season. Girard recorded 21 points and five assists, but Miami held him to a 1-of-8 clip from 3-point range. Sophomore forward Benny Williams added 12 points in the defeat.
The Hurricanes are back in action Saturday at noon when they square off Duke at Cameron Indoor Stadium in Durham, N.C., live on ESPN.
To keep up with the University of Miami men's basketball team on social media, follow @CanesHoops on Twitter, Instagram and Facebook.
MIAMI HURRICANES POSTGAME NOTES
– With his 111th victory in ACC play, Jim Larrañaga tied Terry Holland, whom he worked for as an assistant for 11 years, for No. 10 on the ACC all-time leaderboard.
– In addition, Larrañaga also registered his 241st overall victory as an ACC head coach, passing Dave Odom—the two were assistants together for Holland at Virginia for four years—for the No. 12 spot on the ACC's all-time list.
– The only larger student attendances in program history came on 12/2/14 (2,003 versus Illinois) and 2/2/22 (1,986 versus Notre Dame).
– The Hurricanes improved to 9-3 in their last 12 games when trailing at halftime, dating back to 2/5/22 versus Georgia Tech.
– Miami improved to 8-8 in its last 16 games when trailing at halftime, a stretch that dates back to 11/26/21 against North Texas in Kissimmee, Fla.
– The Hurricanes have now won three consecutive games against Syracuse over the past two seasons despite trailing by 11-plus in each one.
– Omier, who pulled down 10-plus rebounds for the 50th time as a collegian, has now posted 44 double-doubles in his career, including nine this season and three in a row.
– Omier's 16 rebounds are the most by a Hurricane since Keith Stone had 18 on 2/19/20 in triple-overtime at Virginia Tech and the most in regulation since Ebuka Izundu grabbed 19 on 11/13/18 versus Stephen F. Austin.
– Beverly has logged 10-plus points in two of the last three games after previously not doing so since 1/12/21 at Boston College.
– Sophomore guard Wooga Poplar pulled down a career-best seven rebounds, one above his prior top mark of six, recorded multiple times, most recently on 12/20/22 against Virginia.
– Pack reached 1,000 points in the 70th game of his career, giving Miami four quadruple-digit scorers on its roster for the second season in a row.
– Miami is one of 15 DI teams with at least four 1,000-point scorers on its roster, alongside UAB (five), Missouri (five), Penn State (five), San Diego (five), Alabama, Iowa State, Kansas State, North Carolina, Notre Dame, Ohio State, Southern Utah, Texas, Xavier and Youngstown State.
– Edwards became the first player with a double-double against Miami since Auburn's Jabari Smith, an eventual NBA top-three pick, had 10 points and 15 rebounds on 3/20/22 in the NCAA Tournament Round of 32 in Greenville, S.C.
– Syracuse entered the game second nationally in block percentage, per KenPom, but had zero on the night, while each of Miami's block came courtesy of Omier in the final 14 seconds.