"She Truly is a Game-Changer"
CORAL GABLES, Fla. – Alexa Noel's tennis journey has taken her to some remarkable places.
She's played at Wimbledon. The U.S. Open. The French Open. The Australian Open, too.
Now, Noel is at the University of Miami where she hopes playing in orange and green will help take her game to the next level and prepare her for the professional career she's long awaited.
"It's awesome for me because this program is very established and it has a track record of doing really great things," said Noel, a redshirt sophomore who hails from New Jersey. "That's a program I want to be a part of and hopefully, I can be a contributing factor in our success. It's been great so far."
Noel found tennis almost accidentally, taking up the sport at a camp she attended as a child.
She had fun while playing and kept at it, but it didn't take long for Noel and her family to realize she had a knack for the sport. By the age of 10, she was competing in tournaments. Not long after, she began working her way through the junior tennis circuit.
It was then Noel realized tennis was something she wanted to truly pursue – even if she was the only one in her family that had ever really tried the sport.
"I started playing tournaments probably when I was like 10 and I was like 'This is what I'm going to do. This is the only sport I'm going to do,'" Noel recalled. "My parents don't play. They've never played. I think that's something that's a little different about me. My parents never picked up a racket before I did."
As she grew and worked her way up the juniors rankings, Noel found herself playing at some of the world's most prestigious tennis venues.
She reached the Wimbledon Juniors singles final in 2019 and attended the Wimbledon Ball alongside some of the biggest names in professional tennis. That same year, she competed in the U.S. Open doubles main draw and reached the French Open Girls singles Round of 32.
Early in 2020, Noel rose to No. 4 in the ITF Juniors Rankings and won her first professional tournament while competing as an amateur at the $15K ITF Cancun event in February.
She had reached the point in her career where she felt ready to make the jump to professional tennis when the world – and the WTA Tour – shut down because of the COVID-19 pandemic.
At a crossroads, Noel knew she had a decision to make. During a game of pickleball with a friend who was playing collegiately at Yale, the topic of college tennis arose.
And Noel couldn't help but wonder if that was a viable path for her.
After a discussion with her family, she realized it might be just what she needed.
"I never considered a college career at all. It never even crossed my mind. When it came down to it, it was like 'Is this really what you're going to do?'…But I was talking to my mom and was like 'What am I going to do? It's been months now with nothing to do. We don't know when the tour is opening,'" Noel said. "I had intended to use all of 2020 to play pro events. I was just going to forego my last year of juniors and it just stopped. My mom was like 'What about school?' and I said 'All right. What about it?' and that was it. I committed immediately."
Noel started her college career at Iowa, where as a freshman in 2021 she posted a 24-1 record in singles and a 13-6 mark in doubles.
She was named the Big Ten Player of the Year, the Big Ten Freshman of the Year and earned recognition as an ITA All-American.
But she injured her ankle at the 2021 NCAA Singles Tournament and struggled to get back on the court after that.
"I was very hurt from May 24, 2021, up until…I'd say I was fully recovered, fully, fully back in September [of 2022]. It was a long year and a half for me. I found out I had to have surgery mid-January this year and I didn't play for five months," Noel said. "Mentally, it was exhausting. I'd wake up and go to school and do rehab, every single day. It was hard because I also didn't know what to expect. I'd never been through such a serious injury before. I didn't know how I was supposed to feel coming back or would it still hurt those kinds of things."
As she navigated that tough stretch, Noel made the decision to transfer and the opportunity to play at Miami for head coach Paige Yaroshuk-Tews proved an intriguing one.
She knew the Hurricanes were one of the nation's most successful programs and Yaroshuk-Tews had a track record of developing individual players.
Miami offered her a fresh start and she was ready to take it.
"I spoke to a couple of my friends and people that knew Paige and knew the program and even before I spoke with her, it just sounded like our goals aligned," Noel said. "It sounded like she was a person that could help me get to where I want to be, athletically and as a person. I just kind of went for it, to be honest. I didn't look back the second I committed."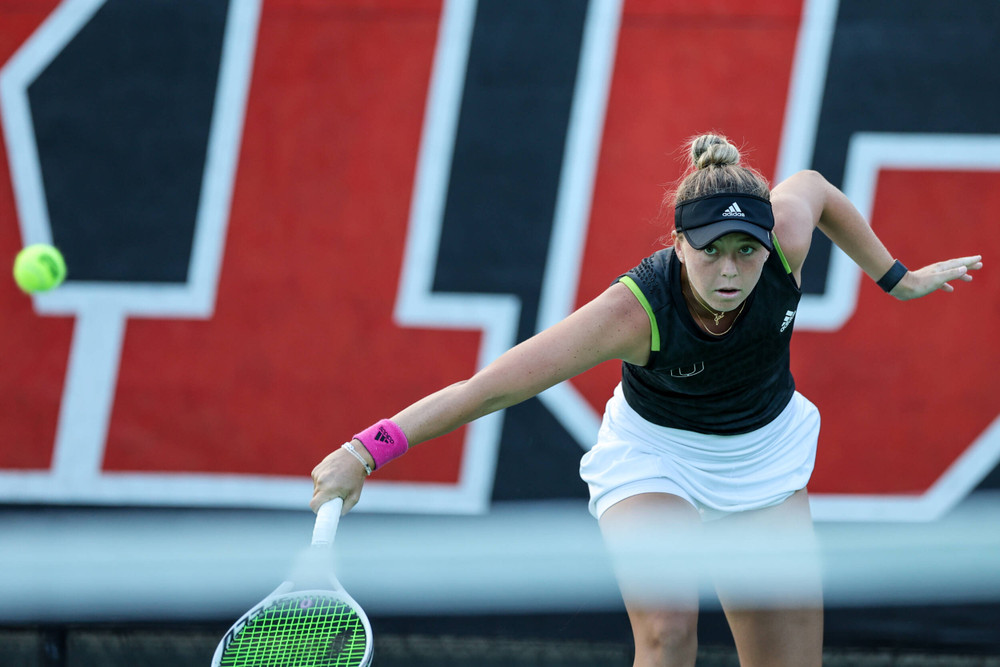 After completing an extensive rehab program and recovering from the injury that sidelined her for months, Noel returned to the court in earnest this fall.
She posted a 10-4 record in singles play including a 6-3 mark against ranked opponents. She defeated four top-60 opponents including two in the top 35 and ascended to No. 14 in the post-fall ITA rankings.
She and Miami teammate Daevenia Achong hold the same No. 14 rankings as a doubles team and now, Noel is ready to tackle her first spring as a Hurricane.
"Now that I'm here at Miami, I feel like I'm on a team that wants the same things as I do. We all want to win a national championship and I think we know that," Noel said. "It's nice to have coaches and teammates and friends that want those same things as I do. It's been nothing short of awesome and I think we're just excited. I think we're ready to get out there and play as a team."
Needless to say, the Hurricanes are plenty excited to have Noel get on the court, too.
Every expectation is that with her talent and stellar resume, she'll be an immediate difference-maker as Miami looks to make another deep tournament run.
"She could have an impact like no other kid has had on this team. That's how I see it," Yaroshuk-Tews said. "She shows all the signs of a kid that can develop into a leader of this program both from a leadership and mentoring standpoint and also from a tennis standpoint. She truly is a game-changer for our program."