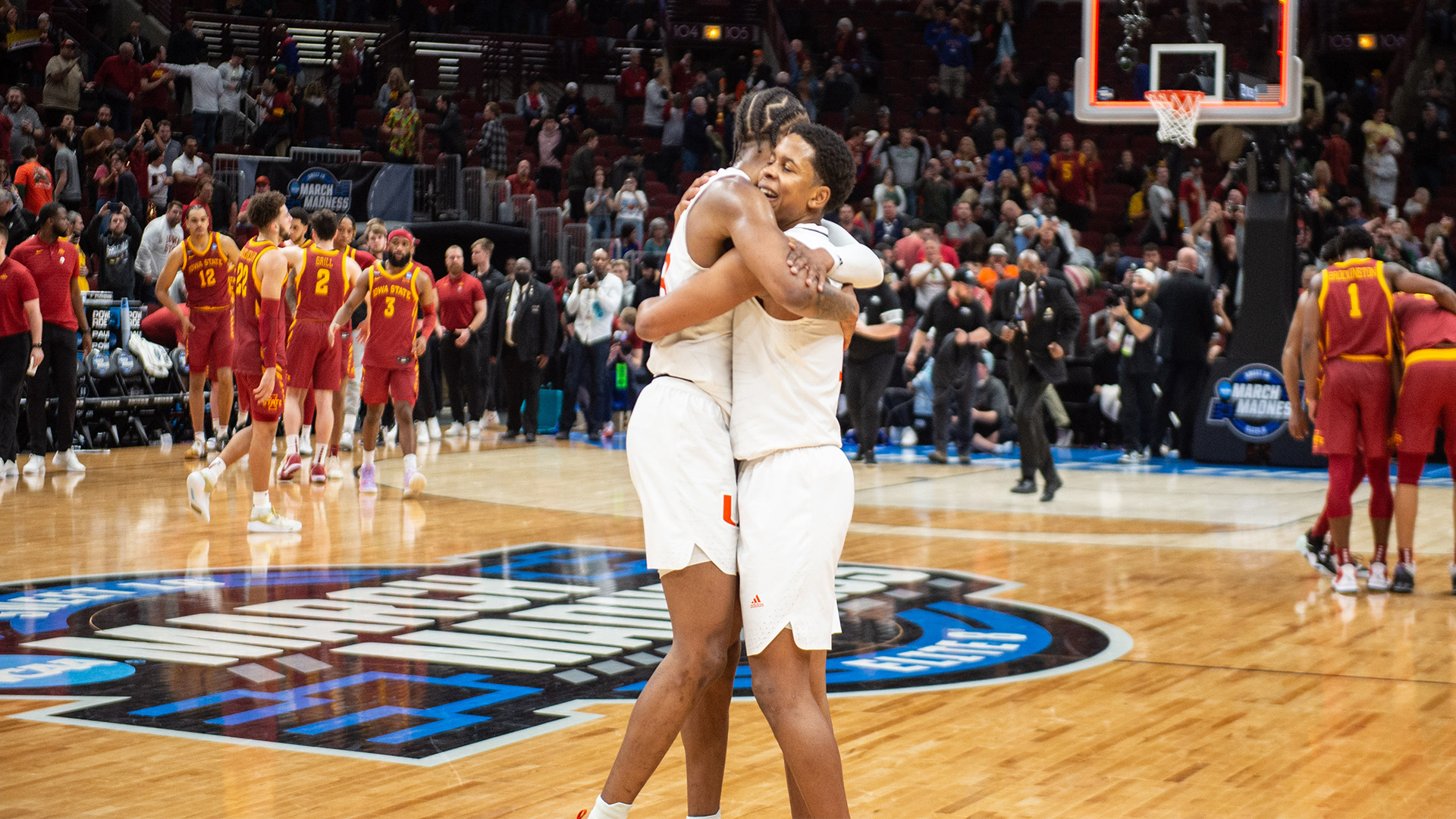 There was a point last November where the season – young as it was – could have gone wrong.
The Hurricanes had lost three of six games, with a 32-point loss to Alabama capping a miserable stretch that also included tough outings against UCF and Dayton.
At that point, the idea of making a historic run in the NCAA Tournament may have seemed the stuff of dreams. But Miami's players knew they were better than what they were showing.
They just had to find a way to play the kind of basketball they were capable of playing, even if it meant enduring tough conversations, practices and workouts to make it happen.
The Hurricanes did more than just figure it out.
They went on to put together one of the most memorable seasons in program history, a season that ultimately ended Sunday afternoon in Chicago with Miami making its first Elite Eight appearance in program history.
"I'm proud of our togetherness and how far we came," said sixth-year redshirt senior Kam McGusty after the Hurricanes' season-ending 76-50 loss to top-seeded Kansas in the regional final. "Looking back at our tournament in Orlando, UCF, [we] lost. We could have easily went our separate ways. Been mad at each other, argued, complained. But instead, we grew from that. We all took that whooping together and we all agreed that [we've got to] get better, we've got to do something different. We don't want to end our season like this. We don't not want to make the tournament or [be] a team not over .500.
"I'm so proud of the fight that we've had."
It's fight that was on display not just during Miami's run through the NCAA Tournament, but throughout the last four months.
The Hurricanes, who were picked to finish 12th in the ACC in the preseason, finished fourth in the league, advancing to the conference semifinals earlier this month.
They notched a road win over then-No. 2 Duke at Cameron Indoor Stadium. Beat North Carolina by 28. Rallied back from deficits against Clemson and North Carolina State. Did the same against Syracuse – twice. They swept a pair of games against Wake Forest and won a thriller at Virginia Tech when guard Charlie Moore sank a half-court buzzer-beater that won't be forgotten any time soon.
Miami then earned an at-large berth in the NCAA Tournament as a No. 10 seed and knocked off seventh-seeded USC, second-seeded Auburn and 11th-seeded Iowa State to advance to the first Elite Eight in program history. The Hurricanes then held their own with blueblood Kansas for a half before seeing their magical postseason come to an end.
Ultimately, Miami finished the year with a 26-11 overall record – notching the third-most wins in school history. They also had a 14-6 mark in ACC play and in the process, McGusty said, hopefully laid a foundation for the program in the years to come.
"I told all the younger guys in the locker room – after I told them I loved them – I told them to take care of this place for the next three years that y'all are here," said McGusty, who was named to the Midwest Region All-Tournament team after averaging 19.3 points, 5.3 rebounds, 2.5 steals and 2.0 assists in Miami's four tournament games. "Just being able to accomplish what we accomplished this year, now teams coming in, or new teams, two, three years down the line, the Elite Eight is going to be the goal. That's what we were able to do this year and I'm so happy for us. I love these guys. I loved playing with them. It's been a crazy up-and-down season, but it's good to be able to, like [head coach Jim Larrañaga] said, get the community involved, get all the school involved…It's just amazing what we did."
Added Larrañaga, "I told the players afterward – and I really mean it – they accomplished so much, not just in basketball, but they ignited a community. We had so much support throughout the season and especially in the NCAA Tournament. And…generating that kind of enthusiasm for the University of Miami, in a basketball program that you have to remember didn't even exist from 1972 to 1985. Now we've been to the Sweet 16 three times now. And to the Elite Eight once in this decade. I think we're heading in the right direction and we think we'll have the tremendous support of our administration and our community. It's all a credit to these guys, what they accomplished this year. Being chosen 12th in the preseason, but being one of the final eight teams in the entire country. My hat's off to them. I love working with them. They're a great group of kids and they're always going to be part of our Miami family."
There's no doubt the Hurricanes will look different when they return to the court next season.
McGusty, Moore and Sam Waardenburg – who combined to start 108 games this season, are all sixth-year redshirt seniors who have exhausted their eligibility. Other players on the roster will have to make decisions about whether it's time to pursue their professional careers or return to Coral Gables. A top-20 recruiting class with top-notch prospects will arrive soon.
But even amidst all the changes that will come, there's no denying how special the last few weeks have been for Miami's players and coaches.
And they made it clear: they won't be forgetting any part of their incredible journey together.
"Coach has built a family environment for us in this program ever since I got here and that's something that has held true for this season, for sure," Waardenburg said. "I want every one of our guys to be super proud. I think it's not going to be [for] a couple weeks or so that it really hits us that we made the Elite Eight and we made history for this program. Super proud of these guys. I want them all to be proud and hold their heads high. I just love them.
Added Moore, "Special group of guys we have here, including the coaching staff. Really hasn't hit us yet. I mean, to lose a game, but just knowing it's the last time on the floor, probably take a minute after we settle down and everything. I just love these guys. I'm happy for the season we had. I'm excited for the season we had, to be honest."