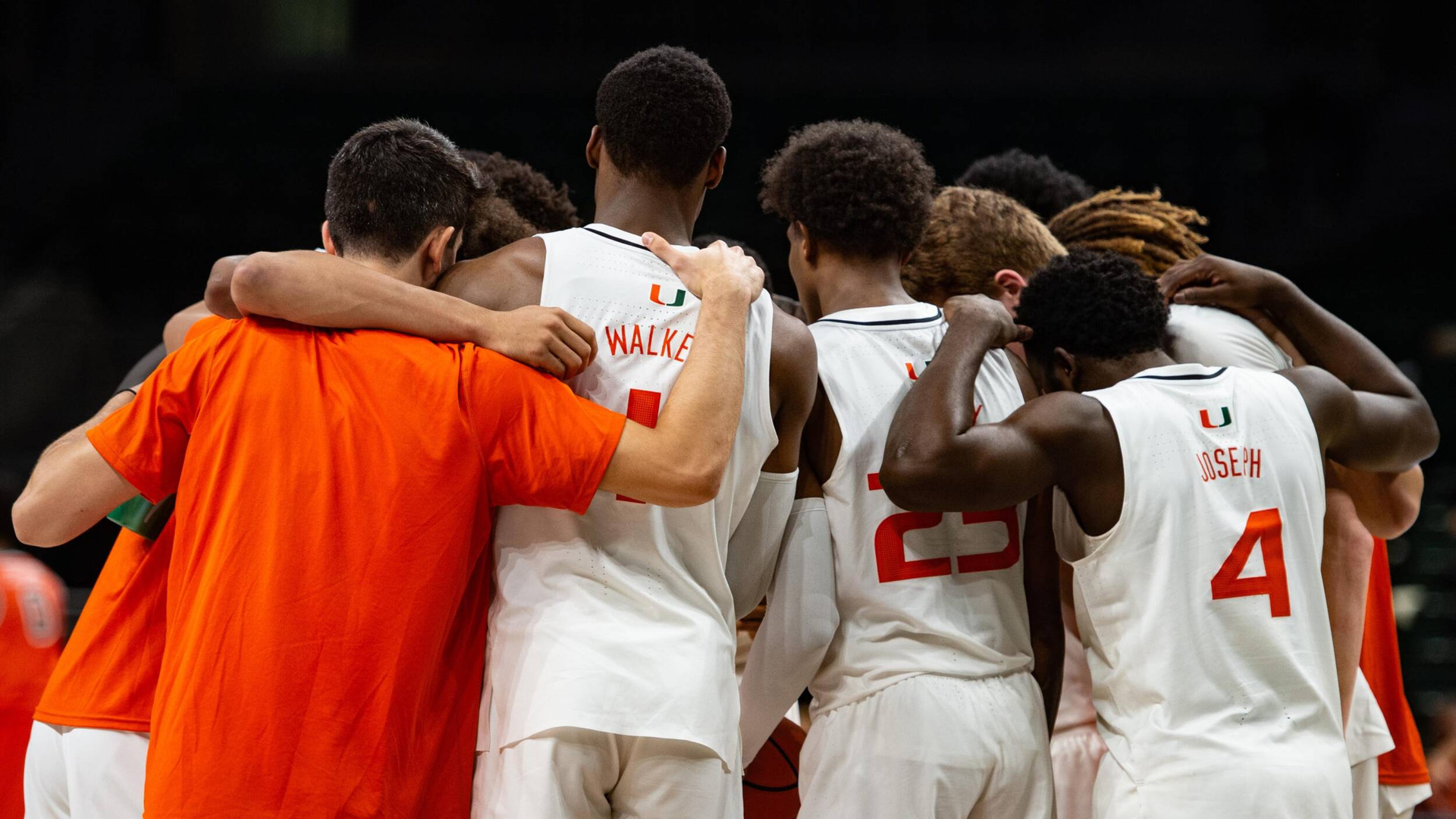 CORAL GABLES, Fla. – The University of Miami men's basketball team played just 27 games in its COVID-shortened 2020-21 campaign.
Snakebitten with injuries all season long, the Hurricanes finished the year 10-17. After 27 outings this year, the Hurricanes have 19 wins, a massive nine-win improvement that is among the best of any Division I team in the nation.
Miami (19-8, 11-5 ACC) had a chance to get to 20 wins through 27 contests, but came up just short Saturday night against Virginia, dropping a narrow 74-71 decision at the Watsco Center.
The Hurricanes held the Cavaliers to 37.0 percent (10-of-27) shooting in the first half, but they turned in a dazzling 62.5 percent mark (15-of-24) after the break to earn the win.
"I thought we played a great first half. We got up by 10 [after halftime] and then Kihei Clark dominated the start of the second half," Miami head coach Jim Larrañaga said. "They went on a 23-4 run and never looked back. We fought like crazy the last 13 minutes, but we were never able to overcome that run."
Sixth-year redshirt senior guard Kameron McGusty paced the Hurricanes with 20 points, adding a co-team-high four assists and a season-high-tying four steals, while fourth-year junior guard Jordan Miller tallied 15.
Sixth-year redshirt senior guard Charlie Moore added 14 points and a co-team-best four assists, while third-year sophomore guard Isaiah Wong posted 10 points and a co-team-high seven rebounds.
The balanced scoring attack was not enough, as the Hurricanes never regained the lead after Virginia turned its 10-point deficit into a nine-point edge. For a Miami team that has excelled in second halves over the last 11-plus weeks, it was rare to see its opponent make the late surge instead.
Larrañaga, in his 11th-year at the helm of the Hurricanes, pointed to two reasons why the Cavaliers were able to flip the script with their run early in the second half.
"One, we were able to build the lead because Virginia had to go to its bench and we were able to take advantage of that," the two-time ACC Coach of the Year said. "And then, in the second half, we got in foul trouble. Charlie Moore is our leader and he wasn't out there for most of that run. He picked up his third foul; we needed to protect him a little bit."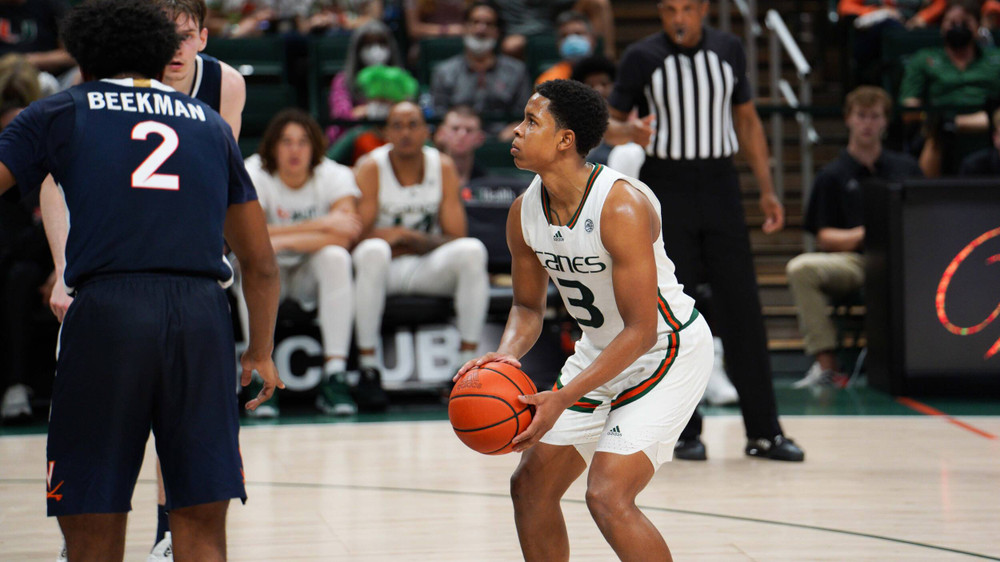 The Hurricanes will not have long to dwell on their setback, as they return to action Tuesday in Pittsburgh, Pa. There, at the Petersen Events Center, they square off with Pittsburgh at 8 p.m.
It will be Miami's third game in six days, the first such stretch for the Hurricanes since Jan. 5-11.
Making the turnaround even more difficult is the presence of one of the most dominant and imposing big men in the nation patrolling the paint at both ends for the Panthers.
"Sunday was a recovery day. We watched video tape to get mentally ready. Monday, we'll start preparation physically," Larrañaga shared. "And then we also have the shootaround at Pitt. So, hopefully our guys will respond. This will be a very, very challenging game for us because John Hugley draws so many fouls and so much attention. We've got to be sure we don't wear Sam Waardenburg out in the first 10 minutes of the game."
Hugley, a sophomore forward, is averaging 14.5 points and 8.2 rebounds per game, both the best among Pittsburgh players.
He is assuredly the focal point of the defensive scouting report for any team entering a matchup with the Panthers, but the quality in the backcourt around him means teams cannot divert too much focus to him.
"We've got to put enough pressure on their guards and enough guys in the lane to limit the amount of space that he gets to work with. If he has a lot of room, he's unguardable one-on-one," Larrañaga explained. "We'll try to front him. We'll try to help from behind and maybe trap him at times and really pay him a lot of attention. But you can't give so much attention to him that you let their guards go loose. Ithiel Horton made seven threes against Carolina."
Pittsburgh enters the contest at 11-16 (6-11 ACC) on the season, but has improved its play considerably of late.
Larrañaga has seen just that when evaluating the Panthers on film, as he prepares his team for its first of three road games in a 12-day stretch.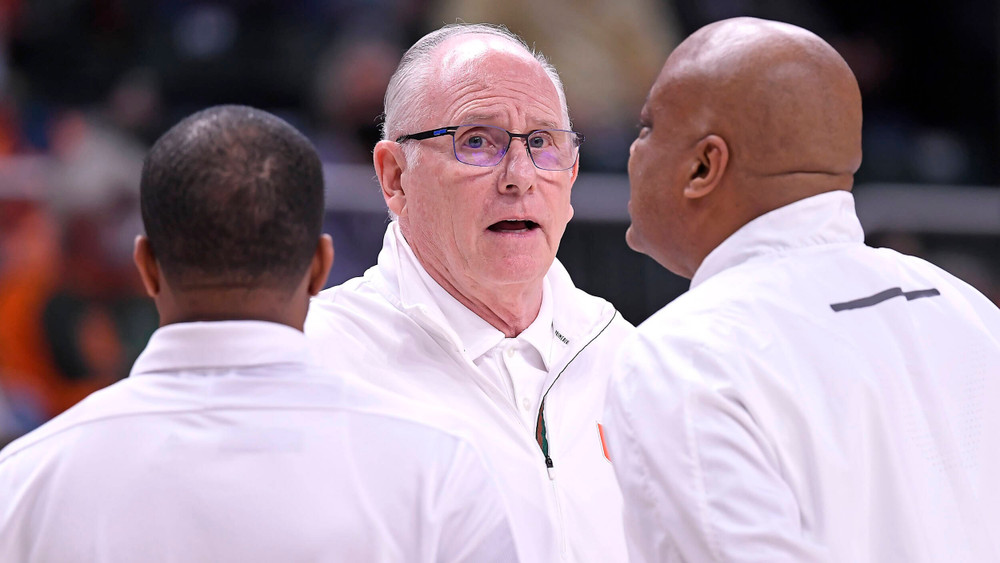 "They're a team that, first of all, is playing its best basketball right now," he said. "They've won three out of four and they've done it in a very systematic way, by really attacking the rim with John Hugley, who leads the country in free-throw attempts, and their guards, who are constantly looking to get to the rim, as well. They attack the rim about as well as anybody in the league."
As is often the case for the undersized Hurricanes, Larrañaga said his team will need to "force turnovers and make shots" to come away with the victory in the Steel City.
Tuesday night's contest will be broadcast live on ACC Network HERE, with Dave O'Brien and Cory Alexander on the call. Joe Zagacki will have the radio broadcast on AM 560 Sports WQAM HERE, while live stats will be available HERE.
After playing Pittsburgh, the Hurricanes return to the Watsco Center to play Virginia Tech Saturday at 3 p.m., live on RSN, in their regular season home finale, at which five seniors will be honored.
To keep up with the University of Miami men's basketball team on social media, follow @CanesHoops on Twitter, Instagram and Facebook.