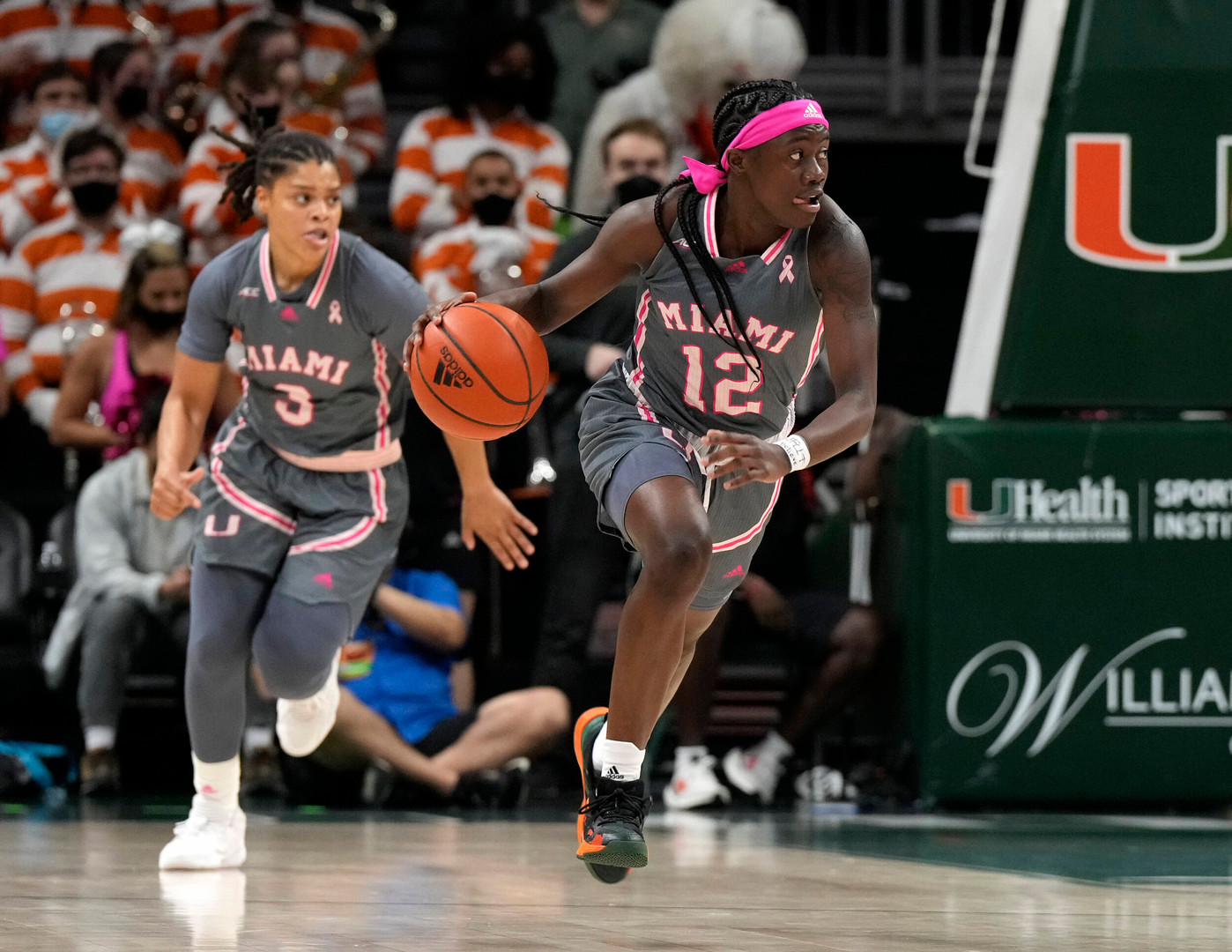 CORAL GABLES, Fla. – Ja'Leah Williams expected she'd face challenges adjusting to college life.
She knew none of her older teammates would be willing to cede her their starting roles. If she wanted to make an impact on the court sooner rather than later, she'd have to prove herself.
So she arrived at Miami, put her head down and began to do the work.
It wasn't always easy.
Learning to manage her schedule was tough those first few weeks. Finding time to get in the gym and put in some extra work wasn't always as cut and dry as she initially expected, not when she was still trying to master a routine that now included classes and study hall sessions.
But Williams was unfazed. She sought advice from some former high school and travel ball teammates who'd already endured those first few months of college basketball about how to best make a schedule that worked for her.
And her determination meant it didn't take long for the 5-foot-9 guard to make an impression.
It took all of five games for Williams, a former Broward County standout at Pompano Beach Blanche Ely, to work her way into Miami's starting lineup.
Three months later, she's still there and has emerged as one of the ACC's top newcomers.
Entering Thursday's game against Pittsburgh, Williams is first among the league's freshmen in steals (2.0 per game), fourth in scoring (7.6 ppg) and third in both rebounding (4.3 rpg) and assists (2.2 apg). She's third in the conference among all players in steals and is determined to continue building on her early success.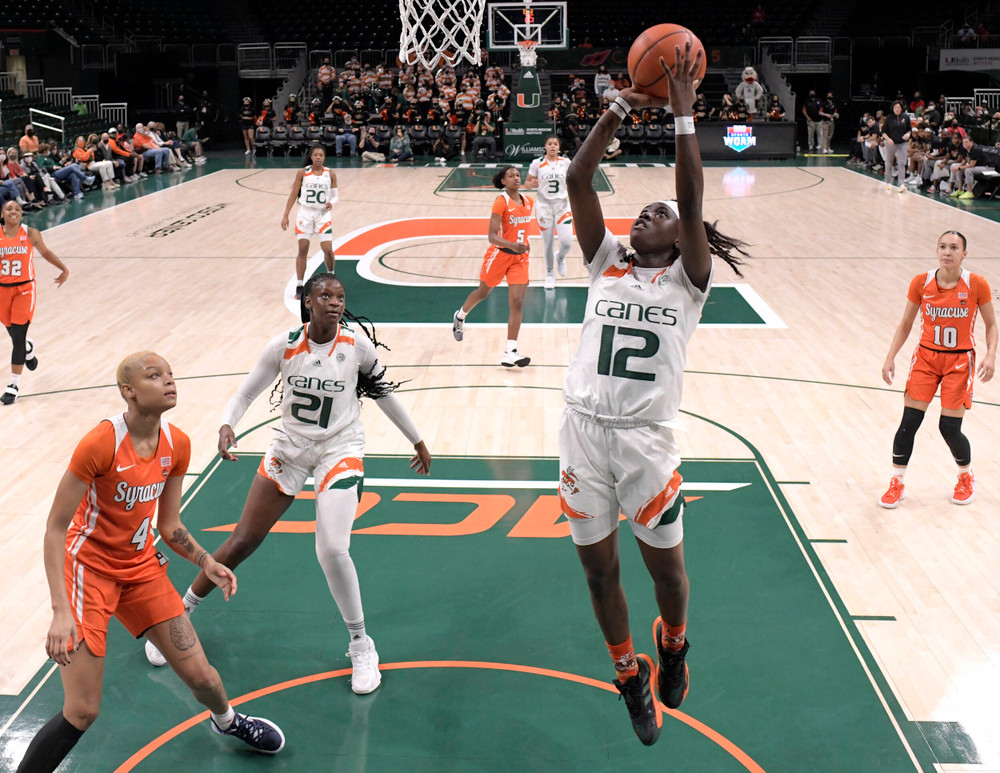 "I want to be an impact player at Miami, just like I was in high school," said Williams, who in 2020 helped lead Blanche Ely to its first state title since 1992. "Whatever I did at my old school, I just want to carry that over to college and be more aggressive with it. Work harder. In high school, I felt like I was holding back a lot of stuff. Now that I've learned a lot from high school, I want to carry it over to college, just take it, run with it and just go."
Williams' determination isn't limited to just her work on the court and in the classroom, where her 3.0+ GPA helped her earn a spot on Miami's Bookbusters Honor Roll during her first semester on campus.
In high school, the guard was diagnosed with scoliosis so severe she needed surgery to fix the curvature in her spine. Though her immediate recovery was painful, in conversations with Hurricanes head coach Katie Meier and assistant coach Fitzroy Anthony, she was positive and upbeat.
She also made it a point to attend a Miami camp not long after her surgery, even though she was unable to participate.
To Meier, that was proof Williams was driven to excel.
"I was like, 'She shouldn't even be walking, let alone out of a bed.' We're talking and I asked what the story was and she asked if I wanted to see the pictures and the X-ray and that X-ray is frightening," Meier recalled. "It's such a curve. Then she showed me her back with all the stitches up and down the back and the scars and it's incredible. I can't believe she's playing basketball at all, let alone at the highest level at the best conference in the country."
Said Williams of those first weeks after her surgery, "The process was like basically waiting…They just told me to make sure I was moving, but I didn't always want to move. I didn't want to eat…My family tried to come over. My friends tried to come over and say hi and check on me. I would get texts and calls from [Anthony] and Coach Kate, checking up on me and seeing how I was feeling. It was never a basketball conversation. It was just about my body, my mental thoughts. It was like 'Forget about basketball. How are you?' It meant a lot. It just showed me that I meant more to them than just a game of basketball."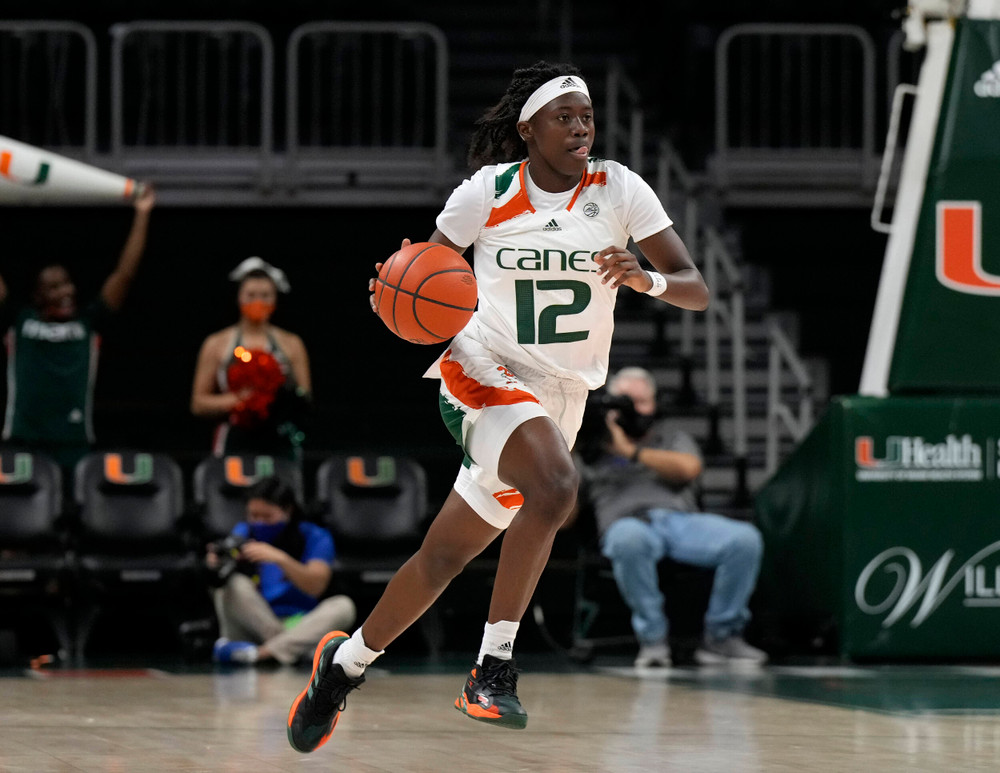 Williams' bond with Meier and Anthony was one of the major reasons she ultimately chose to sign with Miami, though she had offers from the likes of West Virginia, South Florida, Georgia Tech, FAU and North Florida.
The chance to play in front of the family and friends who'd supported her throughout her career and her recovery didn't hurt either.
Those family members and friends have been able to watch Williams' emergence and just last month, cheered when she hit the game-winning shot in Miami's 46-45 win over then 15th-ranked Georgia Tech.
It was a moment Williams said she won't forget any time soon.
And she's determined to create more of those as her career at her hometown program continues.
"Seeing my family watch me play and bet the player that I am, I think I play better at home," Williams said. "I feel like Miami was just meant for me. I felt like I was going to make an impact here and that's what it's all about. I wanted to go somewhere where I knew I could be myself and play my game. That's why I felt like Miami was meant for me."