"Are willing to pursue a hot shooter in the corner? Are you willing to pursue the ball on an x-cut? Are willing to pursue the rebound after a missed shot?"
Those are the questions head women's basketball coach Katie Meier was asking her team ahead of Thursday night's game against the Syracuse Orange.
Coming off a tough loss to No. 4 Louisville just two days earlier, the Hurricanes needed to be relentless in their pursuit of victory in order to bounce back on Thursday. And that is just what they were. 
"I think we were pursuing very well early in the game, though we lost it a little bit the fourth," Meier said. "I thought Ja'Leah [Williams] did a really nice job of pursuing the ball tonight and then Karla [Erjavec] got five defensive rebounds that we did not get against Louisville. Our guards making those defensive rebounds was huge for us."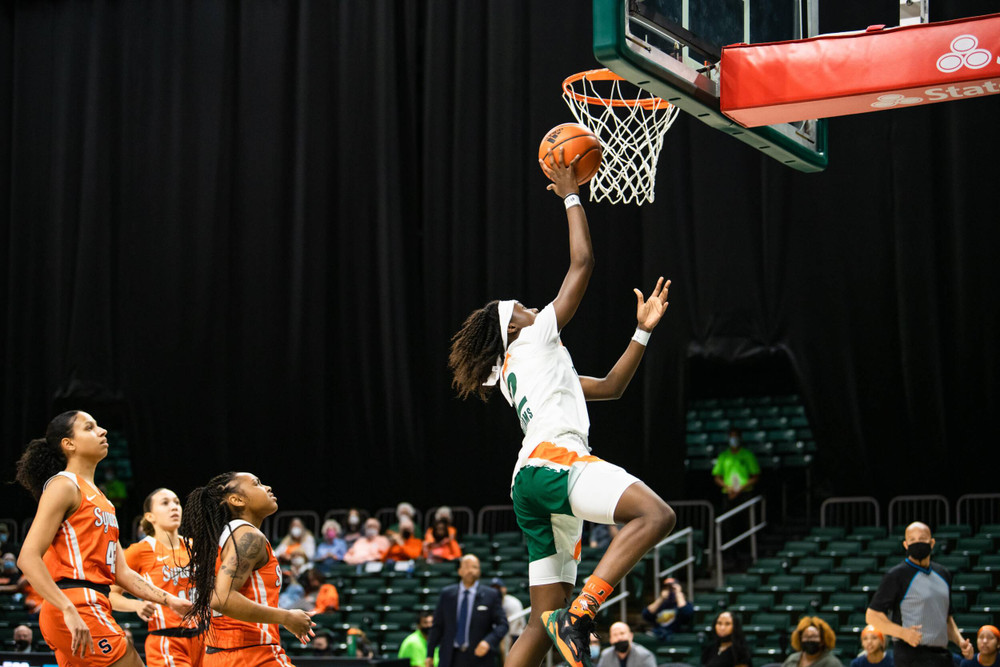 When the Hurricanes attack the glass and pursue the basketball, especially on the defensive end, they can compete with anyone, according to Meier. Miami outrebounded Syracuse 53-36, marking the fourth time this season that the Hurricanes have reached the 50-rebound plateau.
Junior Moulayna Johnson Sidi Baba led the pursuit on the boards, hauling in a career-best 16 rebounds to lead all players.
"[Moulayna] got her opportunities and had a monster performance with 16 rebounds," Meier said. "It took some special performances by some very special young ladies to help us out tonight and we got a big lift from our bench."
But the work is not done for the Hurricanes, as they must continue to pursue excellence in the second half of league play to make a postseason bid.
"This is a grind. We have a tough February, we really do," Meier said. "In this conference, it's really a matter of not only who you play, but also where you play them and when you play them. [The Syracuse game] was a tough one for us. Coming off that really gritty, ridiculous effort that we gave on Tuesday night, it was very hard to bounce back and stay focused for 40 minutes, but I am very happy with the win and I'm really happy with being .500 in the nation's best or second-best conference. I don't think there's any question how tough these teams are."
No. 23/24 North Carolina will be the seventh ranked opponent that the Hurricanes face this season and the first of three they will square-off with to close out the regular season. Miami has proven that it can compete with the best of the best and five of the Canes' six games against top-25 teams this season have been decided by single-digits.
For the Hurricanes, Sunday's game at North Carolina is just another opportunity to show what they can do.
"We are ready to be focused on the next game against [North] Carolina and give 100 percent effort on the court," graduate student Maeva Djaldi-Tabdi said.
North Carolina holds the 14-12 edge in the all-time series, but Miami dominated the Tar Heels a season ago, winning both games in 2020-21 against North Carolina. When playing in Chapel Hill, N.C., the series is tied at five games apiece, but the Hurricanes have won four of the last five contests inside Carmichael Arena.
"We're headed to [North] Carolina and it is a place we really enjoy playing, but they are a very talented team," Meier said. "We can't have five minutes of fog and come out with a win up there. We are going to have to play as tough or tougher than we did against Louisville, because [North] Carolina really puts their foot on the gas and they really run. They are very athletic so it is going to be a heck of a game."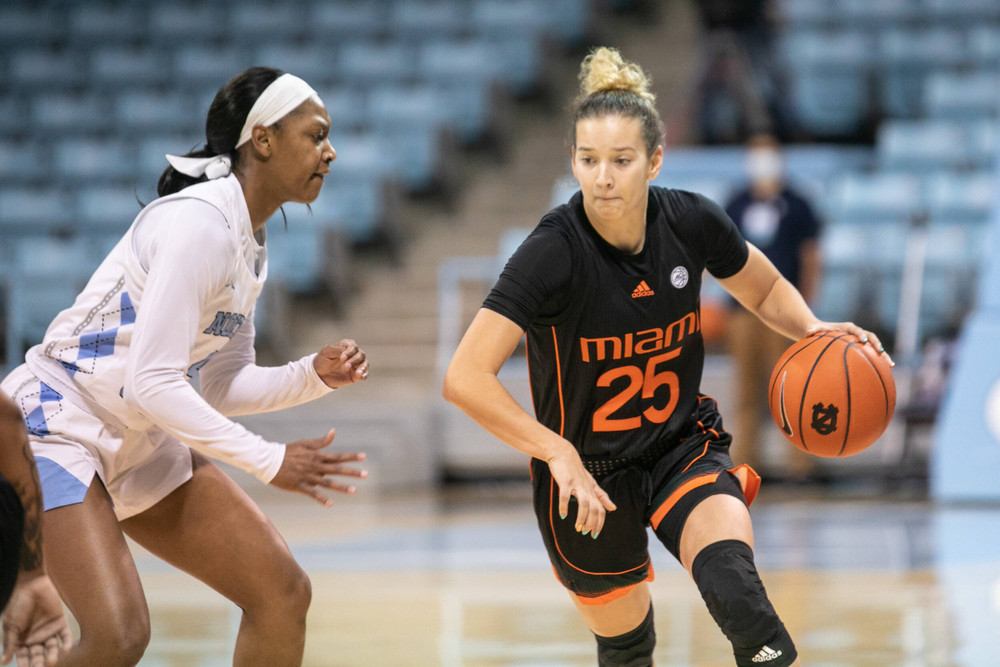 Miami will need support from its bench on Sunday to best the Tar Heels, but the bench players, including Djaldi-Tabdi, Johnson Sidi Baba and freshman Jasmyne Roberts, have really stepped up their game the past few weeks.
"I like coaching a team that gets better and better and better and that's how I feel about this team. I really feel like they are showing up," Meier said. "For [Moulayna] not to play a minute against Louisville and then to come back and set her career high in rebounding, that is the type of team we are. Jasmyne Roberts had huge minutes off the bench tonight for us with five rebounds and six points in 10 minutes. So, we are getting the pieces and people are showing up when we need them. This is a fun team to coach." 
Sunday's contest between the Hurricanes and the Tar Heels will tip off at 12 p.m. and air on ACC Network with Angel Gray and Kelly Gramlich on the call. Fans can also listen to the game on WVUM 90.5.