Miami Hosts Syracuse in Quick Turnaround
CORAL GABLES, Fla. – The University of Miami women's basketball team faces a quick turnaround, suiting up to play the Syracuse Orange on just one day's rest. And the Hurricanes are hungrier than ever, falling just one possession short of knocking off No. 4 Louisville Tuesday night at the Watsco Center.
"What a basketball game," head coach Katie Meier said. "I can't say that there was a moment when we weren't determined to win that game. I think we had a couple of tired possessions early in the fourth, but then we woke up and were determined and it was going to be anyone's game at the end there."
The Hurricanes have battled three top-10 teams down to the final minute of the game this season – a narrow, 53-51, loss to No. 4/6 Indiana, an 82-74 defeat at No. 8 Maryland and, most recently, a 69-66 loss to No. 4 Louisville.
Miami was one of just three ACC teams to take No. 4 Louisville down to the wire this season, joining the ranks of No. 3 NC State and No. 12/17 Georgia Tech. Miami and Georgia Tech each fell one possession short, while NC State knocked off the Cardinals, 68-59.
It was a team effort to come close to beating Louisville, but freshman Ja'Leah Williams led the way with a career-best 16 points. Graduate students Destiny Harden and Kelsey Marshall joined Williams in double-figures with 13 and 11 points, respectively, however, it was not enough to stave off the Cardinals.
"Going into the locker room, the mood was kind of down because we lost by three points," Williams said. "But it wasn't a 'bad spirit' down. It was also good because it lets us know that we're a tough team. [Staying close] gives us hope that we can stick with [anyone]."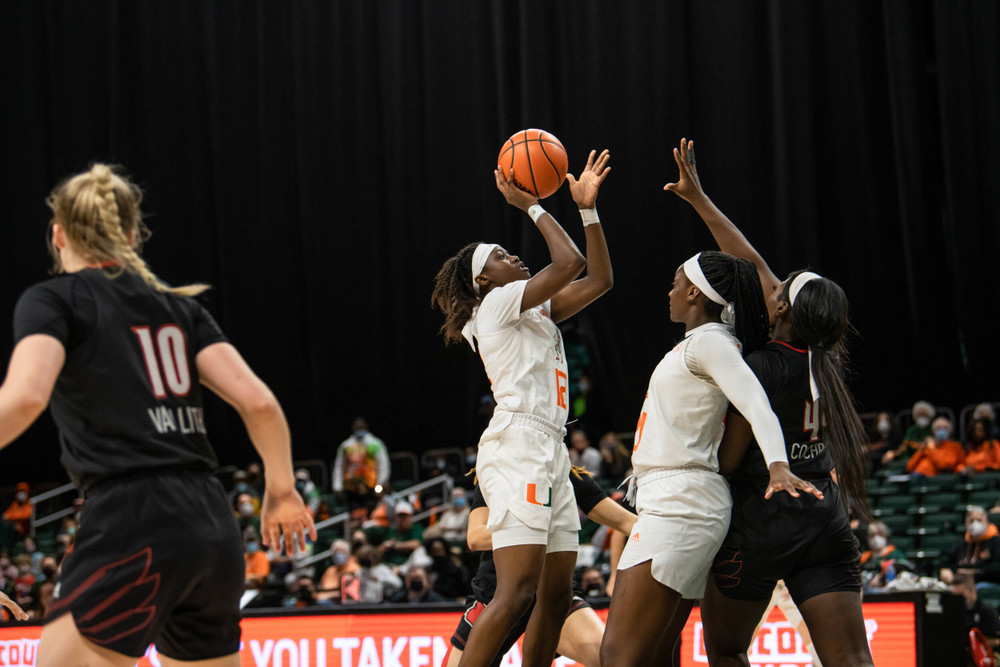 The Hurricanes must quickly turn their attention to Thursday's contest as Syracuse enters the game with a 9-10 overall record and a 2-7 mark in ACC play. The Orange snapped a six-game losing streak on Sunday when it they topped Pittsburgh, 80-72, in the Carrier Dome.
Five Orange are averaging double-digits this season led by redshirt sophomore Teisha Hyman at 15.2 points per game. Syracuse is one of just two ACC teams with five players averaging double-figures alongside the Notre Dame Fighting Irish.
The Canes and the Orange have met 33 times in program history, with the majority of their games coming when both teams were members of the BIG EAST. Miami has come out on top in 21 of the 33 games between the schools. When playing at the Watsco Center, the Hurricanes hold a 12-5 record.
Thursday's game tips off at 7 p.m. and can be streamed on ACC Network Extra with Alex Schwartz and Megan Perry on the call. Fans can also listen to the game on WVUM 90.5.
Single-game and season tickets for the 2021-22 women's basketball season are on sale now and can be purchased here.