MBB Tallies 73-62 Road Victory at Georgia Tech
By Alex Schwartz
MiamiHurricanes.com
ATLANTA – The University of Miami men's basketball team retained its spot solely atop the ACC standings with a 73-62 win Saturday afternoon at Georgia Tech.
Miami (16-5, 8-2 ACC) outscored the Yellow Jackets by a 25-8 margin during a sub-nine-minute stretch midway through the game, en route to earning their second road win in four days and moving to 5-1 in opponents' arenas. Sixth-year redshirt senior guard Kameron McGusty paced the Hurricanes with a game-high 20 points in the victory, during which they led by as many as 19 points and trailed for just 44 seconds.
"I thought our guys played extremely well. There is always tremendous adversity, especially on the road, but even within the game, so many different things happen and you've got to constantly make adjustments," Miami head coach Jim Larrañaga said. "I thought our guys made adjustments beautifully, especially down the stretch. Charlie Moore was playing great, but then fouled out; Bensley Joseph came in and did a great job. Our guys off the bench, like Anthony Walker, really helped us in the first half.
"It came down to [the fact that] Georgia Tech plays very, very hard and we had to overcome a late run by them, and our guys were able to do it."
Miami jumped out to an early 12-5 lead through 6:33 of action, holding Georgia Tech (9-11, 2-7 ACC) scoreless for four-plus minutes. The Yellow Jackets then answered with eight straight points to go up by one, after which the Hurricanes scored eight of their own in a row, making it 20-13 with 8:12 on the clock.
Georgia Tech pulled back within one multiple times down the stretch of the half, but Miami eventually ended it on an 8-2 surge, capped with a buzzer-beating 3-pointer by McGusty, to take a then-game-high eight-point edge, 36-28, into the locker room.
Both teams shot under 40 percent in the opening 20 minutes, but the Hurricanes went 11-of-12 (91.7 percent) at the line compared the Yellow Jackets' 1-of-4 mark (25.0 percent). Georgia Tech senior guard Michael Devoe, the ACC's second-leading scorer, scored five first-half points on 2-of-8 shooting after opening 0-of-4 and 1-of-7 from the floor.
McGusty, who hit two 3-pointers in the final 40 seconds of the first half after missing his first four field goals, scored the opening four points of the second frame, giving him a personal 10-2 run and putting Miami up by 12, 40-28, with 18:29 left. After a Georgia Tech basket, the Hurricanes scored seven straight points in 73 seconds to spark a 13-4 run and take a game-high 19-point edge, 53-34, with 13:30 to play. It marked a 17-6 surge for the Hurricanes in the first six-and-a-half minutes after the break.
"Offensively, we play off of our defense. We were getting some really good stops that led to some fast breaks," Larrañaga said. "There was one play Charlie Moore was running on the fast break and Georgia Tech was running back to the lane and he just stopped and hit a three. When you're playing with a lot of confidence, you have the ability to do that. I think our guys were feeling very good at that moment in time."
Soon thereafter, however, the Yellow Jackets went on an 11-0 run in just 3:41 to cut their deficit to eight, 63-55, with 5:10 remaining. They sliced it down to six, 65-59, with 3:53 to go after making a fifth consecutive field goal.
Miami, however, went back up by 10, 69-59, with 2:57 to go and held the Yellow Jackets without a point until just 70 seconds remained, slamming the door on the home team's comeback bid on the way to an 11-point decision.
McGusty, who scored 16 of his 20 points in the final 21 minutes, shot 8-of-8 at the line and grabbed five rebounds on the day. Fourth-year junior guard Jordan Miller posted 13 points and a team-best eight rebounds, adding two assists and two steals.
Sixth-year redshirt senior guard Charlie Moore, who surpassed 1,500 points as a collegian in the win, totaled 12 points, three assists and four steals before fouling out with 3:14 left.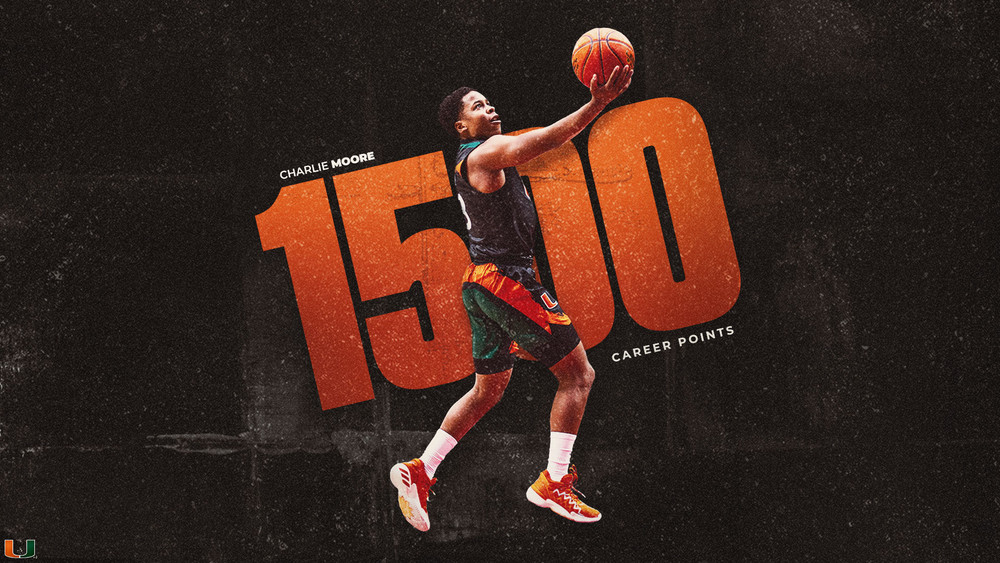 Sixth-year redshirt senior Sam Waardenburg, who played just 23 minutes after committing two fouls in the first 2:01, added eight points, as did third-year sophomore guard Isaiah Wong. The five Miami starters combined for all but three of the team's made field goals.
Senior forward Khalid Moore paced the Yellow Jackets with 19 points on 9-of-12 shooting in 35 minutes of action. Senior guard/forward Jordan Usher tallied 15 points, a game-high 10 rebounds and a game-high six assists.
Devoe, meanwhile, finished with just 12 points, 7.2 below his average on the year, on 4-of-11 shooting from the field.
Miami finished the day 21-of-25 (84.0 percent) from the stripe, while the Yellow Jackets shot just 3-of-10 (30.0 percent). The Hurricanes also won the rebounding battle, 38-31, their first time doing so in ACC action and their sixth time doing so this season.
Up next for the Hurricanes is a home matchup with Notre Dame, slated for Wednesday at 7 p.m., live on RSN from the Watsco Center in Coral Gables, Fla.
To keep up with the University of Miami men's basketball team on social media, follow @CanesHoops on Twitter, Instagram and Facebook.
MIAMI HURRICANES POSTGAME NOTES
– The Hurricanes moved to 15-12 all-time against Georgia Tech, including 7-6 on the road and 8-6 in Larrañaga's tenure.
– Miami snapped a three-game losing skid to the Yellow Jackets, as well as improved to 5-2 at McCamish Pavilion under Larrañaga.
– Larrañaga, who entered the game with the ninth-most victories of any active Division I coach, is now 686-469 in 38 years as a head coach, including 216-135 in 11 seasons at Miami.
– Now owning 110 ACC wins (regular season or tournament) as a head coach, Larrañaga tied Dave Odom for the No. 13 spot on the all-time list.
– With 99 victories in ACC play, Larrañaga passed Bud Millikan for sole possession of the No. 14 position on the all-time leaderboard.
– For the 15th time this season, Miami used a starting lineup of McGusty, Moore, J. Miller, Waardenburg and Wong.
– The Hurricanes, for the fourth time (also 3/1/21 at Virginia, 3/9/21 versus Pittsburgh in the ACC Tournament and 1/8/22 at Duke), wore throwback jerseys, courtesy of adidas, that paid homage to Miami's teams of the late 1990's, including the 1999-2000 squad that won a share of the BIG EAST regular season title and earned the program's first Sweet 16 berth.
– Moore reached 1,500 points on a fast-break layup with 11:02 left in the game, starting a personal 7-2 run in just 57 seconds.
– Moore is one of just 12 active Division I players with at least 1,500 points and 500 assists, alongside Iowa's Jordan Bohannon, Texas' Marcus Carr, UConn's RJ Cole, Furman's Conley Garrison, Richmond's Jacob Gilyard, Incarnate Word's RJ Glasper, Arizona State's Marreon Jackson, Stony Brook's Jahlil Jenkins, UMass' Rich Kelly, Kansas' Remy Martin and Grand Canyon's Holland Woods.
– Moore moved from outside the top 10 up to a tie for sixth place, alongside Bruce Brown Jr. (2016-17), on Miami's ACC-only single-season steals list.
– The Hurricanes have 16 wins in their first 21 games this season after losing 16 of their first 23 games last year.
– Miami committed a season-high 16 turnovers, three more than it has tallied in any other game, and had more giveaways than its opponent (14) for just the third time all year, including just the second time in ACC play.
– Freshman guard Bensley Joseph, who played a season-high 22 minutes and grabbed a season-best five rebounds, eclipsed 50 points and 250 minutes in the first year of his young career.
– McGusty, with former Oklahoma teammate Trae Young sitting courtside, notched his 21st 20-point performance, including his 15th as a Hurricane and eighth of 2021-22.
– McGusty scored in double figures for the 83rd time, including the 55th as a Hurricane and 20th this year.
– J. Miller tallied double-figure points for the 58th time, including the eighth this season.
– Moore, who moved past 3,750 minutes played as a collegian, registered double-digit points for the 70th time, including the 13th in 2021-22.
– Wong, who eclipsed 300 rebounds Miami, had his streak of 19 consecutive double-figure point totals, dating back to the second outing of the year on 11/13/21 versus UCF, come to an end.