Post Group Ready to Show Versatility
CORAL GABLES, Fla. – Heading into the 2021-22 women's basketball season, the Hurricanes' post group is ready to surprise people. With only one returning post player from last year in Paula Fraile Ruiz, Miami received an influx of new post blood during the offseason.
"While we have a lot of new faces this season, we have experience in the paint and it shows," assistant coach Beth Dunkenberger said. "They are hard workers; they listen and they understand the concepts Coach Meier has emphasized in practice. I think they will be a strength of the team."
Dunkenberger is referring to the experience that graduate student Maeva Djaldi-Tabdi and junior Lola Pendande bring to the Canes.
Djaldi-Tabdi is a familiar face for Miami as she spent her first four years as a member of the Syracuse Orange. The Paris, France, native was dominant for the Orange off the bench, totaling 31 double-digit games and two double-doubles over three seasons.
What makes Djaldi-Tabdi a force to be reckoned with is not only her elite basketball IQ, but also her physicality in the paint and capable shooting hand.
"Maeva has been a very nice surprise, especially in terms of her versatility," Dunkenberger said. "She can definitely body up in the paint, but she also has a soft shooting touch from beyond the arc."
Djaldi-Tabdi has a wealth of international experience having won a gold medal in 3×3 basketball with France at the 2019 NAOC World Beach Games in Doha, Qatar. She becomes the third French player to earn a spot on the 2021-22 Canes roster.
""I am excited to get to play with new players and about the team in general," Djaldi-Tabdi said. "It is a new start for me and I am excited about what we can accomplish."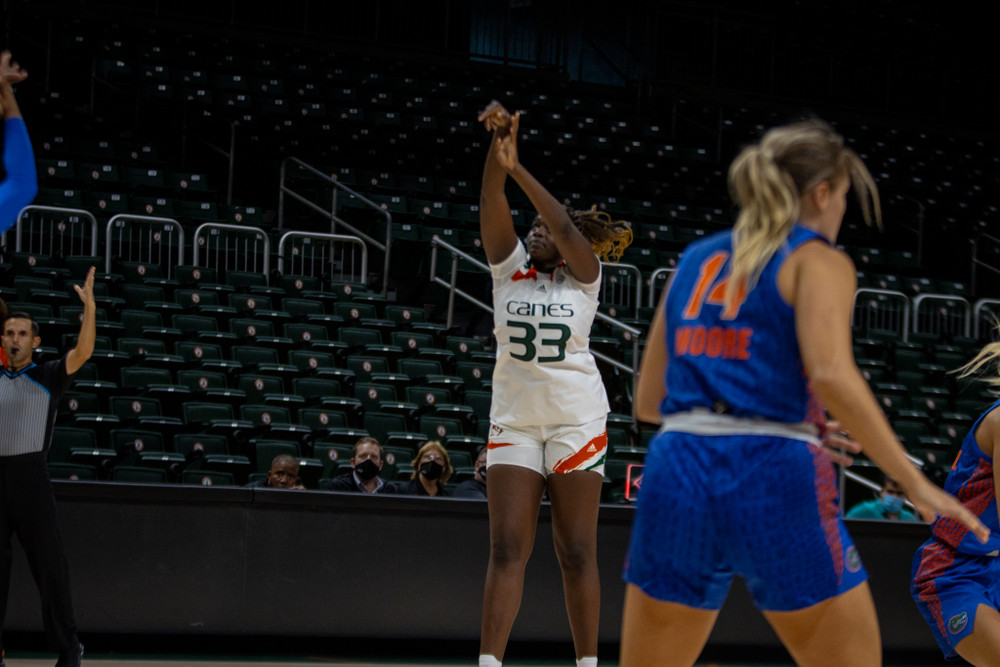 Fellow transfer Pendande has also already made an immediate impact at Miami.
"Lola has slid right in and is ready for a big role on this team," head coach Katie Meier said. "She scores low on the block and can shoot the three. Lola is very vocal and ultimately a team player."
Pendande's versatility on the court was recognized by the Spanish National Team organization in August of 2020 when she was named the Star of the Generation for the 2000s. The Almeria, Spain, has helped Spain to numerous FIBA European Championship medals, including a silver in 2018 at the U18 Championship.
The forward spent two seasons at Utah before making the move to Miami ahead of her junior year. The transition has been almost seamless for Pendande who is thriving in Coral Gables, Fla.
"Being around diversity, being Spanish, is awesome," Pendande said. "[Miami] feels more comfortable and like home. Also, having a team that is so open and loud is awesome."
Pendande brings confidence and energy to the Canes, something that she prides herself playing with each and every game.
The third part of the post quartet is freshman Chiso Okafor, who hails from Mataró, Spain. As a freshman, Okafor has had to deal with a massive learning curve, but she has quickly picked up the style of basketball the Canes play.
"Chiso is steady," Dunkenberger said. "You may not notice her during the course of the game, but then you look at the scoreboard at the end of the game and she will have eight points and eight rebounds and made several of stops on defense. I think she is going to have a great future as a Cane."
Like the other three post players, Okafor is not without international experience. The forward competed at the 2019 FIBA U16 Women's European Championship in Skopje, Macedonia, averaging 11.6 points and 7.3 rebounds over seven games to help Spain to a third-place finish.
For Okafor, the transition from overseas basketball to college basketball has been challenging but rewarding.
"The beginning was the worst part – the conditioning, weights and practice," Okafor said. "But, I am physically much better and I have more confidence in myself. I'm getting stronger and having fun."
Sophomore Paula Fraile Ruiz rounds out the post group, returning to the Canes for her second season. Fraile Ruiz's situation is unique in that she sat out the 2020-21 season following a COVID-19 diagnosis early in the summer.
"My goal for the season is just to come back and play like I was doing before," Fraile Ruiz said. "I want to give the team my energy and a good attitude."
Prior to Miami, Fraile Ruiz was an up-and-coming basketball star in Spain. The forward played in the sixth annual Basketball Without Borders Global Camp, which was held in Chicago in February of 2020 as part of the NBA All-Star Weekend. Additionally, Fraile Ruiz represented Spain on the international level in numerous FIBA competitions.
Having spent a season learning and growing under Meier, Fraile Ruiz recognizes that the 2021-22 squad is special.
"I think that we're all really different and can do different things on the court and that gives us the advantage over other teams," Fraile Ruiz said.
The post players will have the opportunity to display their versatility in just over a week when the Canes host Jackson State in their season opener on Nov. 9 at 4 p.m.
Single-game and season tickets for the 2021-22 women's basketball season are on sale now and can be purchased here.