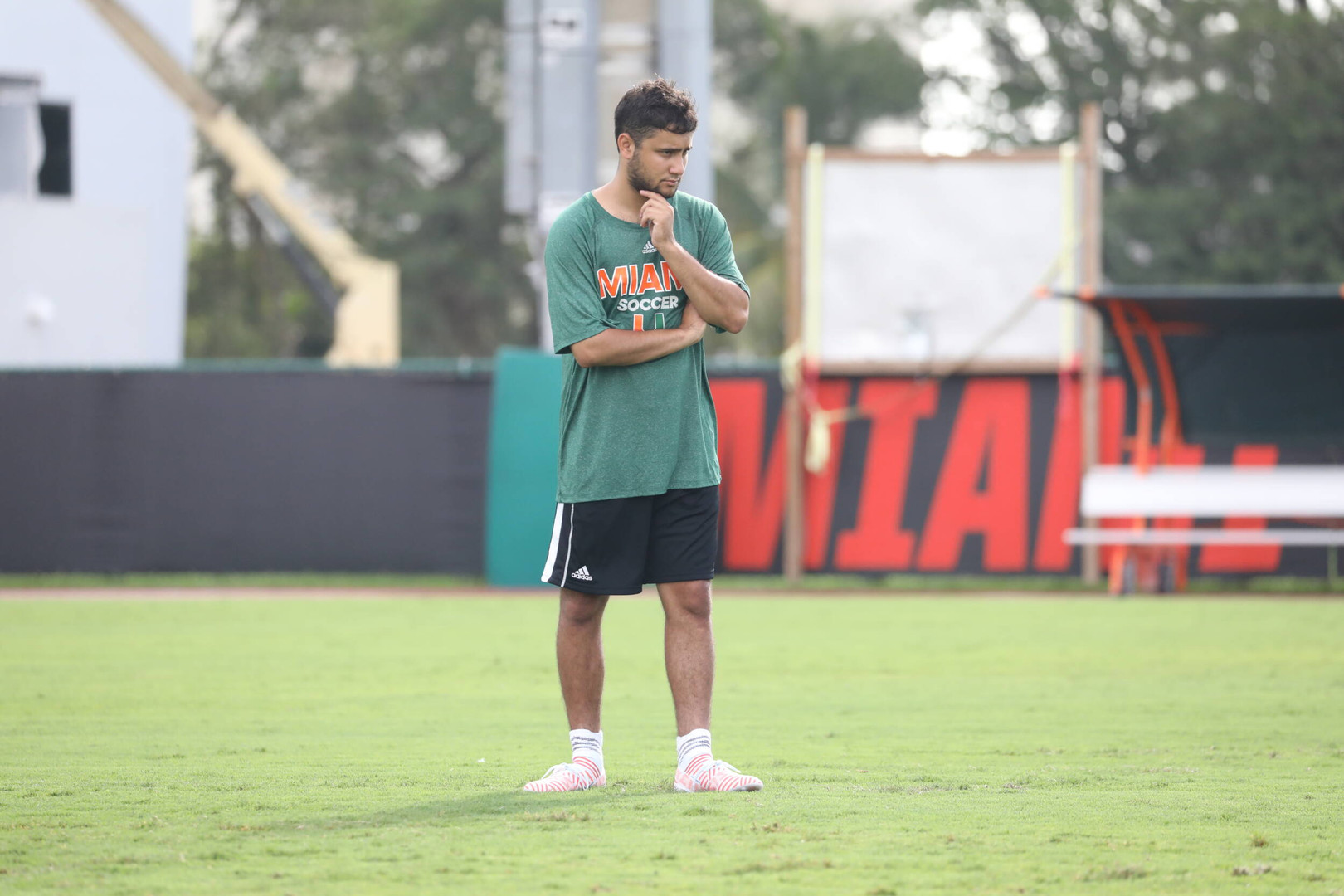 CORAL GABLES, Fla. – University of Miami director of soccer operations Nicholas Petrucelli only remembers the snow in South Bend.
Petrucelli lived there until he was three but his few years in Indiana changed his life forever.
On Thursday, the Miami Hurricanes (3-4, 0-1 ACC) host the No. 22 Notre Dame Fighting Irish (7-1-1, 1-0 ACC), a program Petrucelli's father constructed.
"I haven't asked him much about those Notre Dame teams but from what I hear it was something special he was building and has led into what Notre Dame is now," Petrucelli said. "They're a force to be reckoned with and they're a great soccer team. I'm really looking forward to this game on Thursday."
Petrucelli's dad, Chris, orchestrated Notre Dame women's soccer program into one of the nation's best. During his nine-year tenure with the Fighting Irish, he guided Notre Dame to the 1995 NCAA National Championship, three National Championship title matches and six NCAA Tournament appearances. He led the program to four consecutive national semifinal berths and eight straight conference championships.
The elder Petrucelli was honored by the NSCAA as the National Coach of the Year in both 1994 and 1995 en route to becoming the only collegiate coach to win the award in consecutive years.
"Going back to South Bend two years ago was awesome. I sent a photo of the national championship banner to my mom and she was tearing up," Petrucelli said. "My parents speak fondly of how it was such a family environment and they really enjoyed our time in South Bend."
After nearly a decade at Notre Dame, the Petrucelli's moved to Texas as Chris was named the new women's soccer head coach at the University of Texas.
They settled in Lake Travis just outside of Austin as the diehard soccer family began to blossom.
Chris grew the Longhorns into a Big 12 contender, capturing the program's first Big 12 regular season title in 2001 and guiding UT to 10 NCAA Tournament appearances.
Nicky spent much of his time off from school at his dad's trainings at Texas. A driven 5-foot-5 middle schooler would train with the team trying to gain as much insight into the sport.
It was there an up-and-coming assistant coach Sarah Barnes began her relationship with the younger Petrucelli.
Barnes, who was hired at Texas in 2008, taught him the intricate details of how to take free kicks, including where to stand and how to strike the ball.
"Nicky was always around. He would come to all of the summer camps. If there was some downtime while camp was going on, we'd work on things he wanted to work on," Barnes said. "I remember spending a lot with the whole Petrucelli clan growing up. We celebrated holidays at their house. I'm pretty sure I've been to a Petrucelli birthday or two along the way. Those whole four years, I was basically part of the family."
As Nicky's skills developed on the pitch, he had his sights set on playing collegiate soccer. He received attention from Indiana, Penn State, Lipscomb, Mercer and Greensboro, among others.
With Nicky's recruitment process ramping up, Chris took the head coaching position at SMU. As the family moved to Dallas, the younger Petrucelli fell in love with everything SMU had to offer.
"Once my family became Mustangs, it was somewhere I really wanted to go," Petrucelli said. "It was somewhere I knew I wanted to be."
On his visit, he clicked with the coaching staff, other prospective student-athletes and admired the campus.
He knew he found his new home.
"Freshmen year, it was a closer to walk to my parents' condo for dinner than it was to the dining hall," Petrucelli said. "Me and my class, if we didn't want to go to the dining hall, I'd text my mom and we'd have a big family dinner over there for a huge thing of lasagna or spaghetti. We'd talk about soccer, the upcoming games and everything."
Petrucelli played two seasons for the Mustangs but injury troubles following his sophomore year cut his playing career short.
However, his love for the game remained strong.
Petrucelli served as an undergraduate assistant for the SMU women's soccer team. He served as the Mustangs' video coordinator and assisted the coaching staff.
That experience opened his eyes to a new path.
"I loved that year," Petrucelli said. "It was a lot different than I expected. That was when I realized I do want to stay in this, I do want to coach. I still have a great relationship with that school. I really appreciate everything that program has done for me."
In the spring of 2018, Barnes, who led George Washington to its first A-10 regular season title since 1995, became the new head coach of the Hurricanes soccer program.
When Barnes was driving through Georgia on her way down to Miami, she received a phone call from a familiar voice.
Petrucelli chatted with Barnes, pitching ideas on how he could help her new program.
"He's really passionate about the game," Barnes said. "He has really good energy and he's positive. The players respect him and lean on him because he went through their experiences more recently. He can be a sounding board for them."
Now in his fourth year as the director of operations, Petrucelli could've never envisioned becoming a Hurricane.
Barnes with the help of her staff, including Petrucelli, have taken steps to turn Miami into a competitor in the ACC.
"This opportunity really popped out of nowhere," Petrucelli said. "I'm here to help Coach Barnes run this program as smoothly as it can and succeed at the highest level it can. I'm here to help her, help the girls and help this program take the next step."
With Petrucelli's assistance, the Hurricanes have recorded signature wins along the way. In their inaugural campaign, Miami upset eventual national champion Florida State. This season, the Canes toppled rival Florida for the first time since 2012.
Petrucelli aspires to grow in the sport he fell in love with as kid, ultimately, becoming a head coach one day. Still, after every match, he chats with his first coach—his dad.
"Every single game, we talk," Petrucelli said. "Throughout the week, we talk about the previous games and the next game. We talk about what we see, what we like, pretty much everything in college soccer. He'll share his thoughts with me on our matches and I share my thoughts on his."